by Health Impact News/MedicalKidnap.com Staff
A Washington couple, Sophia Rosas and Sean Kilkenny, of Bremerton, have been fighting for their two boys for the last 2 years. Not knowing how to speak for herself in court, Sophia was allegedly manipulated and coerced by her public defender to do what the CPS social workers at the Washington Department of Children, Family and Youth (DCYF) told her to do.
See our previous stories about this family:
But now Sophia has found her voice, learned how to file her own court documents, and she says since she began representing herself, "Everything is changing so fast!"
Prior to firing her attorney, Sophia says that she felt coerced and intimidated anytime she disagreed and wanted to challenge what the Department was saying in court.
She says she was not ever truly informed of her rights under The United States Constitution or even the Washington State Constitution, both of which require due process, including a hearing with witnesses and evidence, in order to restrict parental rights.
Sophia says,
"I was not informed that agreeing to a dependency for either case would result in me giving up such rights; or potentially lead to the termination of my parental rights to each child. During that time, I was told that I had to do what Anne Montgomery (public defender) chose to do with my cases, and she intimidated me and talked down to me when I was not in agreement. I did not learn I could speak for myself in court until recently, and am now attempting to make myself adequately heard."
She says that her previous public defender had not been filing on her behalf in court, including any documents relating to the completion of her services, so the court was never informed that she had been completing the required services.
According to the court documents reviewed by Health Impact News staff, the public defender never submitted anything to the court to show Sophia had completed any services, and the Department made it look like she wasn't doing any of them – another common tactic of CPS corruption.
If the court is never adequately informed, and the parents never speak out against their public defender, the department gets away with everything they say to the court because there are no objections. This can lead to the unnecessary termination of parental rights if the parents have attorneys that are not adequately representing their interests in court.
Sophia has filed at least two dozen documents in recent weeks, including a Declaration of the facts of the case outlining all of the services that she has completed; and has requested hearings to discuss bringing her children home.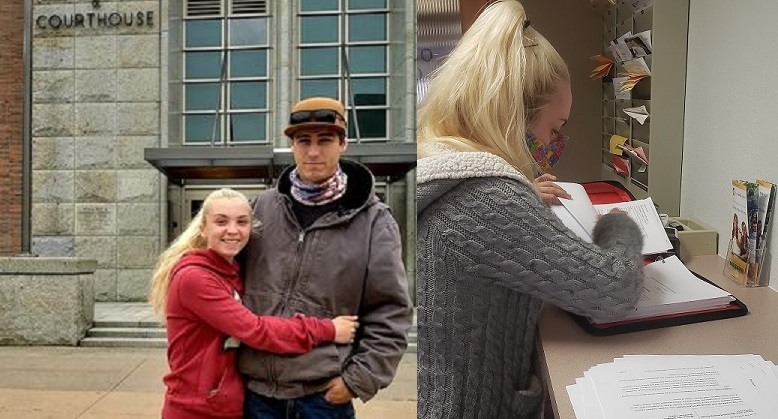 Court has been set for Wednesday, September 30th, to hear her motions on all three cases, including her opposition and motion to dismiss a petition for Termination of Parental Rights to her oldest son, Zurius.
Sophia is refusing to let her sons go without a fight; and says she gets motivation for this fight from her grandfather – world renowned musician, Mitch Mitchell – Rock n' Roll Hall of Fame legend, the late John "Mitch" Mitchell – drummer for the iconic classic rock band – The Jimi Hendrix Experience of the 1960's.
See:
Sophia is Mitch Mitchell's biological granddaughter; making Zurius and Riley his biological great-grandsons. Mitch is also survived by Sophia's mother/Mitch's daughter, Aysha Mitchell, as well as Sophia's older sister, Sydney, and her 3-year-old son, Kai.
Mitch was never able to meet his great grandsons, though his family says he would have been very much enamored with them, as he once was his daughter and granddaughters; and would not accept losing any of them without a fight. They are part of the Mitchell Legacy.
Family Advocate, Serra Frank, from Moms for Marijuana International and the Fight for Lilly says,
"A common issue with the corruption found in Child Protective Services is that of Generational Genocide. Generations losing their heritage, their culture, and their access to their biological family because of forced adoption to strangers through foster care. Biological heritage, and the legacy left by family patriarch, Mitch Mitchell, are extremely important to the Rosas/Mitchell family; and the family is not giving up without a fight."
As Senator Nancy Schaefer said to the Georgia Assembly in 2007, through her report titled, "The Corrupt Business of Child Protective Services":
"[Parents and] Grandparents who lose their [children and] grandchildren to strangers have lost their own flesh and blood. The children lose their family heritage, and [parents and] grandparents too, lose the connection of their heirs."
The family has held several protests in front of the Bremerton DCYF office in the last few weeks and received quite a bit of community support.
Sophia also tells Health Impact News that since she first went public, the Department has been allegedly been retaliating, restricting visits with both of her children.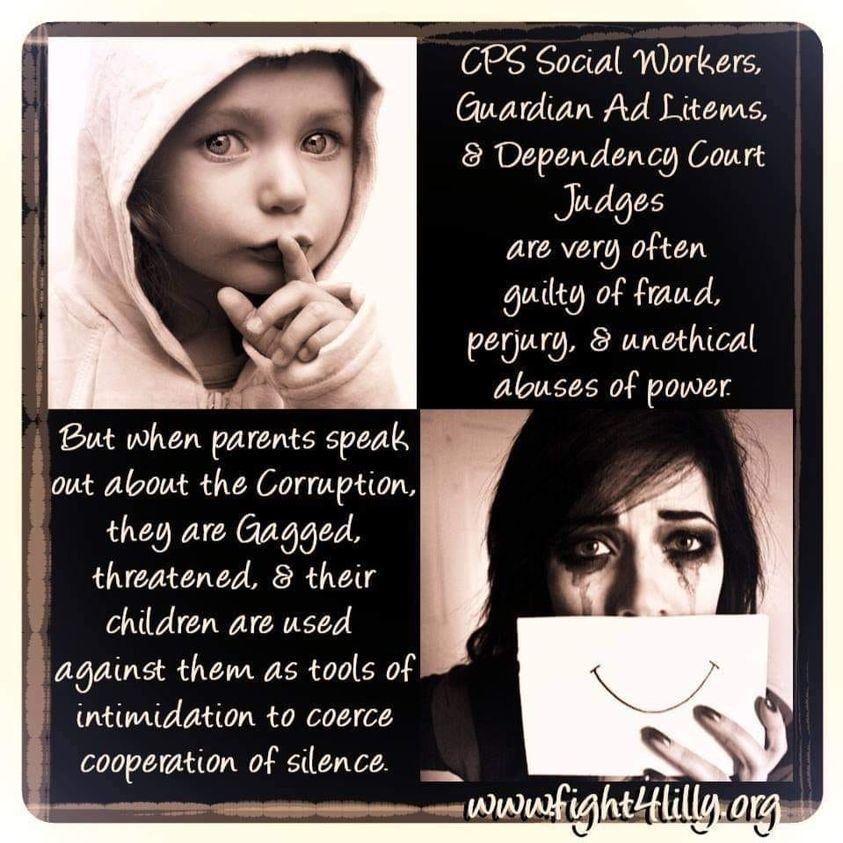 One day last week, the department even allegedly used COVID 19 as a risk and canceled visits with both boys, because of Sophia's symptoms of her gallbladder disorder.
Sophia reports that while she was in the bathroom dealing with the nausea and vomiting symptoms of her condition, the department allegedly removed Zurius and sent him home, without even letting her say goodbye. She says she saw Z for about 10 minutes when she felt a wave of nausea so she decided to go to the bathroom. She says the last thing she said to Z was, "I love you baby, I'll be right back."
When she went back to the room, she was informed the visit was canceled and her son was already gone.
DCYF Social Worker, Desiree Hovland, being newly assigned to the case simply passed the buck to previous social workers and stated that she "didn't know about Sophia's medical conditions" and requested a release of information for medical records that the department has already received, but refused to allow the visits to continue.
Sophia says she refused to sign the release again, but gladly sent the social workers her medical records directly, hoping that maybe now they will start to understand the reality of her debilitating illness that requires Medical Marijuana for treatment.
At court on Sept 23rd, 2020, Commissioner Matthew Clucas confronted the department for their behavior, stating that the Department has known for a while about Sophia's medical issues, especially because of the medical marijuana issue that they have used to remove Sophia's youngest son Riley from the home, and ordered the visits be made up.
Also at court, Commissioner Clucas stated he had been going through the documents Sophia has recently filed and had to stop at one titled: "Notice of Retraction of Agreement to Dependency," in which Sophia had stated that she had been coerced and intimidated into agreeing to the dependencies, but was now retracting that agreement.
Commissioner Clucas requested the parents attend court in person to go over these documents, because it was a very serious accusation and he wanted to make sure she was "not being coerced to go pro se." Sophia says "I am definitely not being coerced to speak for myself, and am ecstatic to be able to finally be heard by the court."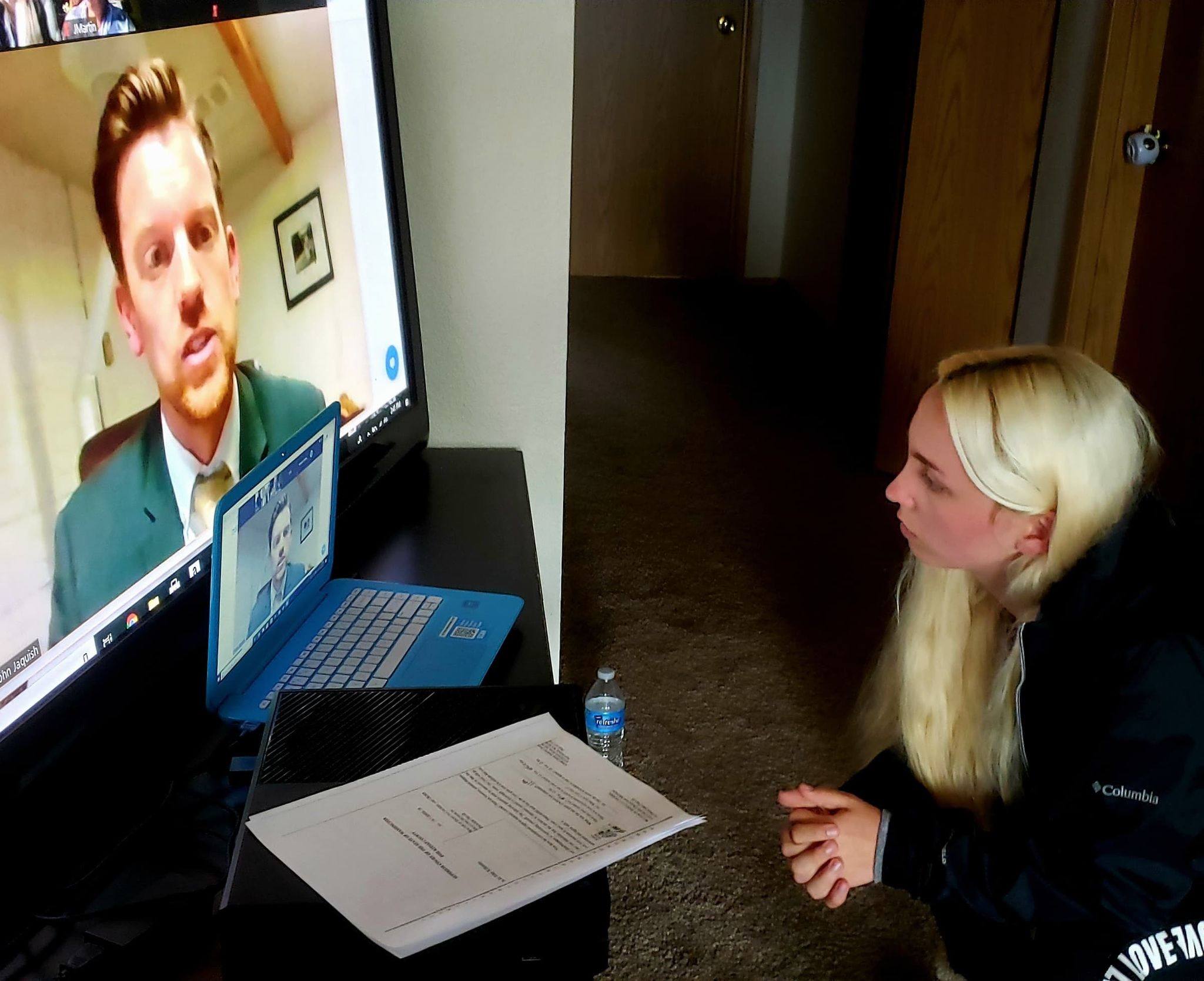 But she is concerned because she is no longer being allowed public scrutiny of these hearings.
Since she first live streamed the court hearing on Sept. 9th through their family support page, Kitsap County Superior Court created a new "Emergency Administrative Rule" about recording the Zoom hearings.
Obviously in retaliation to live streaming the hearing, the courts have now prohibited the recording or streaming of any hearing in Kitsap County without permission from the assigned commissioner or judge.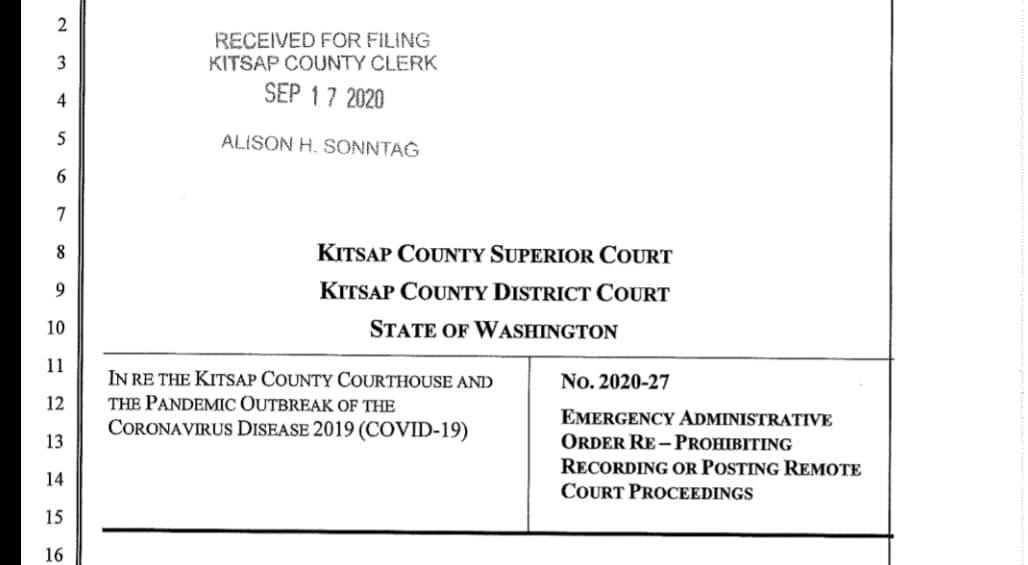 However, this violates Sophia's rights under the Washington State Constitution to an open and public hearing.
In Washington, the right to open court proceedings is constitutionally mandated by Article I, Section 10 of the State Constitution, which provides: "justice in all cases shall be administered openly, and without unnecessary delay."
Washington courts have stated they have a duty to ensure "the right of the people to . . . freely observe the administration of civil and criminal justice." Allied Daily Newspapers of Wash. v. Eikenberry (1993).
The Washington Supreme Court has expressly held that Art. I, Sec. 10 "guarantees the public and the press a right of access to judicial proceedings and court documents in both civil and criminal cases." Dreiling v. Jain, (2004).
Serra Frank points out that:
"the guarantee of public hearings in Washington State has always been recognized by their Supreme Court as a safeguard against any attempt to employ the courts as instruments of persecution; such as exactly what the Department is attempting to do in Sophia & Sean's case by persecuting these parents over their medical marijuana use."
To abide by the new Administrative Ruling, Sophia canceled the previously scheduled Live Streaming of the Sept 23rd hearing, but to ensure her right to a public hearing, posted the Zoom information for the court hearing on the family support page, and asked people to call in to witness.
Over two dozen members of the community reported calling in to witness the hearing, but the court never let them into the Zoom call – therefore denying Sophia her right to an open and public hearing in Washington State.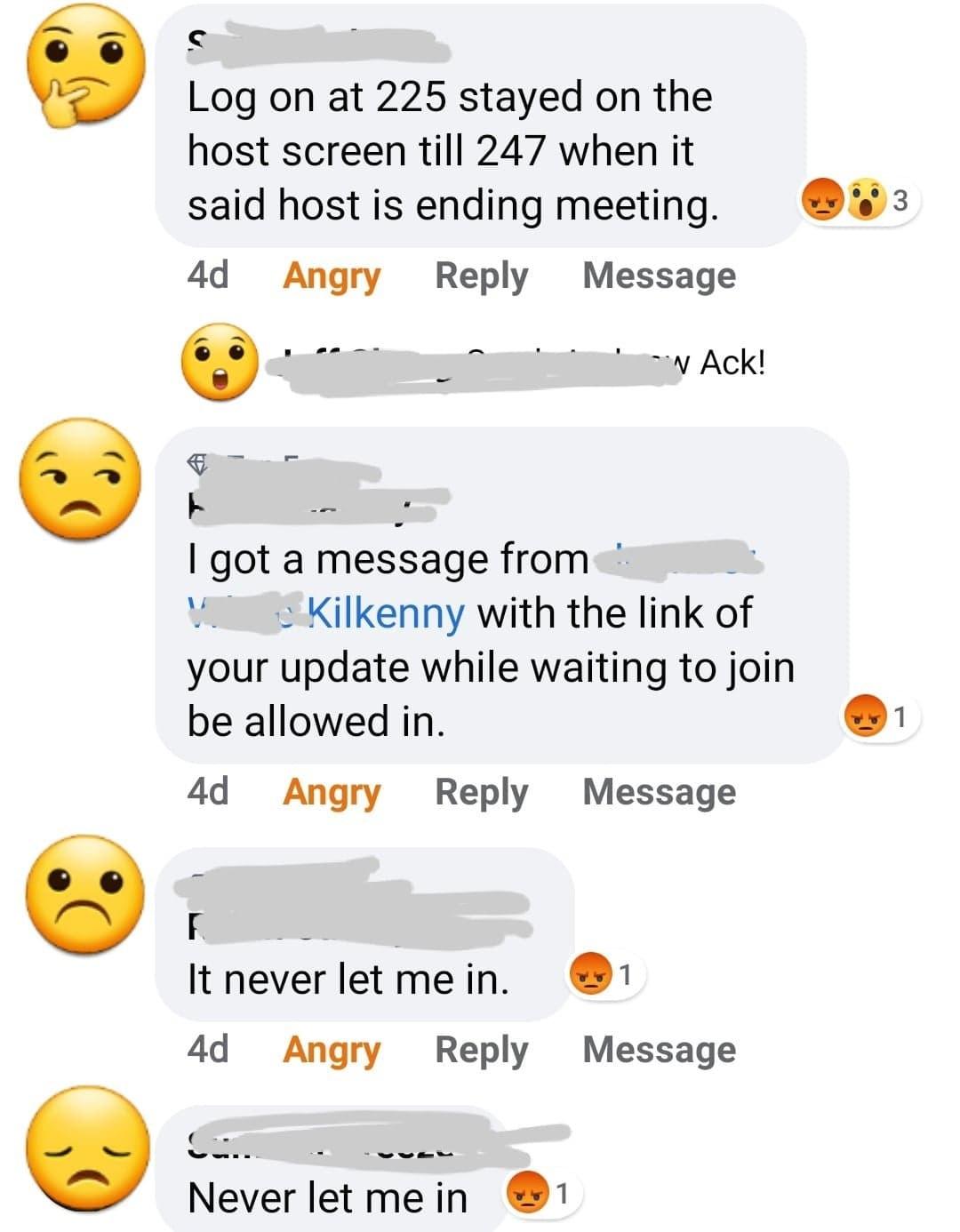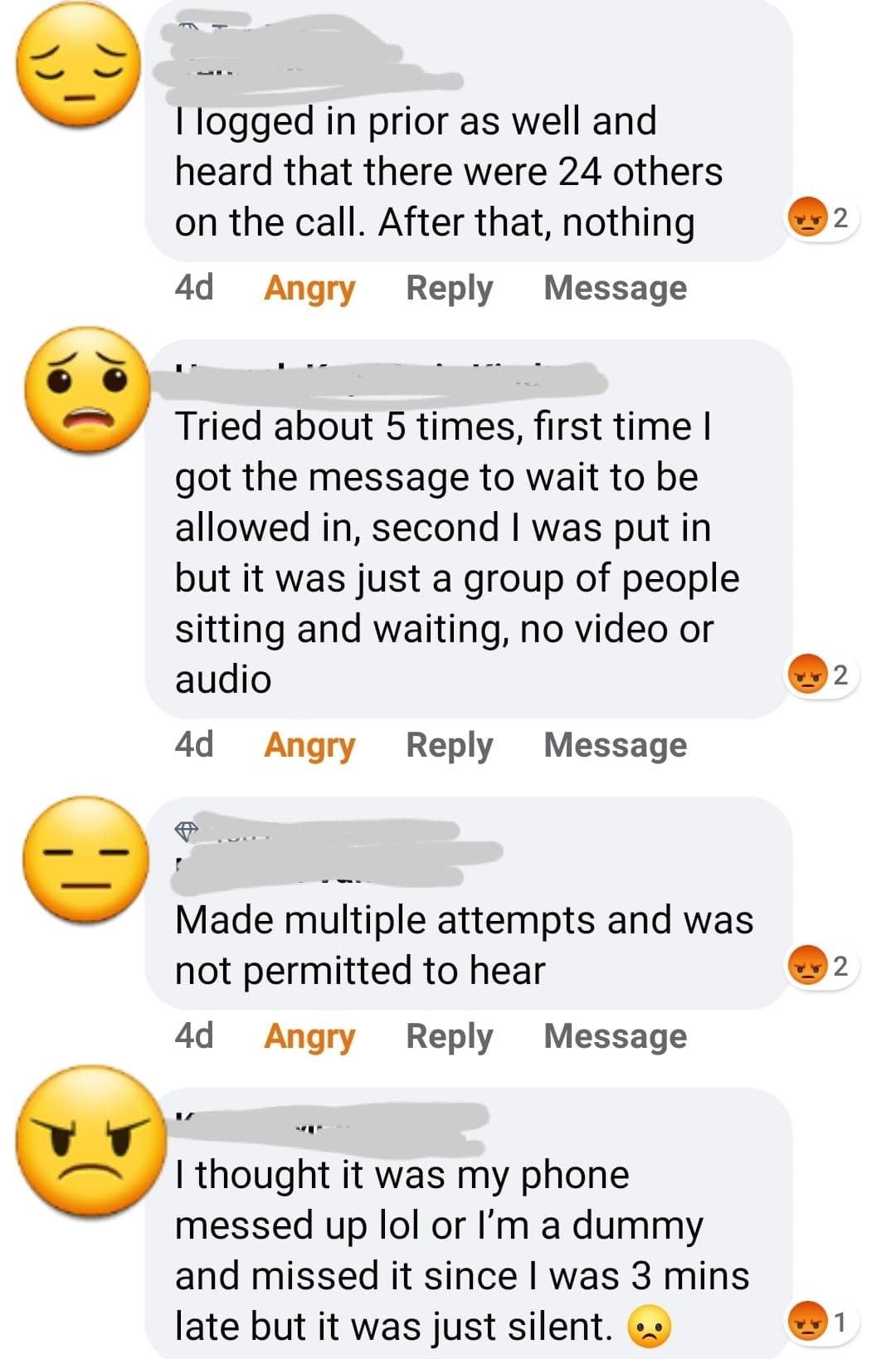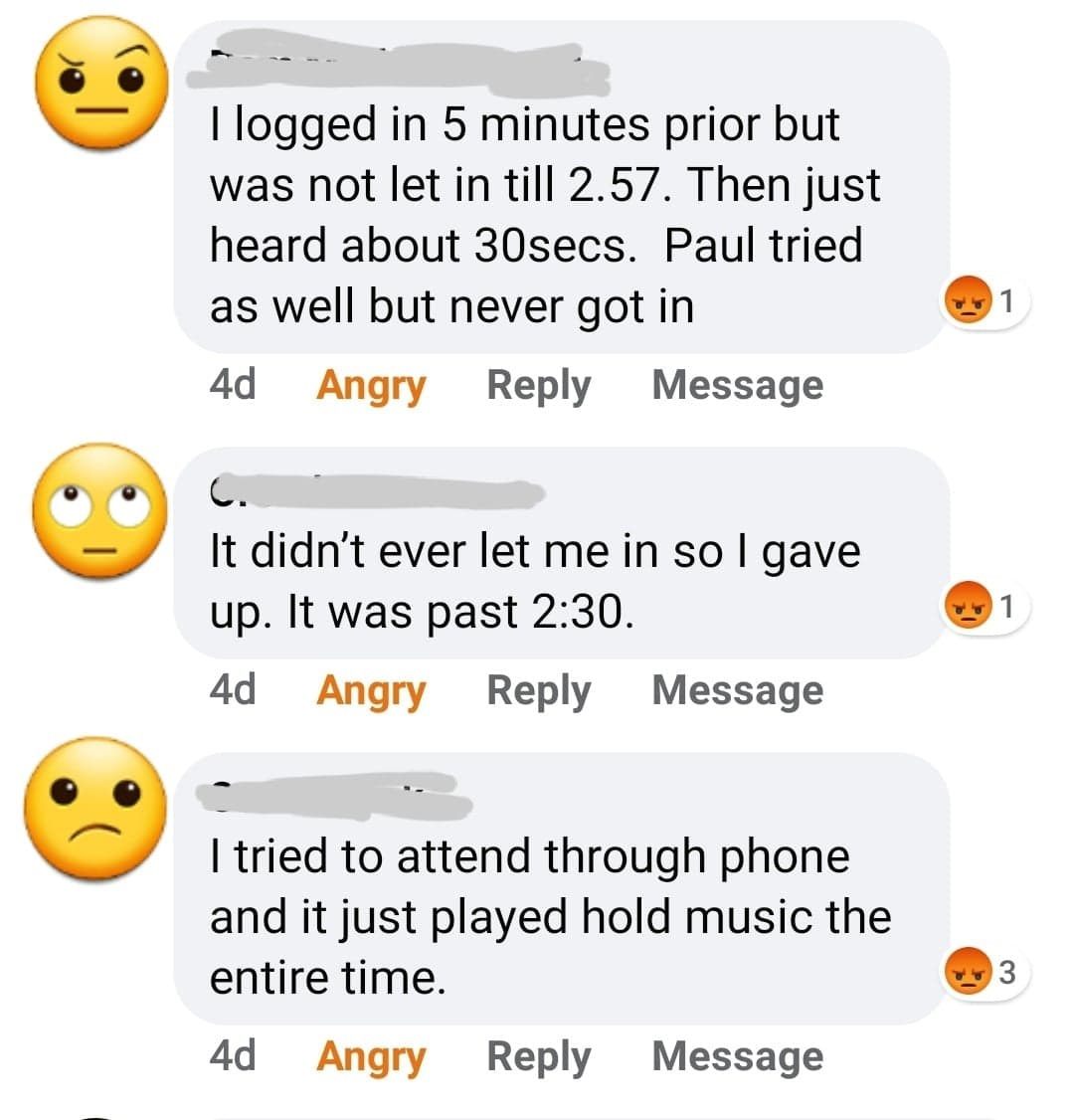 Sophia says she has now also filed for the court to uphold her right to a public hearing, and has requested permission from Commissioner Clucas for the hearing to be live streamed.
Serra Frank says the court should definitely be open:
"Washington has wonderful public hearing laws. States like Arizona, Idaho, Texas, Tennessee, and many many others close their courtroom doors – a HUGE issue with corruption in CPS and violation of the United States Constitution Amendments #1, 6 & 14. Lack of public scrutiny breeds unlawful intimidation, coercion, and manipulation by government employees. In order to uphold Sophia's rights under these laws, the court should reopen its doors in one way or another."
Sophia says she doesn't know what is going to happen in court on Wednesday, but that things are definitely different. She feels that she is being treated with much more respect since she fired her inadequate attorney and took over her own cases.
Previously, two separate court dates were scheduled for September 30th- one at 1:30pm PST for the TPR response hearing for Zurius and one at 2:30pm PST for a status conference for Riley.
Sophia has informed Health Impact News that once she filed a motion for Joinder of all the cases, the hearings were merged and will occur from 2:30pm to 4:30pm PST, with Commissioner Matthew Cluclas presiding for all of the cases.
Sophia says Commissioner Clucas allegedly told her to expect a "long hearing" and to bring both the paternal and maternal grandparents to the courthouse.
Sophia is obviously nervous, but says she believes that "justice will be done, either now – or later if I am forced to appeal to the higher courts." She says she will never quit fighting to bring BOTH of her boys home, no matter how far she must go.
"They should be home with me, where they belong… I will never give up my babies."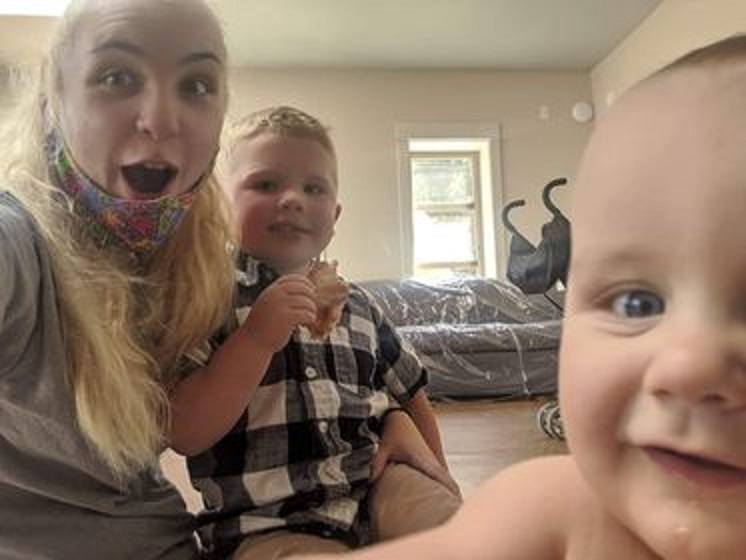 👇HOW YOU CAN HELP👇
👉 Family Support Page –Fight for Z and Riley – www.facebook.com/Fight4ZandRiley
👉 Public Events – www.facebook.com/Fight4ZandRiley/events
👉 Change.org petition – www.change.org/fight4ZandRiley
👉 Donation Account – www.fundrazr.com/fight4ZandRiley
👉 Contact Everyone:
Washington Leaders:
☎✉ Washington Governor Jay Inslee:
Office of the Governor
PO Box 40002
Olympia, WA 98504-0002
Phone: 360-902-4111
☎✉ Bremerton Mayor Greg Wheeler
345 6th Street Suite 600
Bremerton, WA 98337
Phone: 360-473-5266
Washington Legislators:
☎✉ Representative Dan Griffey:
https://app.leg.wa.gov/pbc/memberEmail/35/1
PO Box 40600
Olympia, WA 98504
(360) 786 – 7966
☎✉ Senator Tim Sheldon:
https://app.leg.wa.gov/pbc/memberEmail/35/0
PO Box 40435
Olympia, WA 98504
(360) 786 – 7668
Fax: (360) 786 – 1999
✉ Senator Patty Murray: https://www.murray.senate.gov/public/index.cfm/mobile/contactme
✉ Senator Maria Cantwell: https://www.cantwell.senate.gov/contact
✉ Representative Derek Kilmer: https://kilmer.house.gov/contact/email-me
Having problems receiving our newsletters? See: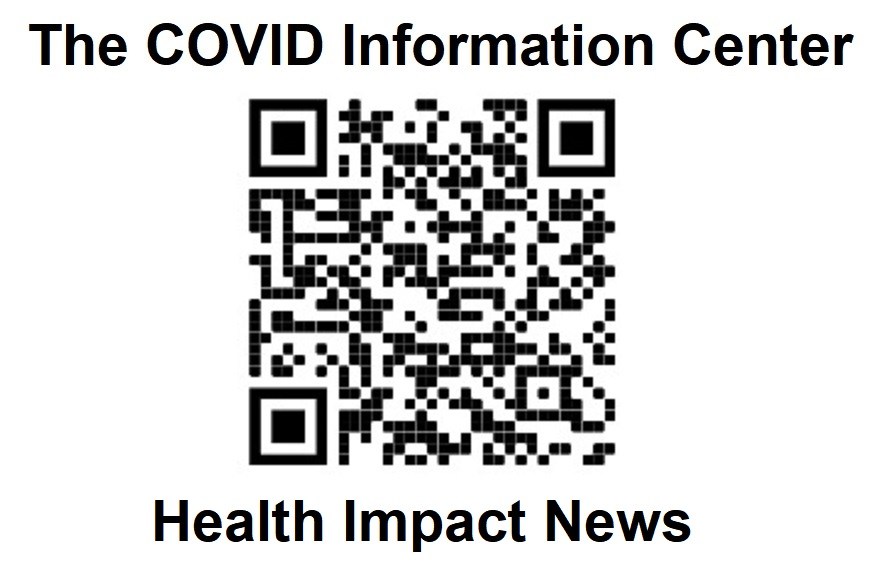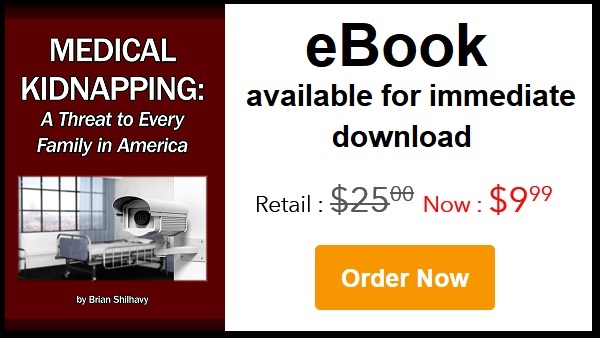 Support the case against Medical Kidnapping by purchasing our new book!
If you know people who are skeptical and cannot believe that medical kidnapping happens in the U.S. today, this is the book for them! Backed with solid references and real life examples, they will not be able to deny the plain evidence before them, and will become better educated on this topic that is destroying the American family.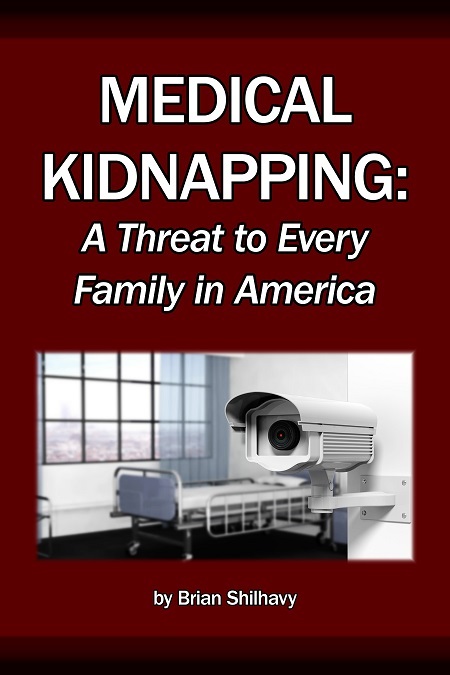 1 Book – 228 pages
Retail: $24.99
FREE Shipping Available!
Now: $14.99
Order here!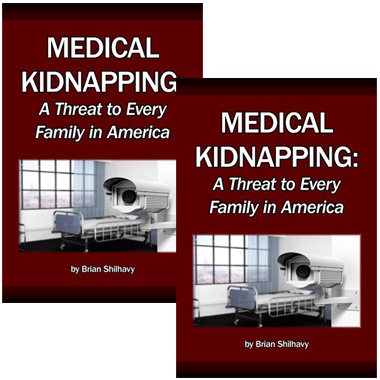 2 Books
Retail: $49.98 (for 2 books)
FREE Shipping Available!
Now: $19.99 (for 2 books)
Order here!
Published on September 29, 2020