by Health Impact News/MedicalKidnap.com Staff
Isaiah Rider is finally free. The Missouri teen was taken captive by Illinois DCFS (Department of Children and Family Services) more than 2 years ago when his mother challenged the doctors at Lurie Children's Hospital when her son was in pain and not being helped by the doctors there.
Isaiah and his mother Michelle Rider have been living in a nightmare ever since that horrible day on April 15, 2014, the day when DCFS kicked Michelle out of the hospital and seized custody of Isaiah.
Now, that chapter is over, and they are beginning the difficult task of putting their lives back together.
Team Isaiah, the group that has been fighting for Isaiah's freedom from DCFS, recently posted this on their Facebook page:
Dear Team Isaiah,

First we would like to apologize for the delay of sharing this important news. We are happy to report that after a very long and painful 766 days Isaiah is finally free from Illinois. The case in Illinois is closed.

While we are happy, we are also reminded that this never should have happened. Not even for a single day. This is great news. However it is bitter-sweet, we must not forget there has been a lot of suffering for this family, tremendous pain, torture, and lives significantly altered. Without real cause during the last two years for this family. This is all in addition to Isaiah's real and unfortunate complicated medical problems.

Many of us have been following this heartbreaking situation very closely and the truth has clearly been brought to light. This has truly been a miscarriage of justice. The Rider's are still trying to pick up all the pieces. They are left dealing with the aftermath this horrific situation has caused this innocent family. While we all can celebrate this as a victory, we are reminded that true justice has not been served in this situation or for this family, the Riders. We would like to thank everyone for all your support and continued support. We invite everyone to stay posted to Team Isaiah for future updates. We will have future updates coming in the near future.

Thank you from Team Isaiah Admins, The Riders want to thank you also and please know we appreciate you all very much. Love, Team Isaiah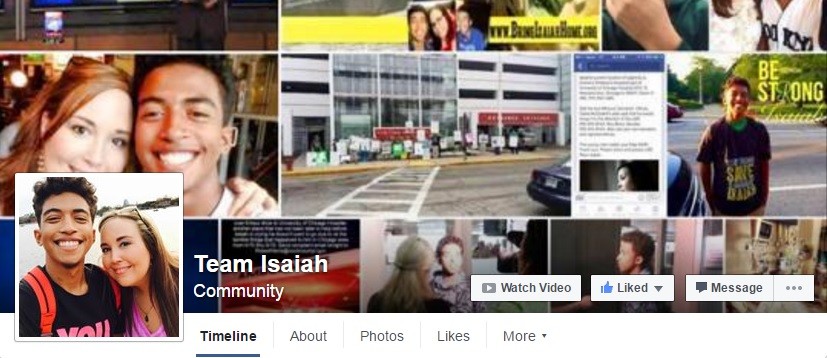 Health Impact News has been following the Riders' story since before the formation of the MedicalKidnap.com website. Advocates have been supporting the family and fighting for Isaiah's freedom throughout the past 2 years. We have chronicled his traumatic time in a foster home in a Chicago ghetto, the revelation of his being raped while in Chicago DCFS custody, his return to live in Missouri, but not at home, his forceful abduction to be sent back to the hospital in Chicago, and the gestapo-type declarations that he would not be free on his 18th birthday, but would live under the threat of arrest if he were to try to flee DCFS custody.
Some of our coverage:
Fight Rages for Teenager Isaiah Rider's Freedom – His Mother Commits "Cardinal Sin" Of Questioning Doctors
Missouri Teen Medically Kidnapped Was Raped and Sodomized While in Illinois Foster Care
Verdict – Missouri Resident Isaiah Rider To Remain Ward of the State of Illinois
Medically Kidnapped Isaiah Rider: "Don't Underestimate Me"
Illinois Stops Teen from Going to Mayo Clinic – "Legalized Terrorism" Claims Distraught Mom
Medical Terrorism: KC Teen Isaiah Rider Will Remain in Illinois Custody After He Turns 18
BREAKING – Illinois Social Worker Threatens to Arrest Teen Isaiah Rider When He Turns 18
Never did anyone in the family think that this nightmare saga would continue as long as it has, but it did. Isaiah will turn 19 in August. In his home state, he was considered an adult at age 17, but he remained at the mercy of social workers and Judge Nicholas Geanopoulos in a state 9 hours drive away, until he is now just a couple months shy of being 19 years old.
During the course of their ordeal, Michelle Rider made the arduous journey from her home in Missouri to family court in Chicago at least 23 times, usually driving the 18 hours round-trip. Other times she paid the expense of plane tickets to attend court, and each trip necessitated that she pay for a hotel.
Numerous times after it became clear that Isaiah would not be free upon turning 18, Michelle asked me:
Are they going to continue to torture us as long as they can? When will it end?
It's over. But at what cost? What is there, truly, to celebrate, when so much has been stolen from this family? Much crucial time in Isaiah's teenage life has been lost. Like other innocent families where Child Protective Services acts overzealously and violates the family, important milestones in the child's life are missed, only to be replaced by trauma.
When an innocent family wins against Child Protective Services, it can feel like a hollow victory. It is, as Team Isaiah states, "bitter-sweet." It cannot be compared to winning a victory in a ballgame, or a race, or an election. It is a victory after fighting the hardest battle in a family's life, a battle that never should have happened in the first place. So much has been lost. As one mother told Health Impact News after winning such a victory:
How do we celebrate after our lives have been ruined?
We spoke with Michelle Rider, who wants everyone to know that they very much appreciate "the faithful people" who have advocated for them and have prayed and supported them for the past 2 years.
Now, she and her son face the daunting task of rebuilding their lives and healing. Michelle said that it feels like "after the war." She sounded shell-shocked. How do we tell a mother we are happy for her when so much has been lost that they can never get back?
How do we sit back and allow this to continue to happen to innocent families?
There was a time when we didn't know what Child Protective Services was doing to families. There was a time when we believed that they were there to help truly abused children with terrible parents.
Now, we know better. Now we know that children like Isaiah with a rare medical condition can be worth a great deal of money in medical research, and we know that the foster care system is more about money than about helping children. We now know that families are being ripped apart without good reason.
Isaiah Rider's story is a story that captured the attention of thousands, and it showed us that Medical Kidnapping is real. We are thankful that the Riders' case is closed, and our prayers are with them as they work to heal and rebuild their lives.
The question remains: What are we going to do about it? Are we going to work to make sure that what happened to Michelle and Isaiah Rider stops happening to other families? Medical Kidnapping is wrong, and it needs to end.
Published on June 12, 2016