Update 5/8/2016
Leiani is not free. Nor is her family. The "things that had to be bargained for" means that Leiani may live at home with her step-father and sister, but her mother is forbidden to live at home. Leiani is not permitted to freely have a relationship with her mother, and CPS defines and limits the time that she can spend with her mother.
See: Michigan Forces Mom of Medically Kidnapped Teen to Sleep in Car – Issues Gag Order to Keep Story out of the Media
UPDATE 1/23/2016
According to the Save Leiani Facebook page as of 1/22/2016:
"Leiani is Free! As you might expect there were things that had to be bargained for. We appreciate all of your support."
You can watch the 7 Action News report Teen taken by CPS reunited with family after nearly three months in Children's Village below:
The State of Michigan will still have "exclusive medical decisions" over the care of Leiani. Her step-father says Leiani is "traumatized."
MedicalKidnap.com also received this request from a Michigan State Representative regarding a Hearing at the State House:
"I am a Representative at the Michigan State House. I am the vice chair of the Committee of Children, Families and Seniors. I am interested in holding hearings on the issue of CPS abuse and over reach. I would be interested in (this) story and the stories of others who have had similar experiences."
If you have suffered at the hands of CPS corruption in Michigan and want your story known, comment with your story in the comment section.
Michigan Teen Medically Kidnapped and Placed in Juvenile Detention Facility as Her Health Deteriorates
by Health Impact News/MedicalKidnap.com Staff
Last year Leiani McMichael was an honor student, artist, and a varsity swimmer at her high school. She was a good kid with a great life. Now the Michigan teenager's family fears for her life. The 17 year old was seized from her family by Child Protective Services on November 4, 2015, after the University of Michigan Mott's Children's Hospital called CPS and accused her mother of Munchausen by Proxy. The family and supporters believe that Mott's is trying to cover up their poor care of Leiani. Doctors and social workers are blaming the teen for her debilitating illness, but her mother, Rebecca Campos-Santana, insists that there is no way this is all in her head – it's in her digestive system.
It Started with Abdominal Pain
Before February 2015, Leiani was a healthy, thriving middle-class teenager. She loves dolphins, the Hunger Games, and her dog Cupcake. She lived with her mother, step-father, and little sister. The family ran a dog grooming business.
Then, she began having abdominal pain. That is when her roller coaster of health issues began, which has ultimately resulted in CPS taking her away from her family and placing her in Children's Village – a juvenile detention center.
Her mother took her to Beaumont Hospital in Royal Oak, Michigan. X-rays revealed that there was indeed a problem, and she was referred to a gastroenterologist.
When he performed laproscopy, he found and removed 2 walnut-sized cysts on her fallopian tube, and repaired 2 abdominal hernias. Her appendix was not yet showing significant problems, but it was removed as well. She was discharged on the 3rd day, but she was vomiting. That was chalked up to a virus.
In and Out of the Hospital – No Answers, Still Sick
By the 5th day after surgery, Leiani was still vomiting and her heart was racing. Rebecca took her daughter back to Beaumont Hospital. A week later, a test was performed to check for motility (movement in the digestive system). It wasn't good. It looked like gastroparesis, or delayed gastric emptying. This can sometimes be caused by damage to the vagus nerve. Doctors inserted a TPN feeding tube, so that she could receive IV nutrition.
Her care was transferred to Children's Hospital of Detroit for more testing. Doctors there pulled out the TPN feeding tube. They said that she had irritable bowel syndrome and encouraged her to eat. Despite the fact that Leiani continued vomiting, Children's of Detroit discharged her to go home after 4 1/2 days.
The next day, she was still sick, so Rebecca called her daughter's pediatrician and asked what they should do. The pediatrician recommended that they go to the University of Michigan Mott's Children's Hospital. (They had no idea that the hospital had Child Abuse Specialists on staff, who often seem to find abuse where none exists.) See:
Testing showed that her stomach was still not emptying properly. U of M inserted a different feeding tube – a nasal one this time. She was discharged a couple days later, still vomiting.
Rebecca took Leiani to see the gastroenterologist who did her surgery at Beaumont, and he admitted Leiani back into Beaumont hospital. By this time, her body was healed enough from the surgery to do tests that he couldn't do before. He confirmed that she had gastroparesis, and put in a feeding tube that would bypass her stomach.
She was in and out of emergency rooms due to abdominal pain. Nobody could figure out why she was in so much pain. That didn't happen until months later. Her daughter was hurting, so her mom refused to stop looking for answers. They went to the Cleveland Clinic in Ohio, 5 hours away. The doctors theorized that her vagal nerve had been severed during the hernia surgery, and they acknowledged that Leiani was indeed in great pain.
Before Another Surgery, Leiani Wanted to Visit Dad and Get a Second Opinion
Doctors wanted to surgically insert a feeding tube. Her tube was a nasal tube, with a "bridle" device to hold it in place. Leiani told the doctors that if they were going to "butcher her," she wanted to go visit her father in California first, and then come back and have that surgery. She also wanted to get a second opinion before taking such a drastic step. It was mid-June.
Nightmare in California
After just 3 days in California, her feeding tube broke. Her dad took her to Miller Children's Hospital in Long Beach, California, for them to fix the tube. That hospital reportedly had never seen the bridle devise before, and they didn't know how to remove it. Instead of calling Beaumont Hospital to ask them how, they took Leiani into surgery. Things went downhill fast from that point.
Leiani ended up in a coma. Medical records show that she was "comatose, no gag, no response to noxious, auditory, visual stimuli." When she came out of the coma, she was paralyzed from the neck down and had memory loss. For obvious reasons, Rebecca says that she "freaked out." She and Leiani's father wanted to know what the hospital had done to her.
At this point, she was being given only water, no food. Her parents tried to get her to eat. By her 17th day in Miller Hospital, she had lost many pounds.
A new doctor came in at that point. He started the feeding tube again. He figured out the source of much of Leiani's abdominal pain. She was allergic to the formula that she had been given for months. That formula was designed to be metabolized in the stomach, but her tubes bypassed the stomach and went directly to the jejunum, in the small intestine. She was also allergic to dairy. After he switched her to a different formula for the feeding tube, she finally began getting better.
CPS Shows Up After Teen Refuses Anti-Depressant Drugs
After a month at Miller Children's Hospital, Leiani was released to go back to her dad's house. Her mother had already returned to Michigan. Leiani had only been home for 15 minutes when CPS showed up on their doorstep, accusing her parents of not giving her proper medications. Rebecca reports that the medications that they referred to were anti-depressants. Miller wanted to put her on them in order to "stimulate an appetite." It was Leiani herself, though, who refused the medications:
I'm not taking that. I'm not suicidal. I don't need that.
Victim Blaming by Miller Hospital
They found out that Miller Hospital was accusing Leiani of having "conversion disorder." They allegedly blamed her for everything, that somehow she did this to herself. The National Institute of Health defines conversion disorder as:
a mental condition in which a person has blindness, paralysis, or other nervous system (neurologic) symptoms that cannot be explained by medical evaluation.
However, Leiani was suffering from very real physical symptoms. Much later, when her parents got the medical records from Miller, they learned that, during the surgery, doctors had given her medications that Leiani was allergic to, and she had a very bad reaction. They had also learned that she was allergic to the dairy-based liquid nutrition that she had been prescribed for months, which accounted for much of her abdominal pain.
At that point, CPS let Leiani go back home to her mom in Michigan. Miller Hospital reportedly had not told the parents that Leiani had some neurological issue after the surgery and coma, and would require therapy after she went home.
Seizures Begin
Leiani had no prior history of seizures. When she had her first seizure at home, Rebecca called 911. Leiani was taken to Beaumont Hospital. They didn't find a reason for the seizure. They tossed around the possibility of conversion disorder, but rejected that diagnosis and discharged her.
She had another seizure after going home. Rebecca called the primary care physician and asked what to do. 911 was again the answer, but this time she went to St. Joseph Mercy Hospital. They determined that the seizures were coming from her neck and spine, and it was not conversion disorder. However, they were reportedly not equipped to do the proper testing.
They transferred her care to University of Michigan Mott's Children's Hospital. Doctors there decided that they agreed with the diagnosis by Miller Hospital in California, that it was conversion disorder. By this point, Rebecca told them, "Ok. If that is what it is, then fix it." She just wanted her daughter to get better. The doctors' plan was for in-hospital therapy.
Mom Accuses Hospital of Negligence; Hospital Calls CPS
Leiani again spent nights in the hospital. U of M prescribed a wheelchair for her. One evening when her mother got there, she found her daughter saturated in urine and the feeding machine was beeping. Rebecca cleaned her up and fixed the machine. When doctors made rounds the next morning, Rebecca accused the hospital of being negligent, based on what she had found the previous night.
Just 2 hours later, CPS showed up. The hospital had reported her. Rebecca reports that the social worker who came in read the nurses' reports and found that errors had been made by the hospital. She saw that Rebecca had done nothing wrong:
This hospital calls us all the time. Take her [Leiani] home.
But it was apparent that U of M hospital was not happy with Rebecca. Three days later, they called CPS again, accusing her of Munchausen by Proxy. They reported that there was no medical reason for Leiani to have a feeding tube or to be in a wheelchair, yet Rebecca reports that it was they who prescribed the wheelchair. Was this their way of covering their malpractice?
Michigan Abuse and Neglect Defense Attorneys believe that this is a common tactic. On their website, they write:
Every medical malpractice defense attorney knows that the best way to avoid a medical malpractice lawsuit is to change the focus away from the child and the doctors, and to place it on the parents.
On November 4, another social worker from Oakland County DCF, Julia Rizzi, came to U of M and took Leiani out of her music therapy. Rebecca reports that she was screaming:
Don't take me!
Why Is a Sick Teen Taken to a Juvenile Facility?
Social worker Rizzi took her back to Beaumont Hospital for 2 days, and then took Leiani to Children's Village. Children's Village was in the news last summer as the "jail" that a Michigan judge sentenced 3 children to when the Tsimhoni siblings refused to have lunch with their father. The Washington Post quotes Judge Lisa Gorcyca's description of the facility to the Tsimhoni children:
You want to have your birthdays in Children's Village? Do you like going to the bathroom in front of people? Is your bed soft and comfortable at home? I'll tell you this, if you two don't have a nice lunch with your dad and make this up to your dad, you're going to come back here (after lunch) and I'm going to have the deputies take you to Children's Village.
Leiani's case is in the same court as the Tsimhoni family, but with a different judge. Based on recommendations from social worker Julia Rizzi, Rebecca has not been permitted visits with her daughter. Leiani's 8 year old sister is permitted 1 visit per month, and her father is allowed 2 phone calls per week.
Her 3.7 GPA is also in jeopardy as she has missed at least 3 weeks of school since being in CPS custody.
Recently, Michigan CPS has sent other teenagers in their system to a juvenile detention facility after they ran away from an abusive foster home. The family of one teen, Abbie McMichael, fears for her life. She has lost 1/3 of her body weight since being in CPS custody.
See story – Once Thriving Michigan Teenager Now Facing Death in CPS Custody
Michigan Court Ignores Federal Law Requiring Family Placement
Family members have asked to take care of Leiani, but the court has refused to consider any relatives, including an aunt who lives out of state, even after Rebecca paid out of pocket for a home study for the aunt. Reportedly, the concern is that family may allow Leiani to see her mother. Interestingly, the U of M Hospital has recommended that Leiani have supervised visits with her mother, but that recommendation has been ignored.
Odd Accusations by CPS
Court documents show that the accusations against Leiani's parents are things that any parent seeking answers for a sick child could be accused of:
Miller Children's Hospital and U of M have diagnosed Leiani with conversion disorder. Ms. Campos and Mr. McMichael have disagreed with past and present diagnoses.
Became angry and frustrated with Leiani's medical care
Threatening to obtain other medical opinions
CPS alleges that "due to their medical mistreatment of the child … the child is in a wheelchair and has a feeding tube, neither of which should be medically necessary."
Social Worker Rizzi alleges that medical maltreatment of Leiani began when she was 9 years old. Rebecca has no clue how she got that idea. Leiani's medical issues started in February 2015, when she was 16. Her health was great before that time.
The parents are accused of taking her to multiple doctors, but most of the time, this was on the recommendation of other physicians. Obviously, when Leiani was in California and had a broken feeding tube, she could not see a Michigan doctor.
Out of all the different hospitals that have seen Leiani since this painful journey began, the only facilities that have diagnosed Leiani with conversion disorder are the 2 where there was reportedly poor care – Miller Children's Hospital in California (which gave her medications that she was allergic to) and U of M Motts. The other hospitals and doctors have acknowledged that Leiani has serious gastrointestinal issues. According to Leiani's mom:
The people that are filing this are the people that actually medically abused her!
A couple of different psychiatrists, including one in California, have reportedly evaluated Leiani for conversion disorder, and found no sign of the condition.
"Medical Torture" and Medical Neglect in CPS Care
Leiani's GAL has reportedly taken issue with her lowering the speed of her feeding tube. He told Rebecca:
There's no medical reason for her to turn down the speed.
According to Rebecca, who has learned about the feeding tubes and how they function, there are several reasons that she might turn down the speed:
If the speed is too fast, it makes her be in pain.
There can be a build up of gasses. The tube placement could have moved. It could be too fast to be tolerable. The tube goes directly into the jejunum, not the stomach. She has heard her daughter scream in pain before from the speed of the feeding. They could have changed the formula back to something that she is allergic to. But the GAL insists:
I believe she's faking it and this is all psychological.
Rebecca questioned the GAL's qualifications to make medical decisions. He is not a doctor, nor has he consulted with a gastroenterologist before making his declarations. She asked if he was familiar with her case and stomach condition, to which he responded, "No."
There is no rate that the feeding tube is "supposed to be" set at, she says. It is supposed to be at whatever rate the patient finds tolerable. She compares keeping it at a higher speed to "medical torture." Rebecca also wonders what exactly they are doing to Leiani to keep her from turning down the speed? Are they restraining her?
Leiani's Safety Threatened in the Child Protective System
Currently Leiani is being held in Children's Village. Jennifer Torres is the foster care placement specialist, and she has told the family that Leiani is at the juvenile detention center because there is currently no "safe place" to send her that can provide medical care. She has allegedly told the teen that she is never coming home, and that she cannot get out of the facility unless she gets out of the wheelchair, because the "good" foster families aren't wheelchair accessible.
Rebecca says that Torres told her that there are 4 other state facilities that have requested Leiani, but she won't send her there:
"because she won't survive there."
Rebecca says that Ms. Torres offered no explanation for her cryptic comment.
Religious Freedom Denied
Leiani has requested for someone, perhaps a minister, to come in to pray with her. She grew up in a Christian home. However, CPS has denied her request to practice her religion.
What Happens Next?
The GAL has told the family that there is a possibility that Leiani can come home, but that may prove a very risky proposition. Rebecca must move out of the family home until the family court trial. If Leiani were to decline in any way once she gets home with her step-father, then CPS promises to immediately seize custody of both Leiani and her 8 year old sister.
No criminal charges have been filed.
To date, no doctor has figured out exactly what is causing Leiani's condition, so there is no guarantee that her condition will improve. She has declined frequently while in the care of doctors and hospitals.
CPS has already attempted to remove the 8 year old from her home, but as yet has been unsuccessful. The family is very scared, for both girls:
I feel helpless, hopeless, and sad. I now have a house, not a home.
Rebecca says that she tried to participate in a family Thanksgiving dinner, but she couldn't do it. She cried all day. It was the first holiday without her daughter. She has wrapped Christmas presents for Leiani, in the hopes of a Christmas miracle that defies the social workers' declarations.
She might be 17, but she was always my little girl.
How You Can Help
Supporters have set up a Facebook page called Save Leiani, so the public can keep up with what is happening. They are hoping that people will call legislators and the governor and plead for Leiani to be released to come home. She doesn't belong in a juvenile detention facility. She wants to be with her family. Friends are also hoping that a doctor will see the story who can put the pieces together and figure out what is happening medically with Leiani.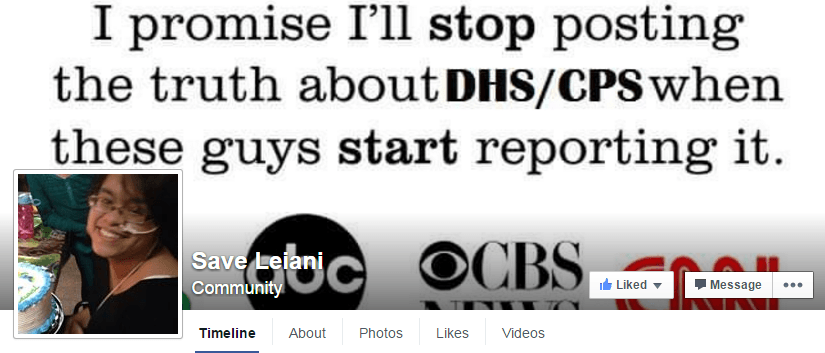 Governor Rick Snyder may be reached at 517-335-7858 or 517-373-3400, or contacted here.
Mike McCready represents the district that Leaini and her family live in. He may be reached at 517-373-8670, or contacted here.
Their State Senator is Jim Marleau. He may be reached at 248-724-2442, or contacted here.
Published on December 10, 2015