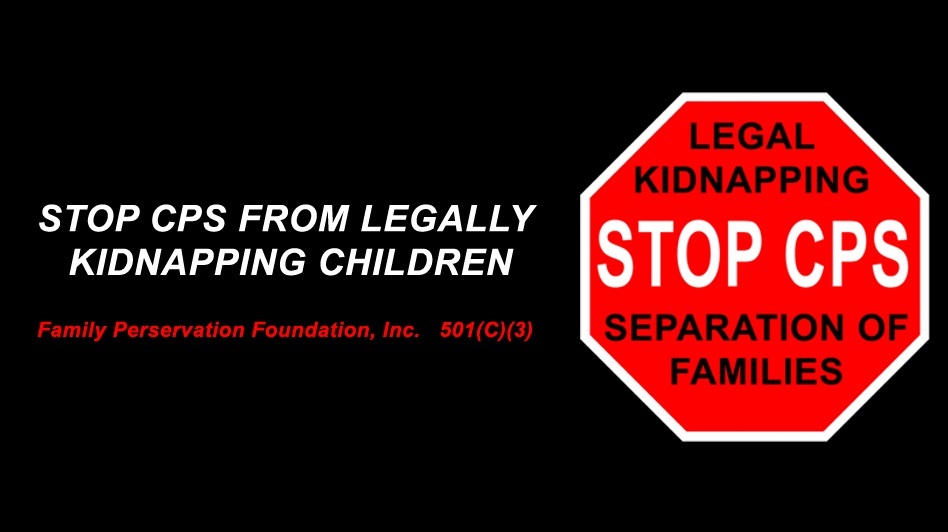 by Brian Shilhavy
Editor, Health Impact News
Earlier this year (2018) we reported that a group of Minnesota parents filed a federal civil rights lawsuit accusing Dakota County and the State of Minnesota for kidnapping their children and placing them unnecessarily into foster care. See:
The parents are part of an organization called The Family Preservation Foundation, which also goes by the name Stop CPS from Legally Kidnapping Children.
Recently, the group, which is reported to now represent over 4000 parents in Minnesota, garnered more local media coverage when a judge return a 1-year-old boy to his mother who had been allegedly placed into foster care for 3 months based on "false allegations of medical neglect."
"I am mad at the system for failing me and my son," said Amanda Weber at a news conference in St. Paul.
Weber also stated that social service workers knew their claims were inaccurate and still proceeded to remove her son.
According to the Star Tribune:
Morrison County Judge Leonard A. Weiler ruled in August that Morrison County Social Services "had failed to prove by clear and convincing evidence that the child is in need of protection and/or services" under the state statute.

He also said that there was no evidence that the boy's mother had medically neglected the child as the county alleged.
Attorney Erick G. Kaardal, who is the Chief Counsel for the Family Preservation Foundation, represented Ms. Weber. He is a graduate of Harvard College and the University of Chicago Law School.
The return of Amanda Weber's child was seen as a victory for the Family Preservation Foundation:
The legal victory is symbolic for a coalition of parents and advocates seeking to change the state's child protection system. The group has argued that Minnesota's laws criminalize parents for what they consider to be routine parental discipline and have a disproportionate effect on black families. (Source.)
The founder of The Family Preservation Foundation, dba Stop CPS From Legally Kidnapping Children, is Dwight D. Mitchell, PMP, OCP, OCS.
Mr. Mitchell reportedly had his three children removed from his home because a family babysitter reported him to CPS for a "bottom spanking" with one of his children. It took him almost 2 years to get his son back home.
According to the Star Tribune:
"It was every parent's worst nightmare," said Mitchell, 57, a management consultant. "My children were legally kidnapped for a bottom spanking that was done out of love, because I want my children to grow up to be hardworking members of society."

The child, Xander Mitchell, was kept in state custody for 22 months, during which time his father was refused all contact. Mitchell's other child was removed for five months, according to the lawsuit filed in U.S. District Court in Minneapolis.

Mitchell said his involvement with child protection began on the night of Feb. 16, 2014, when he and his wife went to dinner and a movie and left their children in the care of their longtime babysitter. A day earlier, Xander had received a "bottom spanking" from his father for stealing and other acts of disobedience, including failing to do his homework and playing video games when he should have been sleeping.

When the babysitter called to report the alleged maltreatment of the child, police were dispatched to Mitchell's residence and his three children were taken to the police station for questioning, he said. Days later, Dakota County filed a court petition seeking protection for Mitchell's children, who were removed from his home and placed in foster care while the county investigated.

Mitchell said his son Xander, now 15, has never been the same since. The once-gregarious and athletic child, who loved soccer and skiing, has become increasingly introverted and now spends most of his time indoors, he said. "The abduction by child protection services ruined my son's life and changed it forever," Mitchell said. "Can you imagine if you thought that your father abandoned you?"
Minnesota appears to have one of the most organized family advocacy groups fighting against legal government kidnapping and child trafficking in the United States.
Published on September 21, 2018