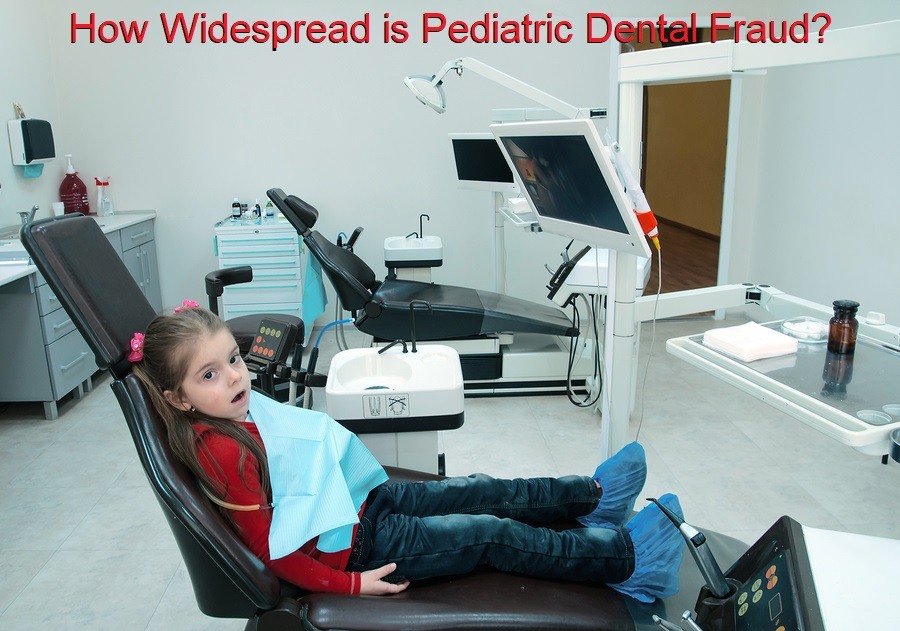 by Health Impact News Investigative Team
When a Pennsylvania mother posted a threatening letter on Facebook from her children's former dental practice, Smiles 4 Keeps, which threatened to report her to Child Protection Services if she did not keep a dental appointment for her child, a firestorm erupted.
The Smiles 4 Keeps letter received by Trey Hoyumpa has ignited commentary from thousands of parents and patients across the nation telling their stories of dental abuse, bullying, and fraud at the hands of pediatric dentists.
Health Impact News was the first to report the story in the media, and since then, mainstream media sources have also picked up on the story. Responses to the letter have been passionate and prolific, prompting coverage from local media in Pennsylvania to national media sources such as Yahoo News to national political commentator Michelle Malkin.
See our original story:
Since publishing our original report, Health Impact News has done some more investigating into the practices of this particular Pennsylvania  pediatric dental clinic, and its director Dr. Ross Wezmar, as well as pediatric dental practices nationwide.
We have found that Department of Justice settlements for pediatric dental fraud cases are some of the largest fraud settlements in healthcare, especially in relation to billing medicaid for unnecessary child dental services.
(Please note: we are NOT accusing Smiles 4 Keeps nor its staff of any wrongdoing. We are simply looking at pediatric dental practices nationwide and raising specific questions that parents are also asking.)
Dr. Wezmar seems to be a national leader in the Pediatric Dental field, and is actually listed as the "Dental consultant to Head Start, Pennsylvania Department of Public Welfare," and "Chairperson AAPD Medicaid Committee," among other accolades tied into billions of dollars of federal funding. The bio on his Smiles 4 Keeps website also boasts that he is the:
Only east coast private practice chosen to participate in Harvard University Children's Hospital Early Childhood Caries Program aimed at reducing early childhood decay.
Harvard University Children's Hospital is better known as Boston Children's Hospital, infamous for its reputation for medically kidnapping children for medical research, as was exposed nationally with the Justina Pelletier medical kidnap case that gained national exposure. (See our previous coverage on this case here.)
Could it be that the firestorm Pennsylvania mom Trey Hoyumpa unwittingly caused by publishing a letter received by Dr. Ross Wezmar's Smiles 4 Keeps pediatric dental clinic threatening to report her to Child Protection Services for failing to keep a dental appointment is the tip of the iceberg in nationwide pediatric dental fraud practices?
Pennsylvania Dental Clinic Remains Defiant in Public Response
The dentists and staff at Smiles 4 Keeps have been scrambling to do damage control ever since this story went viral. Some of their attempts to justify the letter seem to be doing more harm than good, sinking them ever deeper into a hole of declining public trust.
As news of the letter Trey Hoyumpa received grows increasingly viral, Dr. Ross Wezmar of Smiles 4 Keeps continues to attempt to justify the letter.
He told Newswatch 16 that, instead of criticism, he believes his team should be getting "a pat on the back."
Dr. Ross Wezmar says he and his fellow dentists have been targeted with harsh criticism for that controversial letter to some parents.

Instead of criticism, Dr. Wezmar believes his dental team should be getting a pat on the back.
Wezmar also said words which are drawing even more criticism:
We really have to jar the parent to realize that with a child comes responsibility.
Family rights advocate Susan Cobb made a comment to the Newswatch 16 article in a tongue-in-cheek response that perhaps cuts to the heart of the matter:
It is good to let all parents know that the state really owns their children. Many now suffer from delusions that their children belong to them and that they have primary responsibility to the God who gave them.

This is a little bit of a shock perhaps, but knowing the truth is better than having false peace and security by believing one has constitutional freedoms, the ability to freely choose to solicit a health care provider, or even get a second opinion without losing your child forever.

Title IVe federal incentives for adoption has accomplished a lot these last twenty years in providing the funds for the infrastructure to keep "the village" well supplied.

Going upwards of 20 billion annually, the well has not dried up yet. Social Security is inexhaustible, right?

Medical care providers are getting more brazen and audacious in their representation of their power and who they know themselves to be in this "village."

The letter is an accurate threat.

We can now add dentists to the list of those who are now just as dangerous as physicians in hospitals.

Parentectomy. Believe it. (Source.)
Pediatric Dental Fraud a Huge Problem Nationwide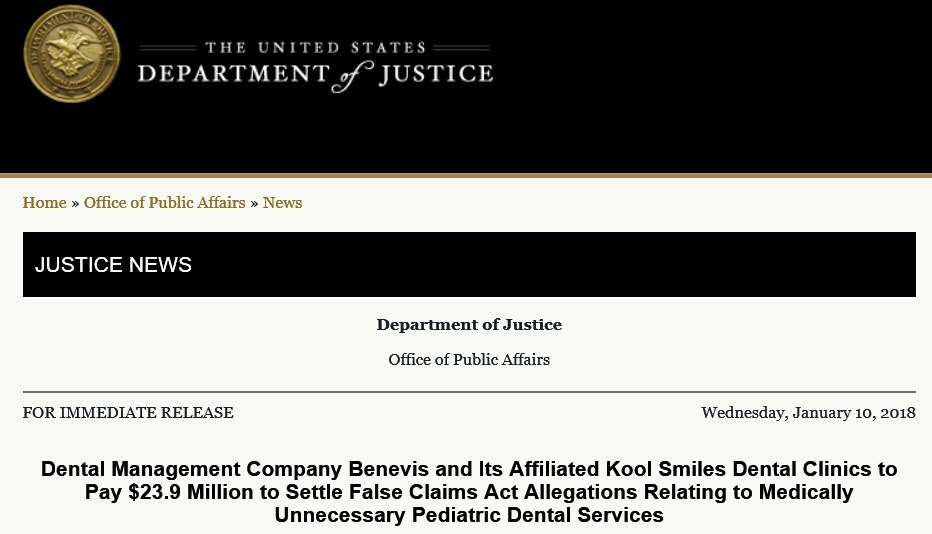 It doesn't take long to do some simple searches on the Department of Justice (DOJ) website to see that pediatric dental fraud is a huge problem in the United States.
In January of this year (2018), the DOJ settled a $23.9 million lawsuit under the False Claims Act against Benevis LLC and more than 130 of its affiliated Kool Smiles dental clinics.
Under the agreement, Benevis and the Kool Smiles clinics will pay the United States and participating states a total of $23.9 million, plus interest, to resolve allegations that they knowingly submitted false claims for payment to state Medicaid programs for medically unnecessary dental services performed on children insured by Medicaid.

"Billing Medicaid programs for dental procedures that are not necessary contributes to the soaring costs of healthcare," said Acting Assistant Attorney General Chad A. Readler of the Justice Department's Civil Division. "When healthcare providers put vulnerable patients at risk by performing medically unnecessary procedures to achieve financial goals, we will take action."

The United States alleged that between January 2009 and December 2011, Benevis and Kool Smiles clinics located throughout 17 states knowingly submitted false claims to state Medicaid programs for medically unnecessary pulpotomies (baby root canals), tooth extractions, and stainless steel crowns, in addition to seeking payment for pulpotomies that were never performed.

The United States alleges that Kool Smiles clinics routinely pressured and incentivized dentists to meet production goals through a system that disciplined "unproductive" dentists and awarded "productive" dentists with substantial cash bonuses based on the revenue generated by the procedures they performed. (Source.)
Many other such cases involving pediatric dentistry are found on the DOJ website.
The law firm of McEldrew Young reports that fraudulent pediatric dental care is part of the larger problem of health care fraud and it can manifest in:
– providing services that are not medically necessary
– failing to meet professionally recognized standards of care for children
– insufficient documentation for the services provided
– providing services without the families consent
– unnecessary tooth extractions
– failure to disclose prior criminal conviction on licensing application.
– use of unlicensed staff to perform dental procedures (such as taking dental x-rays)
– billing for services by a dental assistant when the dentist is not in the office
– upcoding of dental services – seeking payment for more expensive levels of services than were actually performed.
– unbundling services – billing Medicaid separately for additional treatments performed on patients that return on a separate day for it at the request of the dentist when those services are typically provided in one office visit.
According to McEldrew Young:
An OIG study of pediatric dental services among general dentists and orthodontists in California in 2012 found questionable billing by providers charging $117.5 million for services in 2012. (See link to study.)

The studies found that the dental professionals practices involved a large percentage of children compared to other practices and included a high number of certain procedures.

Given these studies, the amount of fraud in this area in probably in the hundreds of millions of dollars a year.

[W]hen they bilk the government and taxpayers, they are also performing unnecessary dental services on poor children (the typical Medicaid dental patient) – which is pretty despicable.
Who is Dr. Ross Wezmar of Smiles 4 Keeps in Pennsylvania?
Dr. Ross Wezmar is the founder of the Smiles 4 Keeps dental clinic according to the website. He appears to be a national leader among pediatric dentists according to his website.
His resume states that he is linked to several national programs representing billions of dollars that could potentially be linked to child welfare services that investigate patients who question or refuse his clinics pediatric dental services, and potentially put them into state custody.
According to the Smiles 4 Keeps website, Dr. Wezmar claims to be the:
Only east coast private practice chosen to participate in Harvard University Children's Hospital Early Childhood Caries Program aimed at reducing early childhood decay. (Source)
Harvard's Children's Hospital is the infamous Boston Children's Hospital, the same hospital that medically kidnapped Justina Pelletier and gained national recognition for medically kidnapping children.
The Early Childhood Caries program appears to be a collaborative research protocol involving children in several states. Return visits are specified as part of the protocol.
Could it be that parents who take their children out of the dental practice earlier than expected interfere with the study results? Are children possibly enrolled in this study without their parents' knowledge?
Dr. Wezmar is also listed as the "Chairperson American Academy of Pediatric Dentistry (AAPD) Medicaid Committee and member Governmental Affairs Committee for over ten years," which would presumably give him influence over developing pediatric services that can be covered by Medicaid.
Dr. Wezmar is also listed as the "Dental consultant to Head Start, Pennsylvania Department of Public Welfare, US Department of Justice" and "Head Start Person of the Year."
The Office of Head Start was appropriated $9,168,095,000 (over $9 BILLION) of taxpayer funding in 2015, and is part of HHS (Health and Human Services), the same department that funds child welfare and child protection services.
The Pennsylvania Mom who was Threatened by Smiles 4 Keeps
Lest the public thinks that the mother who received the letter was actually guilty of any kind of neglect, Trey Hoyumpa wants the public to know:
We have a new dentist and things are swell.
She says that she simply didn't like the dental policies at Smiles 4 Keeps and didn't go back to that practice.
In her original post, she made it clear that she did not appreciate the fact that the dental practice would not allow parents to go back into the exam rooms with their children.
After the dental staff reportedly told her that her children had cavities that needed filled, they refused to show her the x-rays. They allegedly offered no evidence that there are actually any cavities present.
Instead of blindly following recommendations, more and more savvy or educated parents are asking for evidence that something is wrong before subjecting children to medical procedures which may be unnecessary, not to mention painful or harmful.
We recently reported the story of a West Coast mom who wanted to see some kind of testing done and some kind of evidence before consenting to doctors removing her daughter's kidney for a supposed stage 4 cancerous tumor for which she was offered no evidence. In response to her questioning the doctors, she lost custody of her young daughter.
See:
Trey Hoyumpa explained more of her story to Health Impact News:
In late December, I had the kids at the dentist office. I went to the counter to schedule fillings for both of the kids.

The clerk said that an appt could be made for one child, on say, Friday, and the other the next Thursday (or something like that). I told the clerk that would not work for me and that I need to have the children scheduled on the same day. The clerk refused, citing policy…which she explained…

The policy is in place because sometimes when siblings are scheduled on the same day, and one gets sick, the parent will cancel all of the appts.

(( On Smiles4keeps Facebook page they respond to my post and deny that this is policy by saying that they do everything to accommodate families. This is an outright lie. ))

I told the clerk (while standing with my children in their office!!!) that I disagreed with their policy and that I would be seeking care elsewhere.

Last weekend, I received this letter, insisting I give them our PRIVATE information else they'll report us.

They threaten the parent with abuse allegations. But they reserve the right to dismiss you from the practice at anytime for any reason, with absolute disregard for the parent and, more importantly, the child.

Nor are they acting concerned about the child's wellbeing. BUT this isn't abuse. They operate with a no-parents-beyond-this-point solid wood door, and there they do what they have to do to get their hands in your kid's mouth.

The only reason to separate the parent from the child is because you might have to do something the parent won't like…but that's not abuse.
Trey states that the dental office simply jumped to sending out this intimidating letter, the same letter they have sent to other parents as well, threatening to report them to Child Protective Services if they don't bring their child in to Smiles 4 Keeps for "regular professional cleanings and treatment."
In the response to the public outcry against the letter, Smiles 4 Keeps posted a response on their website in which they wrote:
…the letters are not sent unless attempts at multiple communications with the parents or guardians are unsuccessful or messages from our office remain unanswered. Letters are not sent after one missed treatment appointment.
Trey Hoyumpa says that this is not true in her case. We asked her how many times that Smiles 4 Keeps has contacted her.
According to the dental office response, we expected some ignored phone calls, text messages, or voice mails. She told us:
ONLY THE LETTER. Not one voicemail, email, text message…not a one.
How Many Children Have been Taken into State Custody due to Smiles 4 Keeps Reporting Parents to CPS?
ABC Newswatch 16 reached out to Smiles 4 Keeps and reported:
A Smiles 4 Keeps spokesperson says she does not know how many of these letters were sent but that it reported 17 cases of neglect last year.
There were allegedly 17 cases where parents were reported to Child Protective Services.
Could some of the parents have been reported for abuse and neglect for simply refusing to bring their child back to that particular dental office and seeking a second opinion?
If you had your child removed from your home by Child Protection Services due to a complaint reported by Smiles 4 Keeps, please contact us at Health Impact News to tell your story.
Other Dentists Respond to Smiles 4 Keeps Policy of Threatening Parents
Newswatch 16 interviewed Dr. Rich Grossman, a Kingston, Pennsylvania, dentist who has been practicing for 40 years. (See link.) When they showed him the letter, he responded:
It's highly unethical.

I think it's used as a scare tactic actually, to scare parents to bring their kids to those offices.
The last paragraph of the Smiles 4 Keeps letter reads:
To keep your child as healthy as possible and avoid a report to state authorities, please call Smiles 4 Keeps immediately to schedule an appointment.
Dr. Grossman responded:
I'm shocked that it's a Pennsylvania group of dentists who've resorted to something like this.
Dr. Abhishek Bhaumik is a pediatric dentist from Frisco, Texas. He saw Trey Hoyumpa's story and posted this on her page:
So sorry to read this. We aren't friends on FB but your post came up on my thread since I am a pediatric dentist.

I hope you don't lose hope in all pediatric dentists. Some of us love what we do and always allow parents to be present 🙂 . I find their letter offensive too 👍🏽 and this is why I love social media.
National Political Commentator Michelle Malkin Covers Medical Kidnapping
Conservative political commentator Michelle Malkin understands that the medical profession has sometimes resorted to tyrannical practices and she doesn't mince words about this case in her article, "The Snitches in Your Kids' Dental Office."
Excerpts:
How sharper than a serpent's tooth to have a despotic pediatric dentist.

Parents who decide, for whatever reason, that they don't like their children's oral care provider should be forewarned. Empowered by government "mandatory reporter" laws, dental offices are now using their authority to threaten families with child abuse charges if they don't comply with the cavity police.

Dr. Ross Wezmar of Smiles 4 Keeps actually boasted to local news station WNEP about the snitch letters' ability "to jar the parent to realize that with a child comes responsibility."

Benevolent Dr. Marcus Welby he is not. Wezmar claimed his bully notes are the first in the nation to be dispatched.

Indeed, the partnership between medical providers and government child welfare services has threatened innocent families across the country under the guise of "protecting the children." It is a short hop from cavity-shaming and misdiagnoses to ripping families apart….

Big Nanny monitors hostile to family privacy and autonomy are everywhere — in your kids' classrooms, cafeterias, and doctors' and dentists' offices. Eternal vigilance against government intrusion is the price of parenthood.
In response to Dr. Wezmar's comment, most parents, including Trey Hoyumpa, acknowledge that they understand that they are indeed responsible for their children.
Trey states that is why she didn't like the Smiles 4 Kids policy of not being able to accompany her children into the exam room.
But threatening a parent with medical neglect and reporting them to CPS where they could lose custody of their children is a very serious practice.
As readers of Health Impact News know, children who are taken away from their families and placed into foster care are at least 6 times more likely to be abused, molested, raped, or killed in foster care than they would be if left in their own home, even if that home is less than desirable.
See:
Published on March 28, 2018