by Health Impact News/MedicalKidnap.com Staff
The fate of 69 year old Beverley Finnegan of Massachusetts remains up in the air for now. Attorneys met on the Friday before Christmas to argue for and against pulling the plug on the medically kidnapped senior citizen.
After several hours in court, attorney Lisa Belanger told Health Impact News that they had expected Judge Mareen Monks to rule by the end of the day on Friday, December 23, 2017.
That didn't happen. The verdict was not handed down until after Monday's Christmas holiday.
The ruling is a temporary victory for Beverley's life. The court requires additional information and will appoint a Guardian ad litem to gather information on the motions submitted by both sides. The next court hearing will be on January 29, 2018.
While attorneys and guardians argued in court Friday that Beverley Finnegan should be put to death by "pulling the plug," attorney Lisa Belanger fought valiantly to save the life of a woman that Dr. Paul Byrne, a medical expert on brain death, says is reasonably likely to improve if she were to have proper treatment:
Beverly has a functioning brain. Beverly Finnegan does not fulfill any set of "brain death" criteria.
In Dr. Byrne's medical affidavit, he states that proper medical treatment of her condition did not occur and still has not occurred. He asserts that if she were to receive the proper treatment, there is a "reasonable likelihood of improvement" of her condition.
See Beverley's story here:
Medical Expert Testimony Downplayed at Court
As a result of the previous court hearing on Monday, December 18, Beverley's attorney and sister Janet Pidge were given until Friday, December 22, to secure a second opinion by another medical examiner. It was also ordered that MetroWest Medical Center provide access to Beverley's medical records to Janet Pidge and Lisa Belanger.
About the time that the family's previous article was published on Health Impact News on Wednesday, December 20, attorney Lisa Belanger was finally given her client's medical records.
She was horrified at what she found.
Both Beverley, before her heart attack, and her sister have stated numerous times that Beverley was not being given proper treatment and that she was being abused under guardianship care. For months Beverley has cried and pleaded to be released from the nursing home that she was forced into against her will.
Belanger got in touch with Dr. Paul A. Byrne, M.D., a medical expert with an impressive resume spanning several decades. He has spoken at numerous conferences, published many journal articles, and published a half dozen books on brain death and end of life issues.
According to an affidavit by Dr. Byrne:

Lawrence Glick is an attorney for Springwell, Inc., an Elder Protective Service agency appointed by the state of Massachusetts. Springwell is the agency that originally petitioned the court for a guardian for Beverley Finnegan almost a year ago. The guardian, Marissa Levinson, representing Jewish Family and Children Services, and Glick are among those who are arguing for Ms. Finnegan's death.
Ms. Belanger reports that Glick spoke to her about Dr. Byrne:
Wow! I'm impressed. How'd ya find somebody like him on such short notice?
Nonetheless, despite Dr. Paul Byrne's remarkable qualifications to evaluate Beverley Finnegan's medical condition, the court balked at his medical affidavit amid claims by attorneys that he was "unqualified" because he is board certified as a pediatrician. Ultimately, however, the document was submitted into evidence.
There were 3 other medical affidavits submitted by the other side, all of which essentially said the same thing, that Beverley was brain dead and had no hope of any recovery. Their statements each look like fill-in-the-blank copies of each other. These were readily accepted as evidence.
Lisa Belanger has learned that one of the doctors, Dr. Elman Urbina Meneses, is actually an intern. When she called the Massachusetts Medical Board, they told her that his medical license limits him to practice only at Framingham Union Hospital for training purposes. He is not licensed to practice anywhere else. However, she says that Dr. Meneses certified to the court that he is fully licensed to practice in Massachusetts. (For more on this, see Boston Broadside.)
Another doctor whose affidavit the court accepted was Dr. Aba Somers, who got his medical degree from a school in Johannesburg, South Africa.
Yet, the testimony of these doctors were given preferential treatment over that of the renowned medical expert Dr. Paul Byrne.
Medical Treatment Needed, Says Expert
In Dr. Byrne's report, he lays out specific medical treatments that need to be initiated immediately: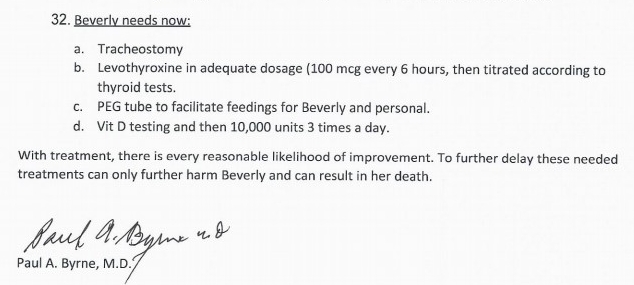 Other points in Dr. Byrne's report include:
25. Beverly Finnegan is a living person. Beverly's heart is beating about 100,000 times a day without stimulation from an electronic pacemaker or medication, blood pressure, respiration, i.e., exchange gases between lungs and blood, the blood and the tissues albeit with the use of a ventilator to push air into Beverly, but with the living Beverly causing the exhalation of carbon dioxide. Beverly is maintaining her temperature at 95-96 indicative of someone who is alive.

26. Beverly is anemic. Her hemoglobin is 7.8 and hematocrit is 26.4. Beverly needs a blood transfusion.

27. Beverly has been on ventilator for about 3 weeks. Tracheostomy is indicated. Ventilator can then be continued until her malnutrition and hypothyroidism are adequately treated.

28. Beverly is very likely deficient in Vit D. This needs to be tested and treated.

29. With adequate thyroid hormone, vitamins including Vitamin D, riboflavin, Vitamin B6, Folic acid, Vitamin B 12, arginine, taurine, omega 3 fatty acids, melatonin, and sufficient protein, being provided as treatment, there is a reasonable likelihood of improvement in Beverly Finnegan's condition. None of these measures have been initiated to my knowledge.

30. Beverly is malnourished, hypothyroid and on a ventilator. Tracheostomy, feeding tube (PEG tube), thyroid medication and adequate nutrition can help Beverly. To remove the ET tube from Betty with or without the ventilator will do harm and might impose death on Beverly Finnegan. There is little risk of harm to Beverly to attempt such treatment measures, and the prospect of recovery outweighs the limited costs of treatment.

31. A severely sick and damaged brain leads to a sick thyroid gland that worsens brain sickness. At this time Beverly Finnegan is in "global ischemic penumbra" and declared to be in a "vegetative state." Beverly Finnegan needs treatment, not harm and death imposed on her. With treatment there is every reasonable likelihood of improvement. [emphasis added]
One of the motions filed by the hospital and elder care attorneys was for the use of a PEG feeding tube and a tracheostomy, or breathing tube, to be surgically inserted. It was the one thing that both sides initially agreed upon. However, the guardian and the hospital attorneys reportedly tried to withdraw that motion by the time of court on Friday.
Jewish Family and Children Services, the court-appointed guardian service for Beverley Finnegan, represented by attorneys Wendy Crenshaw and David Schwarz, petitioned the court for authority to authorize removal of the ventilator, initiate a "Do Not Rescuscitate" order, and approval of comfort measures only.
Janet Pidge, Ms. Finnegan's sister, opposes such efforts by the guardian. She wants her sister to be treated and for her to be given the opportunity to live. Beverley appointed her sister as her medical proxy in 2012, long before she had any medical issues. However, her decision was ignored when the court appointed Jewish Family and Children Services last year to make the decisions for her.
Sister Prevented from Testifying
During the entire hearing, they reportedly argued that it would be more merciful for her to be dead – an assessment that Beverley's sister vehemently denies.
Janet Pidge was not permitted to testify in court, due to haggling over technicalities, while the very life of her beloved sister was at stake.
Janet was initially afraid to leave Beverley's side to come to court, fearful that the hospital would take her sister off of life support in her absence. She attempted to testify by phone, but she was unable to hear on the hospital phone. When Janet handed the phone to a hospital staff member, the staffer reportedly communicated to the court that she was unwilling to talk.
Shortly after, Janet spoke with her attorney to explain what happened, and said that she wanted to go to court. A supporter drove to the hospital to pick her up so that she could testify in person.
When she arrived at court, her attorney was told that the court had given Janet an opportunity to testify by phone. Since she didn't do that, because she was coming to court physically, the judge told her that it was too late.
Lisa Belanger attempted to file a hand-written motion to allow her to testify, but she said that when she tried to hand it to the court clerk, he refused to take it and handed it back to her. She and the clerk argued over this in the presence of the judge, who picked up her things and walked away.
Janet Pidge was devastated that she was unable to testify on behalf of her sister.
Past History of Guardianship Battles – Over Their Mother
The entire nightmare scenario feels like a repeat to her of what she and Beverley went through several years ago with their mother.
The sisters fought, unsuccessfully, to save their mother from a similar fate. The state of Massachusetts seized custody of their mother, appointed a guardian, and forced her into a nursing home against her will.
Janet told Health Impact News that they fought for their mother, who was abused and neglected by the guardian and nursing home. She died at age 102, but Janet says that she should have lived longer had she not been taken away.
She believes that at least some of what she is facing with her sister is retaliation for their battle for their mother, during which they filed several lawsuits and took on some very influential people. Some of the players involved with Beverley's case were allegedly involved with their mother. Janet says that the corruption runs deep in the guardianship/elder protection world in Massachusetts.
Lawyers Haggle over Medical Recommendations
Since the post-Christmas ruling on December 26, attorney Lisa Belanger has been attempting to get the hospital and attorneys to follow the recommendations of Dr. Paul Byrne, but has been met with resistance and semantical games.
She wrote Wednesday morning to the attorneys involved:
You are hereby formally notified that you have been provided the NECESSARY MEDICAL TREATMENT as set forth in Dr. Byrne's affidavit that Beverly Finnegan needs IMMEDIATELY.  The attached info and upon my consultation with expert medical professionals a PEG is a COMMON PLACE PROCEDURE that is capable of being done in a local hospital.

Also, you ALL  are put on notice that the hospital is medically falling below the reasonable care of duty in failing to perform the PEG IMMEDIATELY and for failure to provide Beverly Finnegan the proper dosages of medication as set forth in Dr. Byrnes's attached affidavit.
There is no ambiguity in Dr. Byrne's recommendations. Belanger is clear that she and Janet Pidge want the necessary medical treatment to be done.
Yet, attorneys wrote back and forth all day Wednesday, apparently much more concerned about a hearing on Thursday to find out if the judge meant to extend a conservatorship as well as guardianship for Beverley Finnegan than caring about whether or not she gets life-saving medical treatment.
In her ruling on Tuesday, the judge did not specify that the conservatorship was to be extended, so there is a hearing to clarify whether that was an oversight or not.
While the other attorneys try to figure out who is coming, Belanger has been trying to communicate the imperative nature of following Dr. Byrne's medical recommendations.
After a full day of haggling over what Janet wants for her sister, and questions as to whether or not Janet objects to the tracheostomy and PEG feeding tube [she doesn't], Belanger emailed the attorneys, including MetroWest Medical Center attorney Gary Zalkin:
I am quite puzzled as to how counsel for a "hospital" does not understand what "emergency" or "immediate" means.  As I emailed you yesterday, Wednesday, December 27, 2017 at 7:50 pm, I have not received any communications whatsoever that you have implemented the necessary LIFE-SAVING measures required.

Therefore, due to your evident and continuing reckless disregard for Beverley Finnegan's life, please be advised that I will be seeking legal recourse FORTHWITH.

It is now 7:25 am.  EVERY SECOND COUNTS.  And every second that elapses you and your client, Metro West, and the other aiders & abettors are compounding your culpability exponentially.
Health Impact News attempted to reach Zalkin for comment but was unsuccessful.
How You Can Help
Beverley Finnegan's life is on the line, and Janet Pidge and attorney Lisa Belanger are asking for all the help they can get to save her life. They ask for people to contact media, the governor, and legislators.
Massachusetts Governor Charlie Baker may be reached at 617-725-4005 or contacted here. His Facebook is here.  His Twitter is here.
State Representative Kay Khan may be reached at 617-722-2011 or contacted here. Her Facebook is here, and her Twitter is here.
State Senator Cynthia Creem may be reached at 617-722-1639 or contacted here.  She is on Facebook here.  Her Twitter is here.
The U.S. Senators for Massachusetts are Ted Markey and Elizabeth Warren.
Senator Ted Markey may be reached at 202 224 2742, or contacted here.
Senator Elizabeth Warren may be reached at 202 224 4543, or contacted here.
Attorney Lisa Siegel Belanger's website is here. She has a great deal of information on her website about guardianship issues. Her Twitter is here.
Published on December 28, 2017