by Health Impact News/MedicalKidnap.com Staff
Jeff and Tabitha Shoars are rejoicing today over a Nevada court's ruling. The Child Protective Services' claims against them that originated in Arizona, not Nevada, have been found to be unsubstantiated, and the case is closed as of 10 a.m. on November 30, 2017.
Despite repeated attempts by social workers from the State of Arizona to have their baby Ny'tallieya removed from her parents' custody, a Nevada court has found that there are no reasons to keep the baby from her home.
Tabitha Shoars says that they are very excited, and that it feels "like a weight's been lifted off of [their] shoulders."
This is the 4th time that Arizona has presented false allegations against them to the state of Nevada, and it is the 4th time that the allegations were found to be unsubstantiated.
The Shoars are hopeful that this will signal to Arizona social workers that they cannot manipulate social workers and courts in other states. She says that one of the Nevada social workers they have worked with clearly sees that the Arizona CPS attacks against them are "harassment."
The fight continues, however, to get the rest of their children back from the state of Arizona, where they remain held captive in foster care.
Their nightmare involvement with Child Protective Services began on the night of August 14, 2014, when the couple returned home after a date night to find that their daughter Khloe had been taken to the hospital. She had fallen earlier in the evening under the care of a babysitter, and was unresponsive.
Khloe passed away the next day. It was a horrific tragedy, and it was made all the more traumatizing for the entire family when Arizona Department of Child Services (DCS) seized custody of all of the couple's remaining 7 children.
See original story:
The cause of death was inconclusive, and the family suspects some type of brain anuerysm. No arrests were ever made because there was not enough evidence to support foul play.
Nonetheless, social workers pointed their fingers at the parents, who were not even home at the time. They continued to make allegations against the Shoars, even though they have no basis in facts.
When their case was closed on April 16, 2017, and guardianship of the children assigned to the grandparents, the family left the state with no intention of ever going back. Their children had been gone for almost 2 years, and had suffered abuse and trauma while in state custody.
See:
Arizona is considered one of the worst states for taking children from their families, with double the largest increase in child removals of any other state.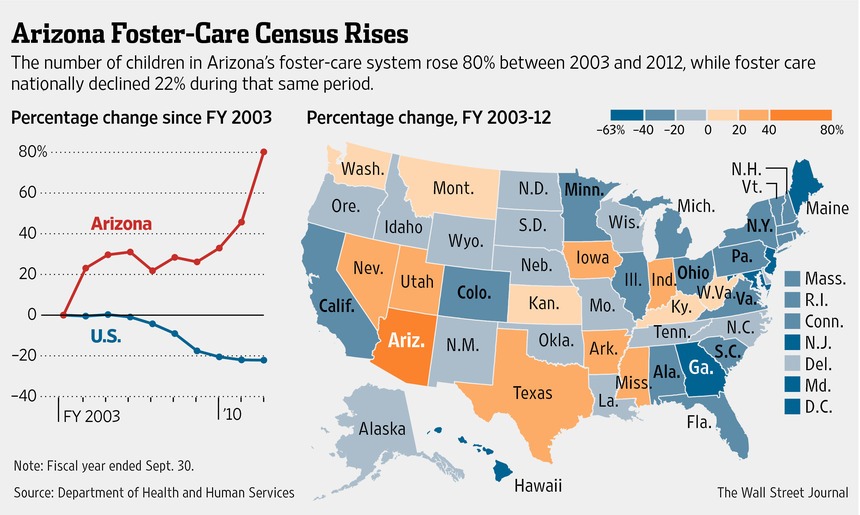 It is little wonder the family wanted to leave and get a fresh start. They all moved to Nevada.
Finally, they were able to grieve the loss of Khloe together and were beginning to heal.
After Ny'tallieya was born, social workers from Arizona made their presence known and started calling Nevada Child Protective Services. When Nevada saw no reason for their involvement, Arizona social workers drove up to Nevada on August 25, 2016, and seized the terrified, screaming children.
See:
Arizona social workers tried to take baby Ny'tallieya at the same time, but Nevada officials forbade them. Ny'tallieya was born in Nevada, and there was no way for even the most creative of Arizona social workers to fabricate jurisdiction over her, though they reportedly tried.
Since that time, Nevada has opened up 4 different cases on the Shoars for Ny'tallieya, but all were based upon allegations that came from social workers in Arizona, not anything that had happened in Nevada.
In June, Ny'tallieya was seized for 3 days, but she was returned to her parents quickly. None of the allegations held any merit, then or now.
The latest allegations include accusations that the Shoars choose unsafe caregivers, an allegation which Tabitha vehemently denies. It is very rare that they leave their baby with anyone, but they were forced to in order to visit their other children in Arizona.
The caregivers who were accused of being unsafe are a retired Nevada police officer and his girlfriend. They have since been cleared by background checks. Tabitha reports that the retired officer has filed a lawsuit against Arizona DCS for slander against his character.
Since there was a new case opened against them, Jeff and Tabitha had to, once again, jump through all of the CPS hoops – parenting classes, home inspections, and evaluations. Just as they had in Arizona, the parents participated in everything that was demanded of them.
Tabitha reports that no one in the Nevada court had any concerns about their ability to parent Ny'tallieya. She said that the judge gave the final say to the baby's attorney, and the attorney had no concerns. He told the court that he has not had any concerns for her safety since Day 1, when he came to their home.
The parents' attorneys have reportedly told them that Nevada cannot ever again use the old Arizona allegations against them again to open up a case. It has now been 4 times that Nevada social workers have investigated allegations by Arizona, and each time they have found no basis to take Ny'tallieya.
Tabitha commented on Facebook how it doesn't make sense that they cannot have their other children back who are verbal and able to communicate their needs, while they are considered safe for their vulnerable, and non-verbal baby.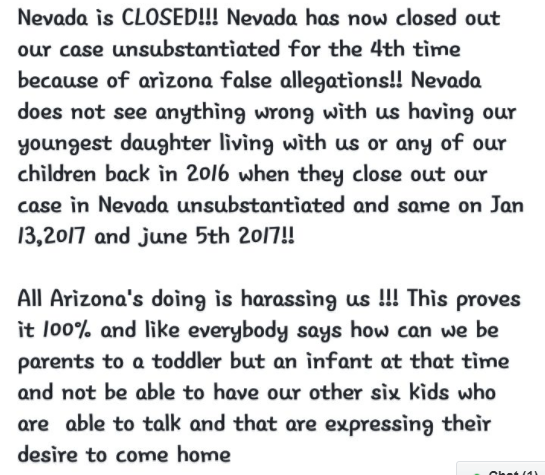 Jeff and Tabitha Shoars have not seen their other children since their son Devin's birthday, May 23, 2017 – the day that the parental rights were terminated to 6 of their children. The Shoars have 9 children – besides the 6 who were taken in Arizona, they have Ny'tallieya the baby, Khloe who passed away, and Ian, their autistic son whom they were forced to relinquish for adoption in order to get the other children back the first time.
They have appealed their case in Arizona. Not only did the parents file an appeal, their children requested an appeal as well. They have made it clear that they want to be home with their parents. If they cannot go home, they have told the courts that they at least want to be with their grandparents.
The appeal for guardianship for their grandparents was heard on November 15, and they are awaiting the decision from a panel of 3 judges in Arizona.
On December 19 – Khloe's birthday – another panel of 3 different judges in Arizona will hear the Shoars' appeal of the termination of their parental rights.
Tabitha and Jeff Shoars remain hopeful that justice will be served at that appeals hearing. They have presented a great deal of evidence of their innocence, as well as evidence of wrong-doing by the state.
According to Arizona law, since the case is in appeal, the visitation was supposed to continue, because the appeal, in effect, put the case on "pause" status.
However, all visits and phone calls have ceased.
Baby Traumatized, Deprived of Relationship with Siblings
Meanwhile, they are attempting to heal from the trauma caused by DCS. Tabitha says that, despite her young age, Ny'tallieya has been very traumatized.
She had only been home from the hospital after birth for 2 days when Arizona social workers drove up and kidnapped her siblings. Yet, she knows them and she grieves for them. She points to and babbles to their pictures.
Before the TPR, her brothers and sisters would often call home. Tabitha says that Ny'tallieya would "bounce up" when they called.
She would get so excited.
Even now, she often gets her mother's phone, looking for their pictures. Tabitha says she wants to see her brothers and sisters.
Since she herself was taken last summer by CPS, even though it was "only" 3 days, Ny'tallieya has been traumatized.
The typical approach by the child welfare system is a philosophy of "better safe than sorry," whereby they take children, "just in case."
It seems they are oblivious to the abundance of research into how separation of baby and parents has a profound detrimental effect on babies.
The trauma that seizing the children has seems to be completely unimportant to those who present themselves to the public and to lawmakers as the "protectors" of children, all the while they are the ones causing very real, measurable abuse to those very children.
The effect on Ny'tallieya is palpable. She is afraid of loud noises, such as doors slamming, and people with badges scare her. A simple knock on the door terrifies her.
In court Thursday, she clung to her mother "with a death grip."
Tabitha says that even her pediatrician and her counselor have diagnosed the baby as having Post Traumatic Stress because of CPS. The professionals have also allegedly stated that they are not concerned at all that she is at risk of being abused in her home.
Prayers for Justice
The Shoars are one family who has suffered an unimaginable tragedy in the death of little Khloe. Their nightmare and grief continues unabated till this day, due to the actions of the very agency charged with protecting children from harm.
Seven children have been ripped away from their parents and from each other. One child remains at home, but even she is traumatized. All have been stripped of their Constitutional right to familial association.
Thursday was a step in the right direction, with the Nevada case against Jeff and Tabitha Shoars being closed out. Ny'tallieya is safe for now.
The family is praying for good news from Arizona next. They know that, if the system worked like it should, if justice prevails, then they will get their other children back. Unfortunately, they know that, all too often, justice and truth are NOT the rule of the day in Arizona family courts.
We will keep you posted and let you know what happens with the appeals. The Shoars ask for prayers, and they want to encourage every parent to keep fighting and never give up on getting justice for their children.
See other cases from Arizona:
Published on December 1, 2017