by Brian Shilhavy
Health Impact News Editor
Earlier this year (May, 2017) we covered the story of Amy Fabbrini and Eric Ziegler of Bend, Oregon, who have been fighting to prevent Oregon Department of Human Services' Child Protection Services from terminating their parental rights to their children for nearly four years.
The agency has deemed the couple "incapable" of parenting. CPS claims that the couple cannot provide for their children because they are believed to be intellectually limited. Two of their children were removed shortly after birth, before the couple even had a chance to parent them.
This label of "incapable" placed on Amy and Eric comes as a shock to those who know the couple, given that both of the parents graduated from high school with a standard diploma, and both ranked in the middle of their graduating class.
See our original story:
Outrage over Amy and Eric's Story Reaches Other Media Sources
Since we have published Amy and Eric's story, it has gained the attention of other media sources.
The Oregonian published an article on the couple in July:
Glenn Beck interviewed Amy and their advocate Sherrene Hagenbach on his show yesterday (August 1, 2017).
While we are happy anytime this problem of child kidnapping by state Child "Protection" Services gains media attention, the public needs to understand that these problems are systemic and are an epidemic – they are not isolated cases. They represent a very well-funded (many billions of dollars) state-sponsored system designed for only one purpose: to remove children from families.
Once one understands the reasons why these stories happen, it will easily be seen that this is a very corrupt system, and we are justified in referring to the actions as "kidnapping," and to the system overall as a "child trafficking" system.
We are not choosing to use emotional language to highlight a few egregious cases. We are accurately describing what is happening all across the United States, every single day.
Who Gets to Decide Who is a Good Parent?
We cannot expect to solve this problem if we do not accurately identify the problem first.
The first step in identifying the problem, is to understand that the vast majority of children being taken out of their families are NOT because the children are being abused in their homes.
Social worker whistleblowers have told us that only about 5% of the cases where children are removed from their homes were for reasons of abuse.
Earlier this year ABC TV6 in Indiana reported on an investigation into the Indiana Department of Child Services (DCS), interviewing Indianapolis attorneys who represent families in cases involving DCS. They claim that only 15% of children taken away from their parents are ever substantiated for abuse or neglect. See:
During the last Texas legislative session, Meagan Corser of the Texas Home School Coalition published an article about the status of Child Protective Services (CPS) in Texas regarding the evidence required to terminate parental rights. She reported:
in 75 percent of cases they lack sufficient evidence to support the accusations they made against the parent
See:
The vast majority of children being taken away from parents, such as this couple in Oregon that is now getting so much media exposure, is because the government wants to determine who is a good parent and who is not.
Is this the proper role of government?
Does the State Ever Have a "Right" to Remove Children from a Home?
Most people will answer this question in the affirmative. The problem with answering the question, Does the state ever have a right to remove children from their home, in the affirmative, is that now the government has to define under what circumstances, and it will always come back to determining who is a good parent, and who is not.
Are there any perfect parents?
"But what about cases of real abuse where the child is in danger?!" many will scream out.
What about them?
Should the child, who is the victim in such cases, be the one incarcerated by being removed from their home? Statistics very clearly show that children removed from their home and put into foster care, face far more abuse and do much worse, than even if they were left in a "troubled" home.
We just recently published a story out of Arizona, perhaps the most horrific story we have ever published here on MedicalKidnap.com, that so clearly illustrates this injustice:
A parent who is truly guilty of abusive crimes against their child, is the one who should be removed from the home and the family; and the criminal justice system is set up to do that, with full due process of law as provided by the Constitution of the United States.
Sure, if that happens and a parent or parents are the ones removed from the home and incarcerated, then a solution is needed for the victims that remain behind, the children.
But we can definitely say that the solution in those rare cases is NOT government funded Child Protective Services.
For more on this topic see my article:
Medical Kidnapping: A Threat to Every Family in America T-Shirt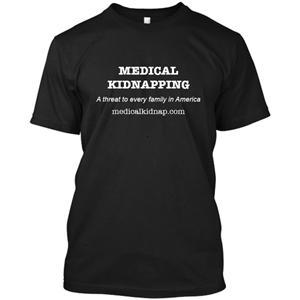 100% Pre-shrunk Cotton!
Medical Kidnapping is REAL!
See: Medical Kidnapping: A Threat to Every Family in America Today
Help spread the awareness of Medical Kidnapping by wearing the Medical Kidnapping t-shirt!
Support the cause of MedicalKidnap.com, which is part of the Health Impact News network.
Support the cause against Medical Kidnapping by purchasing our book!
If you know people who are skeptical and cannot believe that medical kidnapping happens in the U.S. today, this is the book for them! Backed with solid references and real life examples, they will not be able to deny the plain evidence before them, and will become better educated on this topic that is destroying the American family.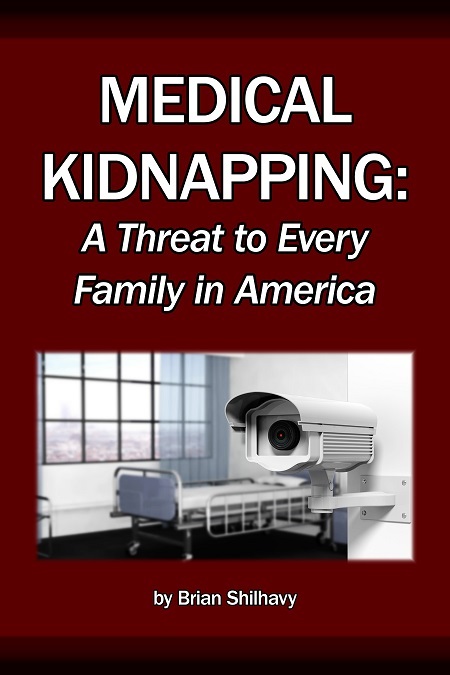 1 Book - 228 pages
Retail: $24.99
FREE Shipping Available!
Now: $11.99
Order here!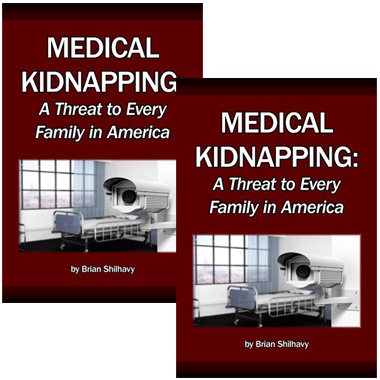 2 Books
Retail: $49.98 (for 2 books)
FREE Shipping Available!
Now: $19.99 (for 2 books)
Order here!
Published on August 2, 2017