by Health Impact News/MedicalKidnap.com Staff 
We just want to raise our daughter. Is that too much to ask?
Juanita and TJ Muhl are a Colorado couple who are grieving over Yechezkela, their infant daughter nicknamed Yael, who was taken from them while still in the hospital by the State of Colorado. The parents are well-educated, and each is employed.
This is their story.
Juanita was only 24 weeks along in the pregnancy when she had to be rushed to the hospital due to severe bleeding.
Juanita was placed with a doctor with whom she had some prior issues. When the couple saw which physician was assigned to care for Juanita and the child, they requested to be moved to another hospital.
According to medical records, the physicians decided to go ahead and allow the birth of the child via caesarean section even though it was still very early for her tiny body to leave her mother's womb.
The issues began almost immediately. It seemed to Juanita that the hospital had something to hide:
They placed me on a medical and mental health hold. Preventing me from seeking out her care.

[We] were kidnapped. When I tried to call for emergency help, they tore the phone out of the wall, and threw my cell phone and broke it.

My husband was removed from the hospital, and told he could not see me, if he came back he would be trespassing.

On November 19 at 3 centimeters [dilation], they took Yael out of my stomach. By November 20, I was discharged, being found with no mental health needs, and the emergency was over.

On November 21, my husband took me into another hospital per my [regular] doctor. I was admitted, due to having lost most of my blood while in the other hospital, and my surgery stitches were opening.  I needed 5 bags of blood.
Yael came to this world on November 19, 2016, weighing just 1 pound, 5.5 ounces. She had to live at the hospital because of her medical fragility, and her parents faithfully drove the 60+ miles to be with her each day. They even moved into the Ronald McDonald house in order to be near their child.
According to her parents, Yael was transferred to Children's Hospital of Colorado in Aurora on February 17, 2017.
Conflicts over Medical Treatments
The Muhls are a Messianic Jewish couple, so when the doctors wanted to provide treatment for acid reflux which entailed using non-Kosher medicines, they refused.
They also refused to allow the doctors to use other medicines which are known to cause side-effects in newborns.
The parents told the medical team that they would consent for Yael to have any necessary immunizations, and they informed the doctors that there were Kosher vaccinations out there that they could use.
According to the parents, Yael was given vitamin K, after which Yael had seizures for two weeks.  The parents were never told whether Yael was given other shots.
The doctor wanted to give Yael anti-reflux medications, which according to TJ's research, would cause side effects in the infant. Only recently, the parents discovered that the medical records show these acid reflux medicines were not actually needed. They were ordered for an acid reflux problem, which according to the hospital's own records, went away on its own.
The medical team allegedly never told the parents this fact. Instead, the team later used the issue of her parents refusing to allow her to be given these medications to take the child into state custody.
When the parents requested that other treatments be used that would not break Kosher and FDA guidelines, the medical team reportedly would not cooperate. The medical team contacted Colorado Child Protection Services, and there was a flurry of activity to attempt to put the child in the care of the state.
Medical Complications
Baby Yael was having more complications due to her premature birth. She was diagnosed with ROP (retinopathy of prematurity) and had to have surgical procedures done on her tiny eyes. These did not work, so Yael became blind.  It has been medically shown that oxygen given to a newborn can cause ROP.
TJ and Juanita continued to research options for their baby. According to Juanita:
We already had her registered with Maryland school for the blind. We had contacted an ophthamologist from the oldest eye institute in the country, and started joining support groups for parents like us.
On March 3, Juanita and TJ discovered that there was a PVL brain cyst in Yael's tiny brain. Periventricular leukomalacia (PVL) is a common ischemic brain injury in premature babies. This further complicated Yael's medical prognosis because usually this injury leads to cerebral palsy.
Juanita Muhl asked the doctors about this, and she said that they did not have much to tell her about it. She wanted to know: what were they hiding?
On March 5, the Colorado Department of Human Services was granted an emergency custody order to seize Yael. The parents were removed from Yael's hospital. On that same day, the hospital was granted a court order to give Yael the medicines for acid reflux — which were allegedly not even necessary according to the hospital's own records.
By May 19, the Muhls discovered that the foster family could stay at the hospital with Yael, but her natural parents were no longer allowed to stay by her side.
Need for Surgery Magically Disappears
The next development was that Yael had some heart defects and needed surgery. There was much discussion that it had to be done immediately.
Yael's true biological parents were approached about this, and indicated that they would indeed allow the surgery, but it could not be done at the hospital in Aurora. A few days later, Juanita and TJ received the word that Yael would not need the surgery until much later in her young life.
Supporters are asking if the hospital administration and staff are trying to cover for making mistakes with this baby? Currently, all is relatively quiet on this case; however, Baby Yael is still not with her parents. There is another court appearance set for July 13.
The family has a great emotional support system from their community. Juanita and TJ are active volunteers in their community, and many are praying for Yael. They have had one fundraiser, and are hoping to raise enough money to hire a lawyer to help them in this fight.
There is a recent improvement in Yael's condition. Her mother posted on Yael's Facebook page on Tuesday, June 13th:
They did 5 surgeries for ROP and they said that she could not see even after the five surgeries but today she was showing the abilities to see.
How You Can Help
Yechezkela is the Facebook page that has been set up so that supporters can follow Baby Yael's story.

Governor John Hickenlooper may be reached at (303) 866-2471, or contacted here.
Michael Merrifield is the state Senator for the Muhl's district. He may be reached at (303) 866-6364, or contacted
here
.
Tony Exum, Sr. is the Representative for the family's district. He may be reached at (303) 866-3069, or contacted
here
Medical Kidnapping: A Threat to Every Family in America T-Shirt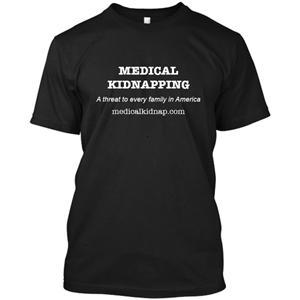 100% Pre-shrunk Cotton!
Medical Kidnapping is REAL!
See: Medical Kidnapping: A Threat to Every Family in America Today
Help spread the awareness of Medical Kidnapping by wearing the Medical Kidnapping t-shirt!
Support the cause of MedicalKidnap.com, which is part of the Health Impact News network.
Support the cause against Medical Kidnapping by purchasing our book!
If you know people who are skeptical and cannot believe that medical kidnapping happens in the U.S. today, this is the book for them! Backed with solid references and real life examples, they will not be able to deny the plain evidence before them, and will become better educated on this topic that is destroying the American family.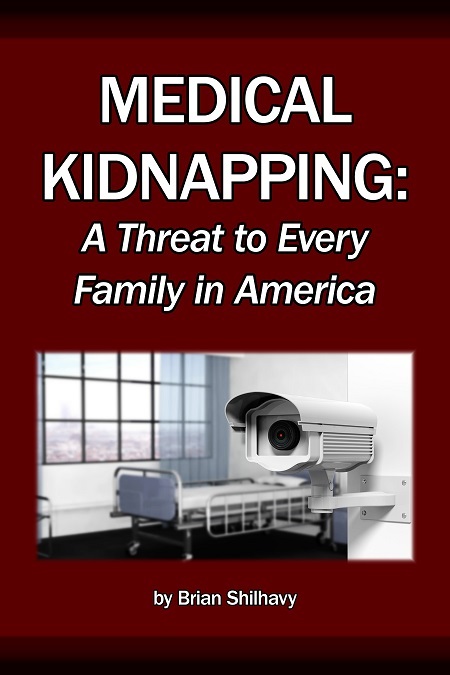 1 Book - 228 pages
Retail: $24.99
FREE Shipping Available!
Now: $11.99
Order here!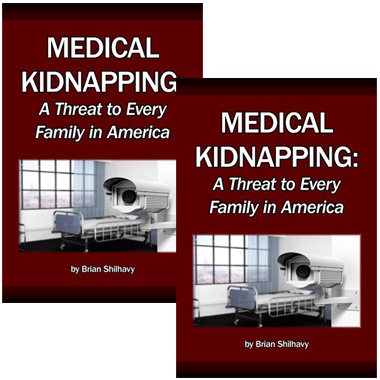 2 Books
Retail: $49.98 (for 2 books)
FREE Shipping Available!
Now: $19.99 (for 2 books)
Order here!
Published on June 14, 2017