UPDATE 6/8/17
Arizona Convinces Nevada CPS to Kidnap Shoars Baby Despite No Imminent Danger
by Health Impact News/MedicalKidnap.com Staff
Tabitha and Jeff Shoars' youngest child, Nytallieya, was seized early Monday afternoon by Nevada Child Protective Services. The Shoars are devastated and shocked at the strong arm of Arizona DCS and their apparent ability to influence Nevada to take their only child who was still living with them.
According to the documents given to the Shoars on Monday, June 5, 2017, they are being accused of leaving Nytallieya "in the care of an unsafe caregiver when they left to visit Arizona." The babysitter that is being called "unsafe" is a retired police officer and his wife, and the Shoars have left the baby in their care several times a month during their visits with their other children in Maricopa County, Arizona.
A social worker in Nevada had advised them to keep the baby out of Arizona as much as possible, since she was born in Nevada and thus out of Arizona's jurisdiction. Thus, they had to have a babysitter that they trusted to care for the baby during the visits. When family members were unavailable to babysit, they relied on their retired police officer friend and his wife.
It looks like Arizona DCS (Department of Child Safety) has found a way to get to the baby. Tabitha told Health Impact News that she believes that Arizona Assistant Attorney General Bonnie Platter has a vendetta against the couple, and that this is retaliation by her. She believes that Platter is behind the reports made to Nevada about the babysitter being unsafe.
Twice before, Nevada CPS has investigated allegations of the "unsafe caregiver" and determined that it was unsubstantiated. Tabitha says that the allegations by Arizona DCS that the retired police officer and his wife are unsafe are "slanderous."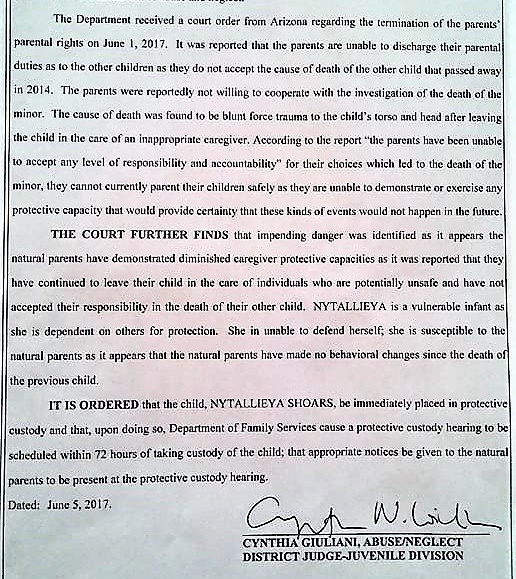 The Shoars were handed a court order on Monday with a judge's signature, but no time stamp. The document states that Arizona sent them the Termination of Parental Rights documents for the Shoars' other children on June 1, which states that the "parents are unable to discharge their parental duties as to the other children as they do not accept the cause of death of the other child that passed away in 2014."
The previous babysitter is being blamed for the death of their child Khloe, even though police have not found sufficient evidence to charge him or anyone else in her death. There are many who believe that the evidence points to a brain aneurysm after she fell.
See original story:
The rights to the other children were recently terminated by Judge Joseph Welty in Maricopa County, Arizona, after a long, difficult court battle, but the decision has been appealed. On the same day that Arizona DCS sent the documents to Nevada CPS, 4 of the Shoars children, Cionhiah, age 12, Devin, age 10, Akira, age 9, and Makenize Shoars, age 7, appealed the TPR decision. They never wanted to leave their family, and they, as children, are fighting to be reunited with their family. According to the document they filed that day, the children requested:
appellate counsel to represent the children in the appeal from the order terminating the parent-child relationship with their parents.
See article posted before the children's appeal:
The children screamed in terror when Arizona DCS sent workers to seize them from Nevada after they were finally reunited after DCS took them after their sister's death. They had just begun to heal and were excited about their new baby sister when Arizona DCS struck in August 2016. Watch the following video, where you can hear their haunting screams:
WARNING! AUDIO MAY NOT BE SUITABLE FOR YOUNG CHILDREN!
Tabitha and Jeff were very hopeful after learning that their children filed to appeal. They filed an intent to appeal as well, and they were confident that, if they can get into a court that is just, their children will eventually be returned home.
They never expected the knock on the door Monday, just before noon. Four police officers and a social worker knocked on the door, and Tabitha says that she opened it, but she had a chain on the door. They demanded that she unchain the door, and she complied. An officer then stuck his foot in the door, and they came in when she had to go inside to attend to the baby. They told her that they were there to take the baby, and they waited for Jeff to come home from work, which he did in record time.
Jeff recorded the events from that point on Facebook Live. As of Wednesday afternoon, the video has been viewed by almost 70,000 people.
Jeff told the officers that Arizona took his other children illegally, and violated numerous laws:
They're doing it down there [in Arizona] illegally, and now you're going to try to do it?

They've taken my kids already. Now you take my daughter? Guess what. You took everything that's important to me.
By 1:13 pm, Nytallieya was gone.
Later that afternoon, Tabitha called Health Impact News with the devastating news. She was crying so hard that we could barely understand her.
Those who have been following the Shoars family saga are angry and upset that the Child Protective Agencies have the power that they do. The family believed that Nytallieya was safe. She was well cared for and was thriving. There was no immediate threat and no danger to the child. Since the parental rights, and therefore visits, were terminated, there was not likely a need for the family to need a babysitter in the near future.
The family has a 72-hour hearing on Thursday (June 8) morning at 9 am. They have no attorney yet. All of their attorneys are in Arizona, and Nevada family court doesn't assign a court-appointed attorney until the first hearing. Tabitha and Jeff are hopeful that the judge in the case will dismiss the case and return their baby home.
How You Can Help – Call Before 9 a.m. Thursday Morning!
The Facebook page set up by supporters at the beginning of their ordeal is still there, and people are welcome to encourage and support the family at Freedom and Justice for the Shoars Family.

Brian Sandoval is the governor of Nevada. He may be reached at (775) 684-5670 or (702) 486-2500, and contacted here.
Clark County Department of Family Services may be reached at (702) 455-5444 or contacted here.
Published on June 7, 2017