UPDATE 6/6/2017
UPDATE 6/3/17
Grandma Lisa took this video of Baby Steffen responding to her voice and touch today, and after recording it, she told Health Impact News that the head nurse told her she could no longer record:
Baby Scheduled to go Off Life Support Responding to Family – Rally and Court Date on Monday Morning
by Health Impact News/MedicalKidnap.com Staff
The family of Baby Steffen has court on Monday morning, June 5th, at 9 am, and supporters are holding a rally and prayer vigil simultaneously at the Montgomery County Juvenile Court at Two Millennium Plaza, Clarksville, TN 37040. They are inviting people from all over to come and show support and pray to save Baby Steffen's life.
See our original story on this family here: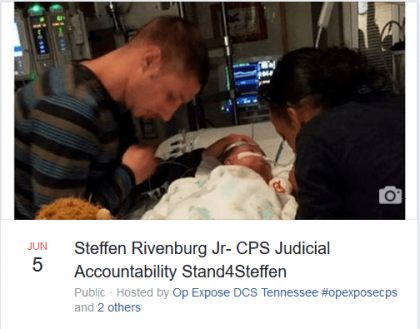 We asked grandmother Lisa Rivenburg if Baby Steffen is showing any signs of responding to family. She responded:
YES! ALL signs! He opens his eyes, squeezes my hand, puts his hands up in the air, kicks his feet. He smiles. He grimaces. He makes his little "Elvis face."
She told us that he lifts his hands up when she plays his favorite song, "Awake, My Soul," by Chris Tomlin.
He's completely cognizant when he's not heavily medicated.
Steffen responds to his family as much as he can while being limited by wires and tubes. Lisa said that he fights the medications that make him sleep.
The family has court on Monday, the day before the court order expires that is keeping Baby Steffen alive. They have been told that Vanderbilt Hospital intends to bring in a doctor from their hospital "to say the baby has no chance."
They report that they need to find a neurologist who will look at the records and the baby to testify that he is not brain-dead. The also seek a heart transplant doctor who can give a second opinion as to whether or not a new heart will help him. Vanderbilt doctors have reportedly denied a heart transplant.
When Baby Steffen entered foster care at 3 months of age, he had congenital heart defects and Down Syndrome, but he was doing well at the time. He was not expected to need heart surgery until 6 months of age. He contracted a serious viral infection in foster care just weeks later, which started a snowball effect of multiple heart surgeries, and now he is on a heart and lung bypass machine keeping him alive – a machine that DCS and Vanderbilt doctors want to unplug.
Lisa told us that the doctors told the family at one point:
We messed up.
She reports that the baby's parents were in the hospital room when the doctors said that they did so much to the baby and so many surgeries close together that it hardened his heart muscle.
The family still believes that there is hope. They are praying for God to heal Baby Steffen, and to bring him and his big sister Annalise home from foster care.
Annalise, age 7, told her parents on the phone Friday that she left a card in her brother's room for people to sign. When they returned to the room shortly after, the card was gone. They searched everywhere and asked the staff, but no one reportedly knew anything about it.
Annalise is still in the custody of DCS in foster care as part of this medical kidnapping case, and she wants to go home to her family.
Who to Contact:
Tennessee Governor Bill Haslam may be reached at (615) 741-2001, or contacted here, to ask that life support be continued for Steffen Rivenburg Jr., to give him a chance to live. Governor Haslam is also on Facebook.
The Senator for their district is Dr. Mark Green. He may be reached at (615) 741-2374, or contacted here.
Their state Representative is Representative Joe Pitts. He may be reached at (615) 741-2043, or contacted here.
The DCS main office number is (615) 741-9701. Supervisor Heather Wyatt's cell phone is 931 905 3800, and office phone is 931 503 3253.
To reach the Monroe Carell Jr. Children's Hospital at Vanderbilt, call this public, non emergency number:
Patient Relations: (615) 322-6154

For assistance, non-medical questions or complaints. This line is open every day from 7 a.m. to 9 p.m. If you are calling outside of these hours, listen to the recorded message carefully. Press zero for the Vanderbilt operator and request the Children's Hospital Administrator on call.
Supporters have set up a Facebook page for the family called Reunite the Rivenburgs.

Medical Kidnapping: A Threat to Every Family in America T-Shirt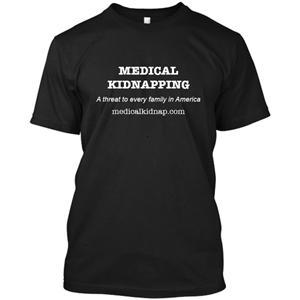 100% Pre-shrunk Cotton!
Medical Kidnapping is REAL!
See: Medical Kidnapping: A Threat to Every Family in America Today
Help spread the awareness of Medical Kidnapping by wearing the Medical Kidnapping t-shirt!
Support the cause of MedicalKidnap.com, which is part of the Health Impact News network.
Support the cause against Medical Kidnapping by purchasing our book!
If you know people who are skeptical and cannot believe that medical kidnapping happens in the U.S. today, this is the book for them! Backed with solid references and real life examples, they will not be able to deny the plain evidence before them, and will become better educated on this topic that is destroying the American family.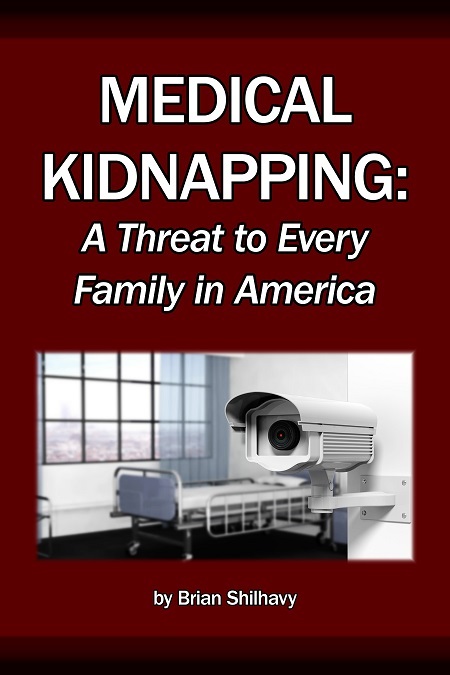 1 Book - 228 pages
Retail: $24.99
FREE Shipping Available!
Now: $11.99
Order here!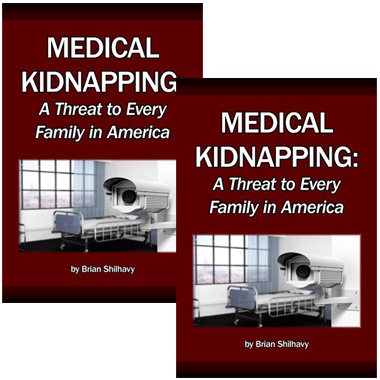 2 Books
Retail: $49.98 (for 2 books)
FREE Shipping Available!
Now: $19.99 (for 2 books)
Order here!
Published on June 3, 2017