by Health Impact News/MedicalKidnap.com Staff
In a Facebook Live video Friday (April 7th), Michael Brooks gave an update on his case in Tennessee. He and Jamie had been in court that morning and were expecting Judge Clayburn Peeples to terminate their parental rights to their two sons.  But, in an interesting turn of events, the couple left court that day with their parental rights still in place.  Also, due to not having a lawyer present, Michael was given a 60-day window to prepare to present his case to the court again.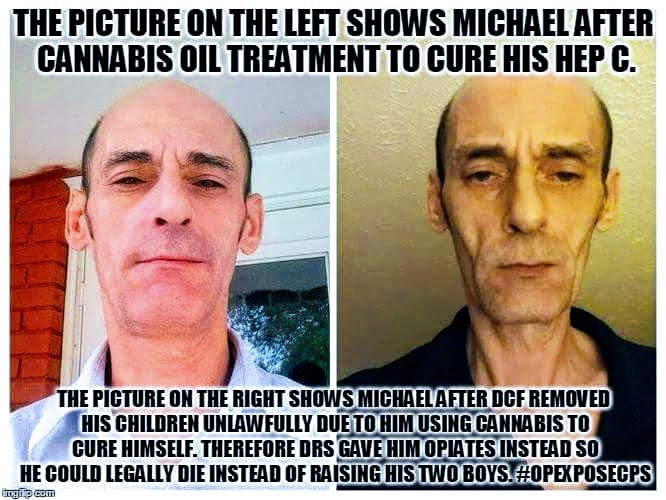 Michael Brooks is dying from Hepatitis C. His disease was under control while using medical cannabis, but he was forced to give up his medication due to Tennessee laws as he tried to meet requirements to get his children back from the Tennessee Department of Children's Services (DCS).
See original story:
Michael arrived on time, but when he walked into the courtroom, his case was already being heard.  He said that social workers with DCS and the children's Guardian ad litem (GAL) were "already there approaching the judge to hurry up and end this."  He said that they were saying that it "was in the best interests of the children to go ahead and lay this to rest, and let them stay where they are."
Michael was surprised at the judge's response:
The judge kind of smiled at the GAL and said, "Yeah, I'm pretty sure that is what you would like to see happen."
Michael went on to say that Jamie was running late, and as a result, she was being accused of "wanton disregard" before the judge.  Reportedly, the judge asked, "How can you call it wanton disregard, we don't even know what's happening with Ms. Williams?"  The judge then went back to his chambers to wait for Jamie to arrive.
Michael explains:
He wasn't going to let them move forward without the parents.  He was really looking out for us.
When Jamie arrived five minutes late, she gave an explanation, and the court forgave her tardiness.
Michael did not have a lawyer, and the judge was aware of it.  His previous lawyer had been court-appointed, and according to Michael, would not make himself available when Michael needed him.  He said that the lawyer was not looking out for his best interests and did not understand the healing properties of cannabis.  The lawyer's blatant disregard for Michael was so egregious that Michael reported him to a professional board, and the complaint is now being reviewed.
Reportedly, in the courtroom on Friday, the GAL said that Michael not having a lawyer "was a tactic on his part to try and slow the process."
According to Michael, the judge interjected and said:
Mr. Brooks needs a lawyer.
Michael went on to tell the judge that he had brought all of his files with him and was prepared to go pro se if needed.  (Pro se is a Latin term meaning "for himself." It is used when a person represents himself in court.) He told him:
Be patient with me, because I'm in the deep water.  I don't know how to swim.
The judge reportedly called the actions of DCS and GAL "draconian," and would not allow the court to proceed without him having a lawyer present.  The judge went into his chambers to make some phone calls to find Michael a lawyer.  When the judge returned, he had the bailiff hand Michael the contact information for the attorney that he had secured for him.
Michael said:
Jamie and I were sitting there—they're expressing their deep concern to go ahead and terminate our [parental] rights.  And, the judge wouldn't allow it.  Within a few minutes, I saw these women—it was like a feeding frenzy of hellish hounds over my children.  The judge said he just wasn't going to sit there and watch that go down in his courtroom from a draconious [sic] group such as DCS.  It's amazing what happened!
Michael gave all the glory to God and said:
This was truly the best possible outcome for this day.  We've been given 60 more days.  This is nothing less than miraculous.  To see integrity in the courtroom, for the first time in 19 months, was such a breath of fresh air.  I feel so revitalized.   It feels like two tons have been lifted off of me.  I haven't had this much hope in a long time.  It feels good.  It feels real good.
Michael ended the video thanking his supporters saying:
You guys are helping me to fight for my boys.  They've got so much love.  They're the most fortunate children in the world—in the end—that they've had people praying, in more than a dozen languages, around the world, for their safe return home to their momma and daddy.
How You Can Help
Governor Bill Haslam may be reached at (615) 741-2001 or contacted here. His Facebook is here.  His Twitter is here.
Representative Curtis Halford of House District 79 may be reached at (615) 741-7478 or contacted here.
Senator John Stevens of Senate District 24 may be reached at (615) 741-4576 or contacted here.
Michael's GoFundMe called Saving the Brooks Brothers is here.
Gibson County Department of Children's Services may be reached at (731) 855-7864.
Published on April 9, 2017