by Health Impact News/MedicalKidnap.com Staff
Their children's screams still haunt Jeff and Tabitha Shoars' dreams, and echoes of the laughter that once filled their home brings the couple to tears on a daily basis.
AUDIO MAY NOT BE SUITABLE FOR YOUNG CHILDREN!
It has been almost 3 weeks since the horrific day that social workers drove from Maricopa County, Arizona, to Las Vegas, Nevada, and seized 6 of the Shoars children without warning. They still have not seen or heard from their children since then. They want to know why, and they are terrified for the safety of their children. Tabitha asks:
Are they crying for us? Are they having a hard time going to sleep? The house is too quiet.
See:
Since the children were taken on August 25, 2016, Tabitha and Jeff have not stopped searching for answers, but answers are slow in coming. Court dates, social workers, attorneys, and even judges keep changing.
The next court date is supposed to be on September 23, but there is no way to be certain that will happen. Jeff's parents, the children's grandparents, purchased airline tickets to attend the court hearing that was scheduled to be on Tuesday, September 13, but that hearing was moved up to the 8th. By the time anyone was notified of the date change, Gary and Patty Shoars had already purchased non-refundable plane tickets. They tried to move their flight to an earlier date in order to be present for the hearing on the 8th, but they were unable to find an available flight. Jeff had to scramble to change his work schedule.
Finally, less than 48 hours before the hearing, the family was told that they could call in to the hearing, instead of making the 11 hour round trip from Las Vegas.
The hearing was canceled at the last minute. At 12:18 pm, just over an hour before the scheduled hearing, Jeff received an email from his attorney.

There was a previous hearing on August 30, but no one notified the Shoars until 8am, the morning of the hearing. Tabitha reports that, on August 26, she asked AZ social worker Jamie Jenkins when their court date would be, and Jenkins told her that there was no court until September 13. Tabitha called the courthouse to verify, and they also told her that their court date was September 13. By the time they found out about the hearing, it was too late for them to make the trip.
During that hearing, Assistant Attorney General Bonnie Platter reportedly moved to change judges. Judge Bruce Cohen was the judge who dismissed the case on April 6, 2016. It was a different judge, Judge Susanna Pineda, who signed off on the order to seize the Shoars children in August. The Shoars have reported that Judge Cohen seemed to be a fair judge, and they believed that he was the one who should have been hearing their case. However, because they were not present to contest the change of judge, AAG Platter's motion was successful.
Five Judges Already, But No Court
With Judge Cohen out of the picture, Judge Pineda is also off the case. A third judge was named to the case, but that judge disappeared as well. Judge Sally Duncan was to be the next judge, but as of September 8, she is no longer on the case. The Shoars were recently informed that a fifth judge, Judge Alison Bachus, is expected to hear the case on September 23.
Why are there so many judges? Could it be, as Tabitha speculates, that the judges recognize how illegal and immoral the actions of DCF are and no one wants to touch it? Is it a political hot potato, from which judges wish to distance themselves?
If the state of Arizona cannot find a judge to commit to hearing their case, the Shoars would like to know if their children could come home while DCF and the family court system sorts themselves out.
Document Issues
The family questions whether the pickup order that Arizona social workers used to pickup the Shoars children was a valid legal document, because there was no seal on the document and the social workers' names were merely printed, not signed. They received a copy, not the original.
There are also several discrepancies in the various copies of the petition for removal that the Shoars received. Note the date differences between the copy emailed to the Shoars by the Assistant Attorney General, Bonnie Flatter, on August 30 (left) and the copy mailed to Jeff Shoars by an attorney on September 8.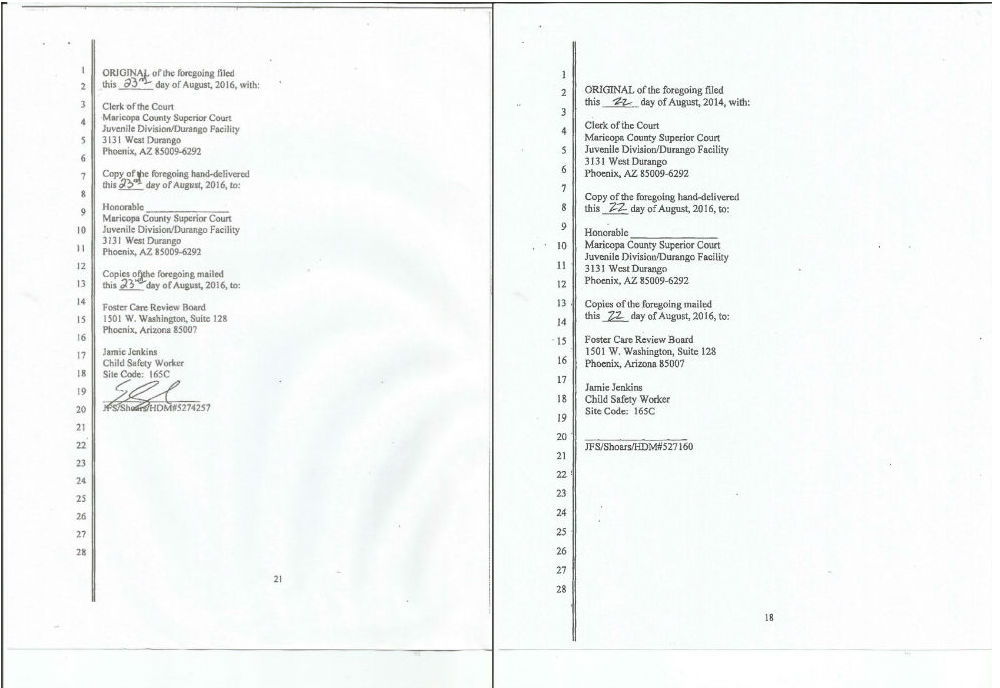 Not only is the date different on the Verification page of the petition in the two copies, a different DCS worker signed the copies. Why?
Grandparents Accused of Neglect
One of the allegations in the petition is that Jeff's parents, Gary and Patty Shoars, neglected the children. The petition states that they:
neglected the children by allowing them to be in the unsupervised custody of their biological parents. The legal guardian[s were] aware that the parents were prohibited from having any unsupervised contact with the parents during the course of their dependency case as to the children.
This is another example of a discrepancy between documents and court orders. Gary Shoars explained that what DCS alleges in the petition is not based on the facts of the dismissal of the case on April 6. Before the case was dismissed, the parents and grandparents agreed to allow the court to assign legal Title 8 guardianship of the children to their grandparents.
Tabitha told Health Impact News that AAG Bonnie Platter was very unhappy that the children were leaving foster care to be with their family, and that she was able to put a stipulation in the documents for transition that forbade Tabitha and Jeff to have unsupervised visits with the children during the time the children transitioned out of foster care from March 28 to April 6. However, that stipulation was NOT carried over into the dismissal documents.
The case was dismissed on April 6, 2016. The children were placed under the guardianship of their grandparents, without restrictions. Judge Cohen declared that termination of Tabitha and Jeff's parental rights would not be in the best interest of the children. All of the social workers and the members of the foster care review board were relieved of duty in the case. The case was over.
At least, it should have been over. The Shoars – parents and grandparents alike – report that they were advised by their attornies to get out of Arizona as quickly as they could. They were not from there, and their experience of Arizona had been a nightmare. They were afraid for the children's safety (as well as their own).
Gary reports that one of the children saw a car following him as he rode his bike home from school. He says that there had been threatening posts on Facebook by some of the former foster parent's friends, and that they had "plastered" his address and phone number all over Facebook.
The children were deathly afraid of her [the foster mother].
The children talked to their family about some of the abuse they had suffered in foster care. They allegedly couldn't wait to leave.
Gary Shoars says that they waited until the children finished the school year, and until Tabitha graduated from Massage Therapy school. Then they all moved to the Las Vegas area at the beginning of June, where Jeff got a good job as an auto mechanic. They mailed a letter to the judge, per court order, to inform him that they had moved and to give him the new address. DCS allegedly says they never received the letter.
According to Tabitha, they all breathed a collective sigh of relief once they were out of Arizona. The children visibly relaxed, and they stopped looking over their shoulders at every turn. They were free, or so they thought.
Gary signed a lease on a house, and the 3 generations moved in and began working on the healing process with the children. The children began laughing again, and they were all very happy to be together as a family again.
Illness Strikes – Grandparents Travel to Minnesota
Shortly after the family moved to Nevada, Patty Shoars' mother fell ill in Minnesota. She is elderly, and Patty and Gary felt that they were needed in Minnesota to help take care of her.
But we felt the kids were in good hands [with their parents], and that's why we left them.
They Skyped and talked on the phone every day with the children. He says that they felt no cause for concern. They were the legal guardians for the children, but they were with their parents as well. He wanted to lay to rest any assumption that Tabitha and Jeff "kidnapped" the kids. That is not what happened.
It's like having two sets of parents. That's exactly what it amounts to legally.
Because they were the guardians, they have the legal right to leave the children in the care of another family member. It is no different than a parent allowing the children to live at their grandparents' house or stay with an aunt and uncle. Because the case in Arizona was dismissed, and because they no longer lived there, they felt that Arizona no longer had any jurisdiction to have a say in their family life. They consulted legal counsel, who told them that was correct.
The family still believes that Arizona does not legally have jurisdiction over their children. They point out that nothing in the pickup order authorized DCS to cross state lines to seize the children.
DCS alleges that they were unable to contact the grandparents, and that their phone has been disconnected. They claim that this is not true. Like Tabitha and Jeff, they have the same phone number and email address that they had when the case was open. They report that they have not seen any sign that DCS has tried to contact them – there are no emails, voice messages, or missed calls from Arizona on their phone.
Petition Allegations that were Already Dismissed
As reported in the most recent article regarding the Shoars family, there were allegations of sexual abuse. The petition states that their child that they were forced to leave behind in Arizona recently made allegations that there was sexual abuse that had happened to the children.
The allegation was reportedly made to Avondale, Arizona, police. The family has learned that their child has not spoken with police or social workers in many months for any reason, nor does he reside in Avondale. They believe that the allegation is a bogus accusation being used to reopen the case.
While the children were formerly in Arizona foster care, a similar accusation was made by DCS, and some of the children were subjected to invasive rape testing. Nothing was found and the allegation was unsubstantiated then. Based on the recycled allegation, Nevada CPS conducted forensic interviews of all of the children, and they determined that there was no cause for concern.
Mother's PTSD Used Against Her
In a cruel twist of irony, the trauma that Tabitha Shoars has suffered as a mother is being used as a justification for inflicting more trauma on her and her children.
Mother neglected the children due to mental health issues. Mother has been diagnosed with PTSD.
Some would say that Post Traumatic Stress is a normal response to an abnormal situation. Tabitha has certainly suffered her share of trauma. Her child Khloe was conceived when she was violently raped by 2 men who subsequently went to prison. Tabitha and Jeff chose life for the baby, and they loved her dearly.
On August 15, 2015, they had to let her go. The day before, she had been a "happy, giggly little girl," and they came home from a date to find police at their house and their baby girl close to death. She was removed from life support as they struggled to understand what happened.
They never even had the chance to grieve together as a family because DCS came and seized all of their other 6 children. They fought for 600 days before they were able to be together again.
Many people believe that this is stressful and traumatic due to the actions of DCS. DCS allegedly made an impossibly difficult situation all the more traumatic. They blamed her and Jeff for their little girl's death. They kept her away from her children. She watched her children suffer in foster care. She was forced to relinquish all rights to one of her children and allow him to be adopted out.
But her children were the light of her life who helped her to deal with her PTSD. Tabitha says that, when her children are around her, she has less anxiety and PTSD symptoms. Her kids keep her grounded. Because her children need her, she has made herself overcome the trauma, so that she can be there for them.
Cruel Accusation Made After Initial Charges Dismissed
All the allegations were dismissed against Tabitha and Jeff Shoars when their case was dismissed on April 6, 2016. However, in the new petition, DCS makes an allegation that they state as a fact – "Khloe was murdered while in the parents' custody."
Despite that assertion, to date, no one has ever been charged in Khloe's death. Tabitha reports that she has tried for more than 9 months to contact the police investigator to find out if there is any more information on their case, but she had not gotten any response.
Khloe passed away on August 15, 2014, and an autopsy was performed on August 18. It was not until January 2015 that the family was able to get a copy of the autopsy report, which concludes:
… based on the provided information, accidental trauma cannot be ruled out. With no further information the manner of death will remain as undetermined.
The cause of death was ruled to be "blunt trauma of torso with left renal laceration." After Khloe collapsed in her home, following an earlier fall outside while playing, the babysitter attempted CPR, but responders later reported that he was not performing CPR properly. The autopsy report states:
At no point did the informant(s) indicate that Ms. Shoars was complaining of abdominal or back pain, or other related symptoms, as would have been expected based on the severity of the injuries of the torso.
One of the first police officers on the scene reportedly noted signs of possible choking and attempted to do the Heimlich maneuver. It is possible that the CPR and Heimlich attempts could have damaged some internal organs, especially in light of the fact that she never complained of pain, other than a headache after her fall.
Several medical people have told the family that they believe that Khloe could have suffered a brain aneurysm. She was born very prematurely, at only 27 1/2 weeks. As previously reported:
The doctors allegedly told the Shoars that she would grow out of the brain hemorrhage condition, and despite Tabitha's requests, no further testing was ever done on Khloe to monitor the situation.
See:
With the autopsy verdict as "undetermined," the family may never know what really happened to their little girl.
The fatality summary report was released to the public on April 6, 2016, which is the same day that the family court case was dismissed.
Where From Here?
Tabitha and Jeff have spoken with officials from the FBI and with federal marshals. Since the case has crossed state lines, federal agents can get involved. They reportedly want to investigate, but they told the Shoars that they need to get a police report. They say that they have to have a police report number before they can get involved.
They have tried repeatedly to file a police report, but have been unsuccessful. According to the website for the Las Vegas Metropolitan Police Department, they may be reached at (702) 828-3111.
The Facebook page set up by supporters 2 years ago is still there, and people are welcome to encourage and support the family at Freedom and Justice for the Shoars Family.

Supporters are welcome to call and ask why the Shoars children were taken from their home in Nevada, where they were already enrolled in school, when Nevada had no concerns. The Shoars have yet to have a day in court, as required by law, and judges appear reluctant to get involved. Since the case was dismissed, how can it be reopened based on allegations which have already been found to be unsubstantiated?
Greg McKay is the Director of DCS/CPS in Arizona. His office may be reached at 1-602-255-2500.
Governor Doug Ducey can be reached by phone or email here.
Published on September 13, 2016