by Health Impact News/MedicalKidnap.com Staff
A Navy veteran father was arrested on Day 11 of a Hunger Strike at the Kansas Capitol building on Thursday, March 24th, on a warrant for charges that no one seems to know anything about.
Raymond Schwab and his supporters believe that his arrest is about "retaliation" and "intimidation" because he has been publicly fighting to get his children back since they were legally kidnapped by Child Protective Services and abused while in state custody.
After spending a night in jail that he says "was like being in hell," Raymond was released Friday afternoon.
The treatment that he describes after being arrested is shocking.
See original story:
Shortly after Raymond arrived on the north steps of the Capitol building, where he was prepared to camp out until the release of his children, Capitol police arrived and told him that they had a warrant for his arrest. The warrant is reportedly for criminal trespassing and criminal damage, and supposedly dates back to 2015.
However, to date, neither Raymond, his wife, or his advocate, former gubernatorial candidate Jennifer Winn, have been able to get any answers as to when or where the offenses allegedly happened or who reported them. They are still in the dark.
Once Raymond Schwab was arrested, officers first took him to a nearby hospital to be checked out. He reports that they tried to compel him to eat, but he refused, because he is continuing his hunger strike. Once he was medically cleared, he was taken to jail.
Health Impact News spoke with Raymond shortly after his release on Friday. He had not yet had a shower and was desperate to get clean after the deplorable conditions he faced in the jail. He reported that he was stripped naked and forced to remain in that condition in a filthy, cold room for the duration of his stay. There was "urine everywhere" and blood on the mattress. There was a hole in the floor where prisoners are expected to urinate. He later wrote on his Facebook:
They didn't break me by the grace of God but they refused phone calls. And I stayed stripped naked in a urine filled room for my own safety.
He said that they had him on a "hunger strike protocol – whatever that is" and that they kept trying to say that he was suicidal. He wasn't, but he admits to having some pretty dark moments in that cell. Officers continued to try to make him eat, but he remained committed to the hunger strike. Raymond called the actions of the police "pure political intimidation," and says that it was "psychological warfare" to try to break him or get him to eat.
In the darkest moments, he decided to pray. As he began praying, like Paul and Silas in the Book of Acts, he felt strength return. He was determined not to allow those who jailed him to break him. Though the police refused to honor his request for a Bible, he kept praying, and then began preaching in jail to those around him.
By 10:30am Friday morning, officers told him that he was leaving at 2:30pm.
Futile Attempts to Post Bond
Meanwhile, his wife Amelia and advocate Jennifer Winn were working to get him bailed out. They had been told that he was to appear before a judge at 10am, but the arraignment got moved to 3pm. However, the ladies were told that it had been moved to Monday. Jennifer Winn tried for hours to post a $5000 bond to get him out, but she was reportedly being stonewalled at every turn. She spoke with Captain Dean at the Capitol police who couldn't tell them anything about the charges – where they supposedly occurred or who filed the charges.
Ultimately, the bond money was not needed, and Raymond was released on his own recognizance. While Amelia and Jennifer were still working to post the bond, Raymond was transported to appear before the judge. Though some local media had been alerted and were there for the 3pm appearance, no one notified Mrs. Schwab.
Prosecutor Not Sure if They Are Pressing Charges
After all that Raymond had just experienced, he was floored by the responses of the prosecutor in court. Schwab asked what the address was where the alleged crime supposedly occurred and who the victim was. The prosecutor reportedly replied:
We don't have that information.
The prosecutor also reportedly told the judge:
We need to file a continuance, Your Honor, because we're not even sure if we're pressing charges.
Raymond told them he does not want a continuance; if they have any charges they want to press, he wanted a jury trial. Trial is now set for April 26.
Retaliation Against Jennifer Winn?
Jennifer Winn believes that the state is retaliating against her as well for her involvement in exposing the corruption of the Kansas Department for Children and Families (DCF). Her son Kyler Carriker is presently on probation for telling someone where they could purchase marijuana. This week he was suddenly informed that the state is appealing his sentence, and will attempt to have him imprisoned for five years, even though he is fully compliant with all the demands of his probation.
The former gubernatorial candidate has been actively involved with the Schwabs and fighting for them to get their children back. The couple appointed her as power of attorney over their children since Child Protective Services recently informed them that they were sending their 13 year old son to a psych ward and placing him on dangerous psychotropic drugs. She has denied permission for the drugs, and is calling for his release. Regarding the recent events, she tells Health Impact News:
I never thought in my wildest dreams that this was possible in America.
DCF Refuses to Release Documents
DCF recently told the Topeka-Kansas Journal that Raymond Schwabs' claims that this is about his medical marijuana use as a veteran for his PTSD are false, and that there is more to the story. The children were taken from their parents in April 2015 based on allegations that were determined 3 months later to be "unsubstantiated." Yet the children remain in state custody. A DCF spokesperson told the Topeka-Kansas Journal:
Determining whether an allegation is true is separate from a recommendation to remove children from the home, said Theresa Freed, communications director for DCF. Though an unsubstantiated finding that doesn't lead to a parent getting their child back may be confusing, Freed said, substantiated findings account for only 4 percent of the removals the agency handles.
DCF has maintained that there are other reasons besides the unsubstantiated claims and the father's medical marijuana use behind their still being in state custody; however, they have refused to release documents to refute the Schwabs' claims. After DCF called Raymond Schwab out on this last week, he asked for the documents to show what their reasoning was. They refused to release those documents, so the Schwabs signed a release for Jennifer Winn to have access to all of the documents, saying that Raymond would cease the hunger strike if there were any legitimate reasons discovered in the documents for the state to keep his children.
Apparently, the claims by DCF have been "smoke and mirrors," because they continue to stonewall every effort by Jennifer Winn to obtain the documents and expose the truth. Despite having ample opportunity to release the documents, they allegedly still refuse.
Meanwhile, the Schwab's children suffer. Their 13 year old is allegedly in a psych ward unnecessarily, separated from everyone he knows. According to emails that DCF sent to the Schwabs, there are substantiated allegations of sexual abuse against their 5 year old daughter, and substantiated allegations of abuse against another one of their boys.
Hunger Strike Continues – Public Invited to Stand With Schwab
Saturday marks Day 13 of Raymond Schwab's Hunger Strike. He has obtained permission from the state to camp out on the North Capitol steps for the next 30 days. He invites the public to stand with him, beginning at 12:01pm on Saturday, March 26.
Press Conference
Jennifer Winn has announced that they will be holding a press conference next week:
Raymond Schwab, the Colorado veteran who has been on a hunger strike in an effort to have his children returned to him by the state of Kansas will hold a press conference to make a major announcement in his case this Wednesday, March 20, at 11am, on the South Steps of the Capitol Building in Topeka, Kansas.

Raymond will be joined by Wichita activist Jennifer Winn, and Cheryl Shuman, Founder of the Beverly Hills Cannabis Club. Shuman will be coming in from California, and is one of the leading voices for cannabis reform in the United States.

Contact Jennifer Winn

316-207-9343

winn_enterprise@hotmail.com
Upcoming March for Families
On Friday, April 1, there will be a rally and a march at the state capitol, beginning at 11am. All families who have suffered at the hands of DCF through legal kidnapping or medical kidnapping are invited, as well as those who support these families. Those wanting to see cannabis law reform are also invited to join them in the "Fools No More" March:
Join us for a march on the Topeka Capital to let our legislators know we are concerned and demanding change of the current family services.
Not Backing Down
Raymond Schwab recognizes that his is just one of many families who are being ripped apart by corrupt forces within the Kansas DCF system, and that he speaks for many when he says that things have to change. He sees that there are forces in Kansas which are pushing back hard, who seemingly would like nothing better than to see himself and Jennifer Winn go away. They both assure Health Impact News that "that is not going to happen."
The "confidentiality" that is purportedly in place to protect the children has become a tool for the family courts and DCF to hide behind, allowing corruption to continue unchecked.
They have no intention of backing down, as they stand for families across Kansas, and all across the nation. Jennifer says:
I will not sit back and let this kind of thing go on.
She believes that the prohibition on marijuana use has filtered down to DCF and is behind much of the legal kidnapping that they do. She quoted these verses from Isaiah 10: 1-4, which are a stern warning to governmental officials who should stand for justice, but refuse:
Woe to those who make unjust laws,
    to those who issue oppressive decrees,
2 to deprive the poor of their rights
    and withhold justice from the oppressed of my people,
making widows their prey
    and robbing the fatherless.
3 What will you do on the day of reckoning,
    when disaster comes from afar?
To whom will you run for help?
    Where will you leave your riches?
4 Nothing will remain but to cringe among the captives
    or fall among the slain.

Yet for all this, his anger is not turned away,
    his hand is still upraised.
Medical Kidnapping: A Threat to Every Family in America T-Shirt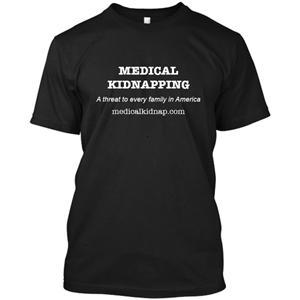 100% Pre-shrunk Cotton!
Medical Kidnapping is REAL!
See: Medical Kidnapping: A Threat to Every Family in America Today
Help spread the awareness of Medical Kidnapping by wearing the Medical Kidnapping t-shirt!
Support the cause of MedicalKidnap.com, which is part of the Health Impact News network.
Support the cause against Medical Kidnapping by purchasing our book!
If you know people who are skeptical and cannot believe that medical kidnapping happens in the U.S. today, this is the book for them! Backed with solid references and real life examples, they will not be able to deny the plain evidence before them, and will become better educated on this topic that is destroying the American family.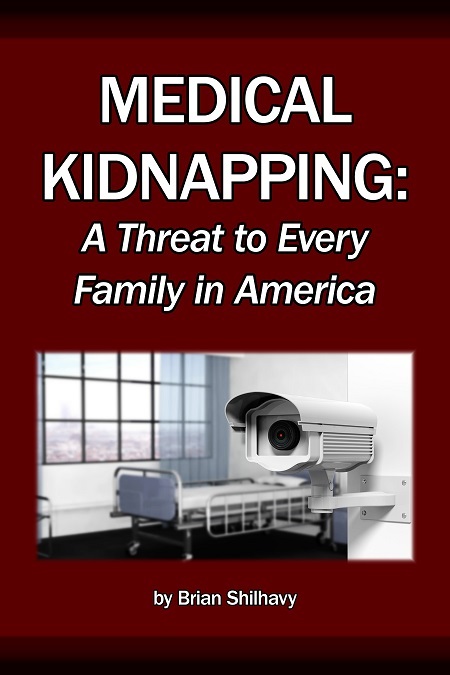 1 Book - 228 pages
Retail: $24.99
FREE Shipping Available!
Now: $11.99
Order here!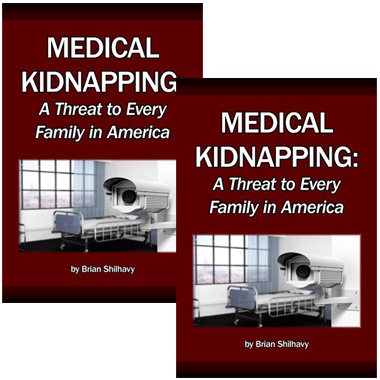 2 Books
Retail: $49.98 (for 2 books)
FREE Shipping Available!
Now: $19.99 (for 2 books)
Order here!
Published on March 26, 2016