UPDATE 12/14/2016
UPDATE 3/30/2016
UPDATE 3/25/2016
Navy Dad Goes on Hunger Strike in Kansas Until State-Kidnapped Children are Returned or He Starves to Death
by Health Impact News/MedicalKidnap.com Staff
A U.S. Navy veteran is currently on a hunger strike in hopes of getting his children back from what he calls a very corrupt child protective system in Kansas. He is prepared to continue his hunger strike until he and his wife's children are returned, or until he starves to death.
Raymond Schwab and his wife Amelia say that their children never should have been taken away from them almost a year ago, but what prompted the hunger strike was the fact that the Department for Children and Families (DCF) said they planned to place their 13 year old son in a psychiatric residential treatment center. They started him on psychotropic drugs 2 weeks ago, against his parents' will.
Raymond Schwab began his strike on Monday, March 14, two days before DCF was to institutionalize their son. He doesn't belong there, the parents insist, and he certainly doesn't need dangerous psychotropic drugs. But he was placed into the facility on Wednesday, against his parents' wishes, and is expected to be there for up to 60 days.
Three of their children have reportedly been abused while in DCF custody. DCF has reported to the family that their 5 year old little girl has been sexually assaulted in their care, and the 13 year old and another son have been abused in the DCF placement.
Dad Pleads With Governor to Listen
DCF has reportedly been ignoring them all along, and that is why Raymond is taking such a drastic measure. He and his wife have been at the state capitol all week, holding signs and trying to get the governor's attention to stop the injustice happening to his family. This is not what the Gulf War veteran fought for, he says.
In a letter to Kansas Governor Brownback, Raymond Schwab writes:
Now, realizing Riley County Courts do not care about their oath of office, nor the Constitution or the law I will be on a hunger strike at the State Capitol until my children are returned, a Federal lawsuit or injunction is filed against you or those who have committed this crime are indicted. Some have said your State will not care, and they will let me starve to death. If that happens it will be on your doorstep, and my blood will be on your hands. Give me my children. "Greater love hath no man than this, that a man lay down his life for his friends." – Jesus- Ms. Brownback said recently that Kansas DCF and foster care should be a model for the nation. God help us all if that ever becomes a reality.
The Schwabs are a very devout Christian family who have homeschooled their children most of their lives. They lived in Colorado for a number of years before moving to Kansas in 2013 because of Raymond's job. They were already in the process of moving back to Colorado in April 2015, when DCF came into their lives based on what the Schwabs say are false allegations from relatives who didn't approve of their religious and other beliefs.
Medical Marijuana Helped Vet's PTSD
The children remain in the system over the fact that Raymond has been using medical marijuana to treat his Post Traumatic Stress Disorder and chronic pain as a veteran. The veteran has become a poster child for medical marijuana activism, but the situation is much bigger than that.
When the family lived in Colorado, Raymond worked with the VA to treat his PTSD and pain after being honorably discharged from the Navy for disability. He tried many different medical treatments from narcotics to anti-anxiety drugs, but they didn't really help much, and had many undesirable side-effects.
Eventually, Raymond fell into heroin addiction. He tells Health Impact News that he isn't proud of that fact, but he wants the public to realize that this is a pattern that happens to many veterans. He went into a Christian rehab program and got off of all of the drugs.
He was able to get his life back on track with the medicinal use of cannabis, which is legal in the state of Colorado. Medicinal marijuana is a treatment that he says can and does help veterans with PTSD and chronic pain with far fewer side effects than narcotic and psychotropic drugs.
In 2013, he accepted a federal position with the Department of Veterans Affairs in Topeka, Kansas, and moved his family there. Marijuana is not legal in Kansas, for medicinal or any use. Therefore, he stopped his cannabis treatment.
Children Seized Over False Allegations
By early 2015, the family decided to move back to Colorado in order to legally be able to treat his PTSD in the way that has worked most effectively for him. Raymond got a job transfer, and plans were in the works for the move. In April, the family says they had a break-in at their home, so they sent their children to stay with relatives for a day or two, so that they could pack everything believing their kids would be safe.
That is when their nightmare began.
The Schwabs declined to name who it was that reported them, but someone took their children to the police in Riley County, saying that they were abandoned. There were allegations of emotional abuse, based on the fact that the children were homeschooled and not vaccinated according to the CDC schedule.
Though the police never investigated the allegations, 5 of the Schwabs' children were immediately placed in DCF custody on April 26. The children range in age from age 5 to 16. (Their 6th child is a 19 year old who was not involved in the case.) The children have been separated in foster care.
The couple continued the move to Colorado, with their 19 year old son, believing that they would get their children back quickly, since they knew the allegations were false.
Allegations Unsubstantiated, but Children Still in State Custody
Indeed, the allegations were found to be "Unsubstantiated" by early July. However, the children have still not been reunited with their family.
DCF – "Only 4% of Removals Substantiated"
According to the Topeka Capitol-Journal, a DCF spokesperson made a statement about substantiation that should be alarming to every parent in the state of Kansas:
Determining whether an allegation is true is separate from a recommendation to remove children from the home, said Theresa Freed, communications director for DCF. Though an unsubstantiated finding that doesn't lead to a parent getting their child back may be confusing, Freed said, substantiated findings account for only 4 percent of the removals the agency handles.
Freed openly admits that 96% of the children kidnapped by Kansas child protective services are for allegations that are NOT substantiated, begging the question, do any parents in Kansas have their Constitutional rights upheld which secure the right to due process and to be free from unlawful search and seizure of their children?
Evidence Only That Allegations Were Made, Not That They Were True
According to Appeal documents, there was never any evidence given by the state that the children were at risk of harm. Incredibly, the testimony presented by Officer Carla Schwartz, now retired, shows that she took the children into custody after merely listening to the allegations, without investigation of the parents' home or attempting to speak with the parents:
The State presented zero evidence that the allegations were true, only that they were made. (Source: Appeal documents)
The case is now, according to the Schwabs, all about the fact that he has used medical marijuana. Even though it is legal in his now-home state of Colorado, he has chosen to stop treating his PTSD with cannabis in order to have the clean urine tests demanded by DCF. He hopes that his condition will not get worse without treatment, but he has definitely been willing to take that risk for the sake of his children.
Family Is Being Torn Apart
But their children are still not home. The Schwabs report that they have only been permitted to visit their children on 6 occasions in almost a year. Their oldest son is devastated by not being able to see his siblings. They have always been a very close-knit family, yet DCF is alienating the siblings from each other as well as from their parents.
Even when they do visit, or on their supervised once-a-week phone calls, the Schwabs say that they aren't able to really communicate and talk to their children normally. Their visits can be terminated if anyone talks about what is really going on in their lives or about being separated.
Amelia, the mother, tells Health Impact News:
You've got to talk about the weather and such. You can't really talk to your kids.
Raymond Schwab refers to himself as a Jewish Christian. They are a Christian family, and they celebrate the Jewish holidays as well. Their children reportedly are no longer allowed to celebrate Jewish holidays, nor are they allowed to go to church. They have been allegedly told that they don't need to pray.
Unreasonable "Permanency Plan"
After 8 months of the children being in state custody, the family was finally given a "permanency plan" to follow. As many families have reported to Health Impact News, the safety plans and permanency plans are often only an illusion of the state working toward reunification of families.
One example of an unreasonable requirement in the Schwabs' plan is the requirement that Raymond participate in a "Batterers Intervention Course." There are several problems with this, the most glaring of which is that there have been no allegations of physical abuse. This is a 46 week course which the parents are required to pay for, but it is not even available in the state where the Schwabs live.
The children have been away from their parents for 11 months, yet the parents had no plan from the state to work on until 3 months ago. Most of the requirements are for "services" that logistically could not have been accomplished in time for their latest court hearing, even if they lived in Kansas.
The Schwabs are currently representing themselves pro se. Part of the reason is so that they can legally access all of the documents regarding their case. However, this is not happening. He reports that he was permitted to read some documents, but was escorted to the courthouse by armed police officers, and forbidden to make any copies of anything he read.
DCF Goals and Family Goals Are NOT the Same
At the latest court hearing, the judge mentioned possible termination of parental rights, and reportedly told the caseworkers that they were doing a great job. Raymond Schwab points out that the judge's idea of a "good job" and the public's idea of a "good job" are two different things. The case workers have not been working toward reintegration of the family, but toward severing the relationships between the family. Raymond says:
We think they're talking about the same thing we are, and we're not. If you just understand that their goal is to steal the children, then it makes perfect sense.
See:
DCF Says Parents Are Misleading the Public
DCF officials told the Topeka Capitol-Journal that the accusations against them are inaccurate, stating that:
If Mr. Schwab's interest is in the truth, he is welcome to sign a release to anyone in the public who wishes to gain more information.
Family WANTS Documents to Be Made Public
Raymond tells Health Impact News that he doesn't know what information they could be referring to, since they have repeatedly denied him access to documents. He has now reportedly signed a power of attorney and a release for former gubernatorial candidate and family advocate against CPS corruption, Jennifer Winn, so that she can have full access to all the documents. He is hopeful that she may be able to access documentation denied to him.
Before he signed the releases, Raymond and Amelia Schwab released this statement in response to the DCF statement:
My wife and I are thankful that DCF is so committed to releasing the truth as we are. We also agree that there needs to be a level of privacy and safety for children concerning sensitive issues such as child abuse.

I have released to the Topeka Capital Journal the findings from DCF that ALL allegations were unsubstantiated against us. Since DCF, District Attorney Barry Wilkerson, and Judge Bosch refuse to give me ALL documents pertaining to our case, even though I am representing myself, I cannot say what DCF claims we are hiding.

We have never said this case is about Cannabis alone. It was based on false allegations of abuse, which the DCF report said were unsubstantiated, then told us that lack of substantiation meant nothing and we had to stop our legal Cannabis Therapy in our home State in order to even visit or get our children back. This we have done as we currently have visited our children after submitting clean UA's.

So this is about Cannabis. When I confronted Governor Brownback today and begged for my children back he stated that since the allegations were unsubstantiated we would get our children back. When I informed him that finding was issued in July of 2015 he said he could not control the courts and walked away.

DCF claim my children are safer in their care, but they have been abused with multiple hotline report of sexual and physical abuse filed while in DCF custody. They are hiding the actual reports from us while telling us on the phone it did happen but they cannot give me details.

How is that safer? I would be happy to release those reports to the press if DCF would stop hiding them from me and obey the law. We will sign a power of attorney as well as a release for former gubernatorial candidate Jennifer Winn to have access to all court records, reports and any other evidence DCF allegedly have under the condition she will not be legally pursued by Kansas for releasing her findings.

If Mrs. Winn, after reviewing all the records confirms DCF's claim of dishonesty I will immediately stop my hunger strike. If they will not allow her to view the court records and documents; then they can bring my children to the Capital so we can go home and heal. We will see if DCF really is interested in transparency and truth.

Raymond and Amelia Schwab
Former Gubernatorial Candidate Jennifer Winn Responds
Jennifer Winn posted Wednesday on Facebook that she now has power of attorney:
I am now the official power of attorney over Raymond and Amelia Schwabs children.

I am hereby giving public notice to Governor Brownback, DCF, St. Francis, Judge Bosch and Pathway Family Services located at 4101 SW Martin Drive. Suite B. Topeka, Kansas 66609 you do NOT have the authority to medicate Raymond and Amelia Schwab's 13 year old son Caleb Karl Schwab DOB-07-16-03 under any circumstance with mind altering drugs. Should you continue to force feed this child any mind altering medication, your company and ANY personnel performing this task will be in violation of my consent and you will be held accountable in a court of law.
 Hunger Strike Continues
Until then, or until his children are returned, Raymond Schwab remains on a hunger fast. When we spoke with him, he said that he is hungry, but he is not giving up.
I don't have any other choice. They're not listening.
What You Can Do
Free the Schwab Children is a Facebook page set up for supporters to follow the story and encourage the family. Supporters are welcome to join Raymond and Amelia Schwab at the Kansas State Capitol in Topeka, because they plan to be there every day until this is resolved.
Governor Brownback has reportedly denied that he can do anything about this, but his opponent Jennifer Winn vehemently disagrees. See her video: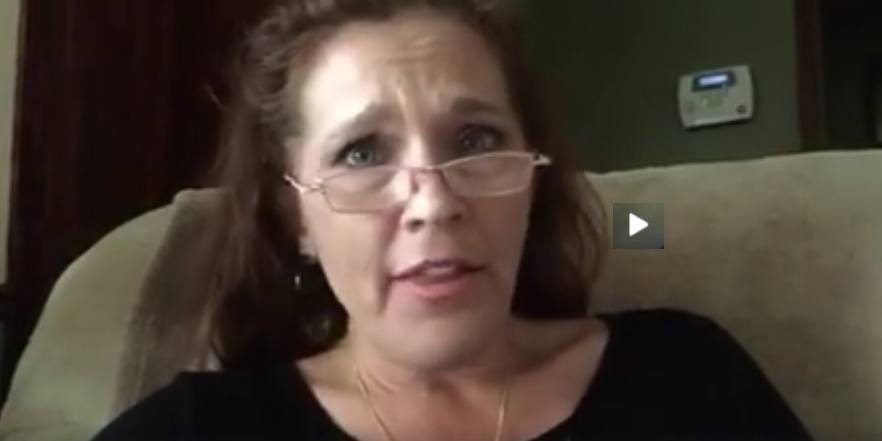 Governor Brownback may be reached at 785-296-3232, or contacted here. He is also on Facebook and on Twitter.
The following people can also be contacted, at the request of the parents:
DCF-Chief of Staff – Wm. Jeff Kahrs 785-296-3271
DCF Communications Director – Theresa Freed 785-296-3271
Name: Barry Wilkerson
Title: Riley County Attorney
Phone: 785-537-6390
Judge John F. Bosch
Clerk of the Court – Katherine J. Oliver
Ph: 785-537-6371
The Kansas legislature goes on a month long break on March 25.
Published on March 19, 2016