UPDATE 3/12/2016
According to the Help Save Malakai Facebook page, there is good news and bad news on the case.
The bad news is that no real investigation into the alleged abuse of Malakai while in foster care was ever actually done. According to grandmother Kimberly Deese, she called the Fuquay Varina Police Department for a year attempting to get them to do a "child well check" of Malakai. She has also pleaded with Wake County child protective services to investigate the allegations of abuse. Both were denied. When she learned that the foster family had moved to Johnston County, she made a report of the abuse,
hoping that I could get justice and that they would find that my grandson was indeed abused in the foster home. I even sent Johnston County North Carolina the copy of the published "Medical kidnap" story as well.
She later learned that the report was sent to Durham County CPS to be investigated, but the copy of the Medical Kidnap story was left out, along the list of people sent with the report of those who could verify that Malakai was in good health before CPS involvement. Durham County investigators spoke only with Kimberly, her daughter, the foster family, and Wake County CPS, before sending the report back as "Unfounded."
When Kimberly questioned the decision, she was told that Wake County had the ultimate decision as to whether or not Malakai had been abused by the foster family.
Because Wake County Child Protective Services has full custody, they had a big say so. This is outrageous and a big conflict of interest. Wake county child protective services assisted Durham County in the investigation which is a huge conflict of interest. I call this "One agency backing the other to protect their interest," as my daughter's case worker Leeann Watson is good friends with the foster family.
More bad news:
Kimberly had been hopeful that Governor Pat McCrory was going to help them after she received a call last year from the governor's office. The secretary told her they would investigate and get back with her. She never heard from the governor's office again. The family is very discouraged by this and feels that the governor does not care about what is happening to children and families in the state through CPS.
The good news:
Even though Malakai's mother, Heather Hill, has had her parental rights terminated, she has a new attorney who is planning to appeal her case to a higher court. This process will take several months, and the attorney says that it will probably be fall before they have a final answer. Kimberly promises to keep us updated, and says:
I pray there will be a positive decision made.
UPDATE 12/17/2015
Grandmother Kimberly Deese updated the Help Save Malakai Facebook page:
 My daughter received a call today from the [social] worker that's investigating Malakai's abuse in the foster home. The investigator questioned my daughter about her concerns of what she saw when visiting with her son at wake county cps,, My daughter told the worker, that Malakai had a black eye, busted lips lots of bruising on her son's body and a great deal of weight loss and that her son was talking before he ever went into foster care and that he stopped talking ever since he was place. Heather even told the worker which I was not aware of, that kimmie Heathers sister was [banned] as well from seeing Malakai because Heathers case work LeeAnn Watson said Kimmie kept feeding Malakai when she was told to stop feeding him. LeeAnn Watson, my daughter's unlicensed and uncertified socal worker did NOT let my STARVING grandson eat but a few spoon fulls of food while his brother Zacy (lives with the father and mother in law) got to eat all he wanted. I praise the Lord that there is a investigation going on with my grandsons abusive treatment with [foster parents]. I pray that my grandson will be place here with me as he will be safe and truly loved and with his siblings.
UPDATE 12/5/2015
From the Help Save Malakai Facebook page:
GOOD NEWS I JUST GOT A LETTER FROM JOHNSTON COUNTY CPS. THEY SAID THAT MY CONCERNS MEET THEIR REQUIREMENTS FOR DOING AN INVESTIGATION. NOW LET'S JUST HOPE THEY DO SO
Grandmother Kimberly Deese explains that:
because the fosters had moved to another county and with the published story I sent to them, this county is doing a investigation when WAKE COUNTY would not because they were their fosters. Praise the Lord. I'm sending the new county where Malakai lives (Johnson County) a request for a home study and placement in my home, the new kinship laws and a letter, certified and signature on delivery.
She also reports that she received a call from Governor Pat McCrory's office in response to her call for an investigation. Gov. McCrory is up for re-election. Kimberly is hopeful that the governor's office will follow up and investigate her grandson's deteriorating condition in foster care.
In another interesting development, Ms. Deese reports that she has learned that the social worker in her grandson's case, Leeann Watson, is not a licensed social worker in the state of North Carolina. Kimberly has been in correspondence with the North Carolina Social Work and Licensure Board, and they stated that "Leann Watson is not licensed or certified by this board."
Original story:
North Carolina Child Medically Kidnapped Starving to Death in Foster Care
by Health Impact News/MedicalKidnap.com Staff
A North Carolina grandmother is "horrified" at the condition of her 3 year old grandson Malakai. The deterioration in his health reportedly happened after Child Protective Services removed him from his family and placed him in foster care. She reports that he had previously been very healthy, with no medical problems. Now, the foster parents are collecting disability payments for him and he looks like he is starving. Kimberly Deese is fearful for her grandson's life.
She and her daughter Heather Hill are frustrated with the level of corruption that they say they have encountered as they fight to get Malakai to safety. There appear to be some ethical violations in this case which allegedly began with a false accusation made in retaliation against Heather.
The family claims that no matter what hoops they jump through or what evidence they provide, Wake County CPS seems determined to sever all family connection to Malakai Deese and adopt him out. Heather's parental rights have just been terminated, and CPS has made it clear that they refuse to consider placement of Malakai with his maternal grandmother, without basis, and in violation of both state and federal law. The family hopes to appeal, but they have only until December 4 to do so. Kimberly has recently appeared on The Captain's blogtalk radio show and the Porthole to Justice show to tell her family's story. They want help in their fight to fight to save this little boy.
Ironically, grandmother Kimberly had just finalized her adoption of another grandchild only a month before Malakai was seized by CPS – in the same county. Yet, when it came to Malakai, the social worker refused to do a home study or consider placing the toddler with his grandmother.
 Young Mother Struggles, but Her Mother Has Always Been There for Her (It's Called "Family")
Heather has faced difficulties in her life, and as often happens in loving families, her mother has been there to step in and support her when needed. Malakai is Heather's second-born child. When his older sister Nevaeh was born, Heather recognized that she was not dealing well with her post-partum depression. She has a learning disability, and has been on disability since childhood. She made the decision to sign over custody of her baby to her mother, who later adopted her. The adoption was finalized in Wake County on May 1, 2014.
Malakai was born prematurely on May 21, 2012. Kimberly was with him from day 1. While Heather worked to get on her feet, Malakai stayed with his grandmother for his first year.
Heather fell in love with a young man, Quadir Hill. When she found that she was, once again, expecting, Kimberly encouraged them to get married. At that point, Malakai went to live with his mother and step-father. Quadir's mother, Urika Hill, was reportedly opposed to the marriage, and seemed to dislike her daughter-in-law. Zechariah Hill was born on May 7, 2013.
The marriage did not go well. They separated, and Heather filed charges against Quadir for domestic violence, allegations which he denies. On April 15, 2014, Heather "won full custody, child support, and [a] one year protection order."
The Nightmare Begins
The very next day after the ruling, Heather was to take Zechariah for visitation with his father. She told him and Urika that the baby had developed a rash on his upper thigh, and she gave them the creams she had been using to treat it. However, it did not look like a rash to Urika, who took him immediately to the hospital at WakeMed Garner Healthplex.
Doctors at WakeMed determined that it was, indeed, a thermal burn, and not a diaper rash. His records from April 16 note:
No signs of possible abuse and/or neglect were noted at the time of the assessment.
And:
There are no other marks or lesions concerning for abuse.
However, Urika Hill accused Heather of deliberately inflicting a burn on her grandson. A social worker was called in, and Heather was questioned. According to documents:
When questioned, the mother was unable to provide a credible explanation as to how it was sustained.
This was because, at the time, Heather had no idea what had happened. She genuinely believed that it was some type of diaper rash, perhaps a reaction to the chemicals in the disposable diaper. However, her family was quickly able to put the pieces together and figure out what had happened. They realized that Heather was completely innocent of any wrongdoing.
Simple Explanation – No One's Fault – But Mother Arrested Anyway
Heather discovered what she thought was a rash a few days before, the morning after a family cookout. After she was accused of abuse, her sister remembered an incident where Zechariah was screaming at the cookout. Kimberly recounts that Tony, Heather's current boyfriend, put Zechariah in a wagon to ride around the yard. He screamed and hollered. At the time, everyone present thought that he was just frightened, and Tony continued to ride him around in the wagon. When he didn't stop crying, he stopped and took him out. No one thought anything further about it, because he stopped crying shortly thereafter.
He got burned on the buckle of the wagon! Kimberly figured it out. Tony sat Zechariah on the wagon, and just where the burn is on his upper thigh was where the buckle was, because he didn't buckle him in. It was a simple accident, and Heather was not even involved.
Mother Arrested Without Evidence, Later Freed
However, without conducting any type of investigation, police arrested Heather and charged her with misdemeanor child abuse. That charge was later changed to felony child abuse, after CPS took Zechariah to their own doctor, who said that the burn would leave a scar. (According to Kimberly, it didn't.)
Kimberly and Heather took photographic evidence and the explanation of what happened to Heather's criminal attorney. Kimberly says that the state recognized that they didn't actually have a case, so they offered a plea deal instead. Heather was scared and didn't think she could fight the system, even though she had nothing to do with the burn, so she accepted the plea bargain. The deal reduced the charge back to a misdemeanor, accusing her of failure to take Zechariah to the doctor for the burn, the burn that she had thought was simply a rash. She would not face jail, but probation.
Zechariah and Malakai Taken by CPS
However, none of the evidence or explanation of what actually happened would stop CPS from taking the 2 boys away from their mother and into state custody. CPS sent Zechariah to live with his father's mother Urika Hill, where his father lives as well. But they sent Malakai to a foster home with strangers, since his father was not around.
Interestingly, this means that Quadir Hill no longer has to pay child support for Zechariah.
Wake County CPS Refuses to Consider Heather's Mother for Placement, in Violation of Federal Law
Even though Kimberly Deese had already played a huge role in little Malakai's life, the social worker refused to consider placing Malakai with his maternal grandmother. Federal law says that social services must consider relatives and close family friends before placing a child in foster care. However, in Malakai's case this was allegedly not done.
Kimberly believes that it is because she fought the system and argued her daughter's innocence. Just one month before Malakai was taken, Kimberly's adoption of Malakai's older sister Nevaeh was completed – in the very same county.
Kimberly says she had already passed a background check, which revealed no criminal history, not even so much as a parking ticket. She had already passed a home evaluation in Wake County, and passed all the other requirements necessary to adopt a child through the same family court system that her grandsons were now in.
However, social worker Leeann Watson allegedly refused to do a home evaluation. According to a report from the GAL, Salvatore Quattrocchi:
Malakai's grandmother would like him placed with her and is willing to have custody. However, based on concerns from WCHS [Wake County Human Services] and this GAL, [she] was not considered for custody.
According to Deese family advocate Amelia Duran:
The state has no position for rejecting placement with the grandmother.
In fact, North Carolina has recently passed its own state law, parts of which echo federal law requiring placement with a relative. Section 10(a1) of HB 669 states in part:
In placing a juvenile in out-of-home care under this section, the court shall first consider whether a relative of the juvenile is willing and able to provide proper care and supervision of the juvenile in a safe home. If the court finds that the relative is willing and able to provide proper care and supervision in a safe home, then the court shall order placement of the juvenile with the relative unless the court finds that the placement is contrary to the best interests of the juvenile.
The GAL's report states no reason that Kimberly should not have custody, other than his vague, unspecified "concerns." Apparently, no such concerns came up when his same county was investigating her for the adoption of Neveah.
Additionally, Kimberly's sister Tina has offered to care for Malakai; however, Kimberly reports that, when the judge asked if there were other relatives willing to care for Malakai, Heather's court-appointed attorney James Hunt remained silent.
Previously Healthy Child Now on Disability in Foster Care
Kimberly and Heather report the Malakai was in perfect health when the state took him and placed him in foster care. Now they have learned that his foster parents get a disability check for him every month.
Kimberly accompanied her daughter on a visit to see Malakai on November 1, 2014. She had no idea it would be the last time she would see him.
I saw my grandson. I could not believe the deterioration in his health.
When social worker Leeann Watson left the room, Kimberly quickly pulled out her camera and asked her daughter to take Malakai's shirt off, so they could take pictures. She broke down into tears as she described what happened next:
I was horrified at what I saw. I could see all the bones in his back and all the bones in his front. I felt helpless. I did not know what to do.
Kimberly demanded answers when Leeann came back in the room. Her response floored her:
She said it was only a growing spurt. I told her, "No, that was a lie."
At that point, Kimberly was told that grandparents have no rights. She was escorted from the premises, and banned from seeing her grandson again, "just out of concerns."
Malakai's health has reportedly deteriorated even further since then. When Heather visited him recently, she said that he is skinnier and less active now than ever. He even has to wear leg braces now. The family believes that this has to be the result of malnutrition.
In August of this year, Leeann reportedly told another caseworker that Malakai was so skinny because he has hyperthyroidism. However, he was recently tested, and the test came back negative. So that's not it.
Heather reports that many of her visits are scheduled at lunch time. She brings food, and she says Malakai always seems hungry. However, she also reports that Leeann has forbidden her to feed him more than a couple of teaspoons of food each visit.
Malakai has also come to visitation with bruises on his back. The family was told that Malakai falls a lot. They wonder why these injuries and his condition are allowed to go unchecked now that he is in foster care.
Kimberly says that she is fearful for her grandson's very life:
I'm scared they're going to push this so far that it might end up killing him in their effort to make him disabled.
Her words are chillingly similar to those of Leanna Smith, an Arizona mother whose children were medically kidnapped several years ago. In October, Leanna found her daughter's story on a GoFundMe page. The foster parents were asking for money to get out to get her previously healthy child a liver transplant. See story:
How can it be that healthy children are taken away from loving families, and yet wind up disabled, starving, or in need of an organ transplant after Child "Protective" Services takes custody?
Police and CPS Refuse to Investigate
Kimberly has been pleading for someone to investigate what is happening to her grandson in foster care. She reports that she went to the police to file a report, but they told her they couldn't help her, because she only has the foster parents' names, not their address.
She asked Wake County Human Services, the agency that administrates Child Protective Services, to investigate. This was the response that she received:
Court Appointed Attorney Good Friends with Social Worker?
The Wake County social worker involved with Malakai's case, Leeann Watson, and Heather's court-appointed attorney James Hunt are reported to be close friends. Kimberly reports that she frequently sees them laughing together, and that Hunt told her from the beginning that they were "good friends." Would this not present a conflict of interest? It appears to Heather and Kimberly that Hunt is more interested in serving the wishes of his social worker friend than the needs of his client.
Heather says that she has tried to fire Hunt as her attorney, but the judge denied her request. He has not, in the family's opinion, fought for her at all, but has gone along with everything the social worker wants.
Grandmother Receives Threats
In September, Kimberly petitioned the court for custody of Malakai, but she says that the judge screamed at her for filing the wrong paperwork. She was devastated. She had filed the paperwork that the clerk had given her to file, but she believes that the clerk intentionally gave her the wrong forms, and she says that the social workers smiled and smirked at her in court.
Later that week, on September 25, Kimberly received an anonymous threatening phone call. The caller told her that they were in court that day and saw what happened:
The judge knows about you. You need to stop investigating Malakai's placement and pursuing placement of him with you. Don't you have other children?
Kimberly hung up, shocked, and frightened.
This wasn't the first time she had been threatened since CPS came into their lives. Heather had another baby after her boys were taken. Shortly before Tony Jr. was born, Kimberly moved her family out of Wake County, into Harnett County. Leeann had been following the pregnancy, with every intention of seizing the new baby as soon as he was born. However, social workers in the new county investigated, and found no reason to take the new baby. When Leeann discovered they had moved, she was reportedly furious with them. She told Kimberly:
You're going to regret this.
Since Tony Jr. was born, Heather has gotten into trouble with the law on unrelated charges, and will be in jail through January. She signed over custody of Tony Jr. to her mother. The social workers in Harnett County had no problem approving Kimberly and her home for custody of her newest grandson. They reportedly do not understand the vendetta that Wake County social worker Leeann Watson has against Kimberly Deese. Watson is allegedly furious that Kimberly has the baby in her care.
Grandmother Accused of Racism
Social worker Leeann Watson has allegedly played the race card in court, and has accused Kimberly Deese, who is white, of racism, and has made false allegations of her using racial slurs. Kimberly assured us that nothing could be further from the truth. All of Heather's children are of mixed racial heritage. During numerous conversations with Health Impact News, it was very clear to us that Kimberly deeply loves her grandchildren. She is very concerned, especially for Malakai's well-being. The fact that his father is African-American is irrelevant. Kimberly calls the racism charge "creative evidence" – CPS is making up things as they go.
How You Can Help
Heather's parental rights were terminated on Wednesday, November 4. That hearing was not supposed to take place until the end of November. Heather only learned of the hearing that morning. They were blindsided and shocked. They have learned that the date was changed because the foster family wants to adopt Malakai – a little boy who already HAS a family who loves and wants him. Malakai's biological father has been located and is reportedly stepping into the fray, so Malakai cannot be adopted quite yet.
The family has until December 4 to file an appeal. They are hoping that people will step in to help them to fight to save Malakai. They need a new attorney. They need help figuring out how to fight this, and how to report the ethics violations.
A Facebook page has been set up for supporters to follow their story and join them in fighting back.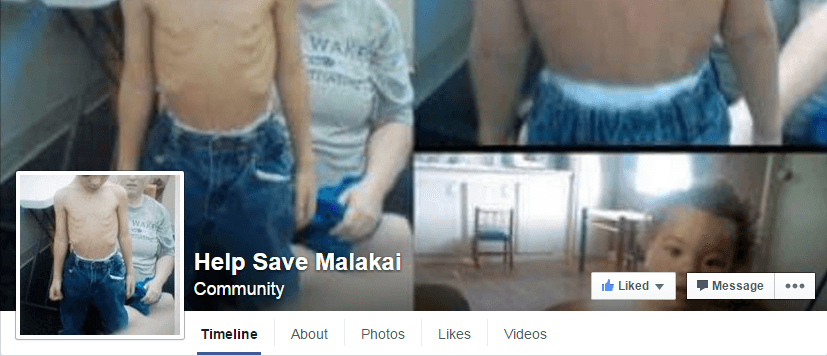 The Governor of North Carolina is Pat McCrory. He may be reached at 919 814 2000, or contacted here. He is also on Facebook and Twitter.
Representative Duane Hill represents the district in Wake County. He may be reached at 919 733 5755, or contacted here.
Chad Barefoot is the Senator for that district. He may be reached at 919 715 3036, or contacted here.
See Also:
Published on November 8, 2015