UPDATE 1/8/2016
UPDATE 11/15/2015:
Houston Couple Gagged and Told to Fire CPS-fighting Attorney in Order to See Medically-Kidnapped Child
by Brian Shilhavy
Editor, Health Impact News
Earlier this year, in May of 2015, we reported on the story of the Giwa family in Houston, who had their 19 month old son medically kidnapped by Texas CPS. Randy Wallace of Fox News Houston broke the story. See our original coverage of this story here:
Ahmed Giwa, the father of 19-month old Ali, contacted Health Impact News and MedicalKidnap.com at that time about publishing their full story. This was the last statement we received from him by email in May 2015:
Currently waiting for the Police outside the hospital where they have our son because CPS said they should not allow us in. Let us schedule next week outside Monday please. The Police (are) here now.
Multiple attempts to contact Ahmed and follow up after this email was received were unsuccessful, and we suspected that a gag order had been placed on the parents in an attempt to stop the media and the public from learning any more about their story.
Both Ahmed and his wife Olubunmi have now contacted Health Impact News, and they want the world to know their story. Not only were they issued a gag order and told not to talk to the media, they were told they had to fire their attorney if they wanted to see their son again. The family had retained the services of Attorney Julie Ketterman in Houston, who has a history of fighting back against CPS and standing up for family rights. She has publicly stated:
CPS profits every time they place a child outside the home for adoption. It has stopped being a resource for families in need and has instead turned into an adoption mill.
See:
Child Removed from Parents for "Failure to Thrive"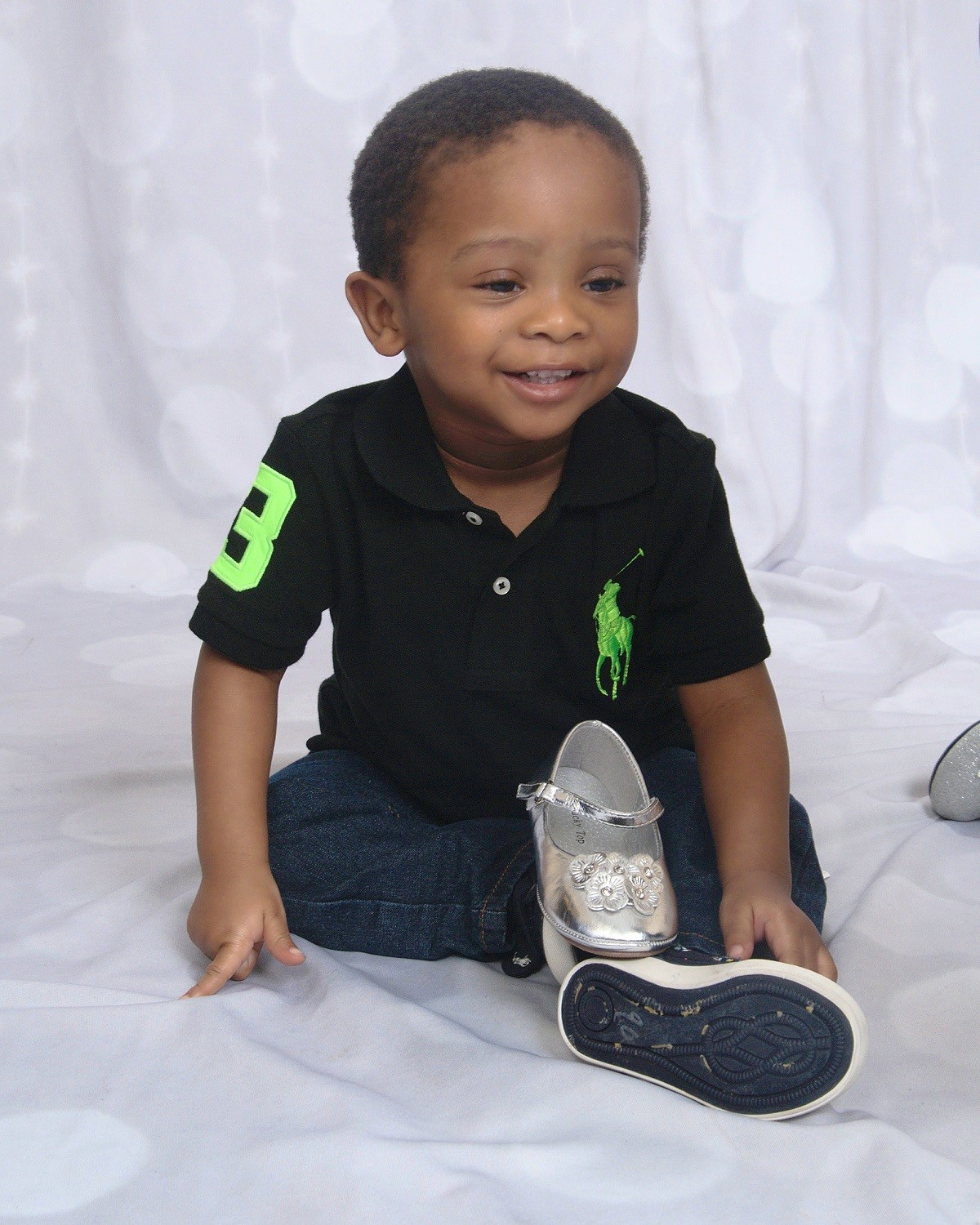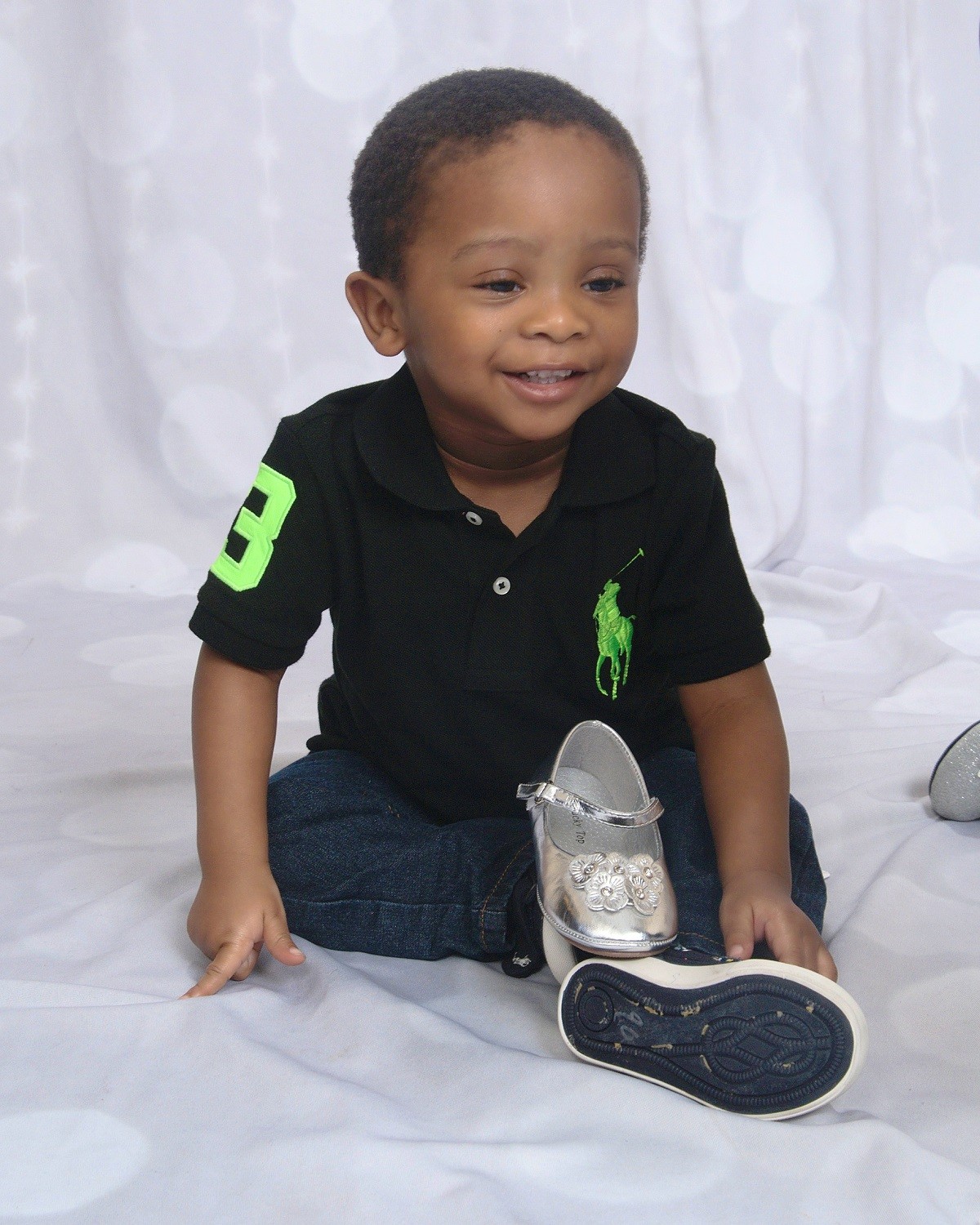 As was originally reported by Randy Wallace of Fox News Houston, Texas CPS removed 19-month old Ali from his parents' custody due to "failure to thrive":
The couple says they know their 19-month-old son is not developing like he should but say they've never gotten a medical reason for his developmental delays and say they've never denied him medical treatment.

In court documents CPS admits the reason for the boy's developmental delays are not known but still that state agency is accusing the parents of medical neglect.

As for the medical neglect the attorney says CPS's only witness in court was a doctor who never saw the boy or talked to the parents.
Ahmed and Olubunmi are well-educated and respected members of their community:
The Giwas are not the kind of parents who come to mind when you think Child Protective Services. "They're well educated they are hardworking people the mom actually has a PHD in special education dad works for an energy company here in Houston," says attorney Jon Parchman.
Gag Order and Demand to Fire Attorney as Conditions to Receiving their Child Back
The Giwas did what any parents would do in a situation where they had just had their child removed from their custody at the hospital: they looked up the best attorney they could find to fight back and try to get their baby home again.
Their search led them to Attorney Julie Ketterman in Houston. Julie's law firm website lists her as a "Certified Family Law and CPS Mediator." She has her own weekly radio program, and is an outspoken critic of how Texas CPS operates.
Olubunmi, the mother of Ali, alleges that in a phone call with Texas CPS Investigator Jon Chapman shortly after their son was taken, she was told that they had to terminate their relationship with Julie Ketterman before they could see their son. He allegedly told her that Ketterman had to contact him and confirm they were no longer handling their case in order for them to have any visitation with their son.
As a condition for the Giwas to bring little Ali back home, they had to sign off on a "Rule 11" agreement forced upon them. Among other things, this agreement stated that they would have no contact with the media to tell their story.
Their passports were also confiscated and they were instructed to stay within their county, making them what they feel are virtual "prisoners." They have allegedly been neither charged nor convicted of any crimes.
Other stipulations that the Giwas were forced to agree to as a condition to receive their son back home included:
A full psychological examination with a licensed psychologist approved by CPS
Attend parenting classes
Home visits at the discretion of CPS at anytime unannounced
All medical care and therapy for their son has to be approved by CPS and Children's Memorial Hermann
Document all visitors coming into their home, including relatives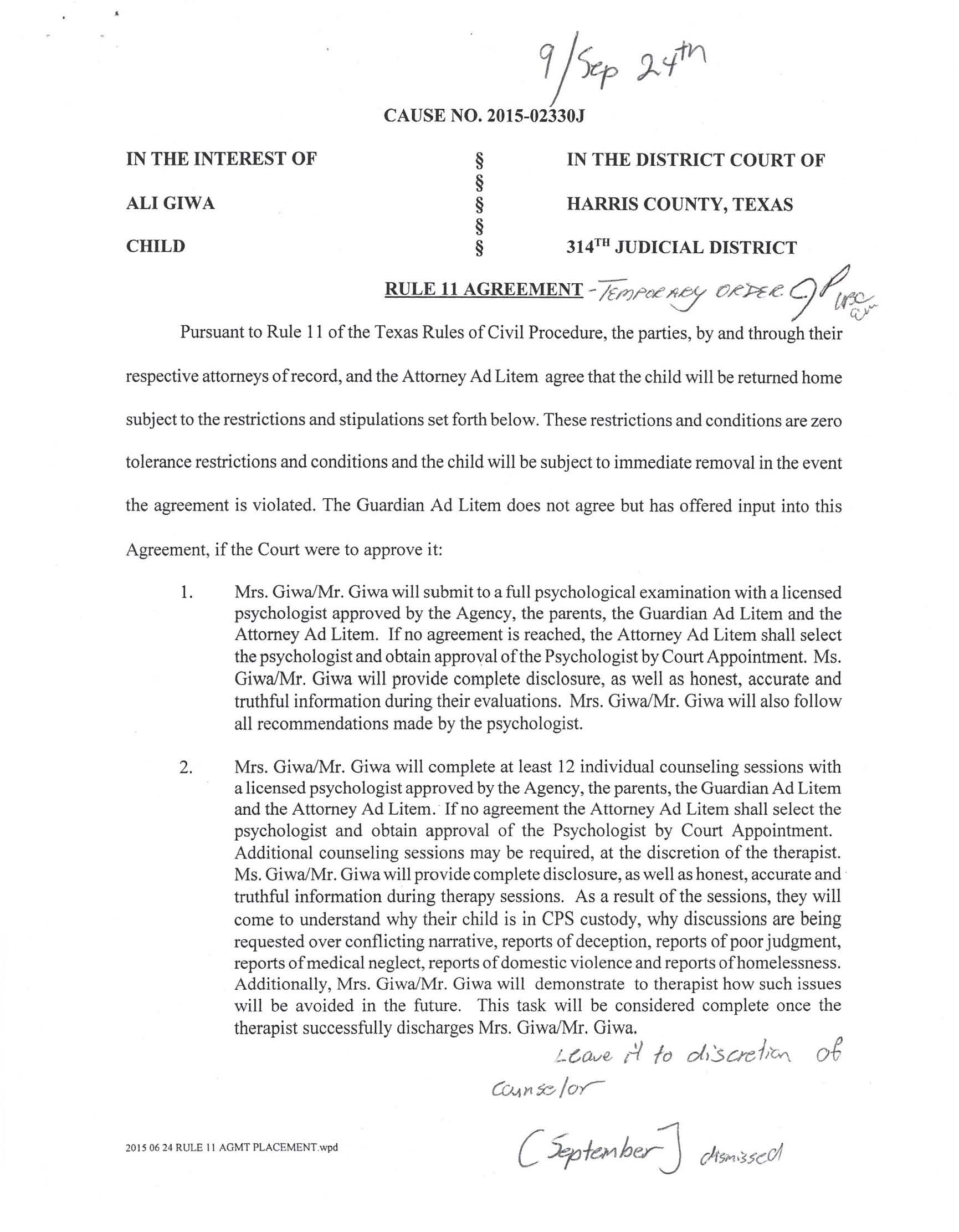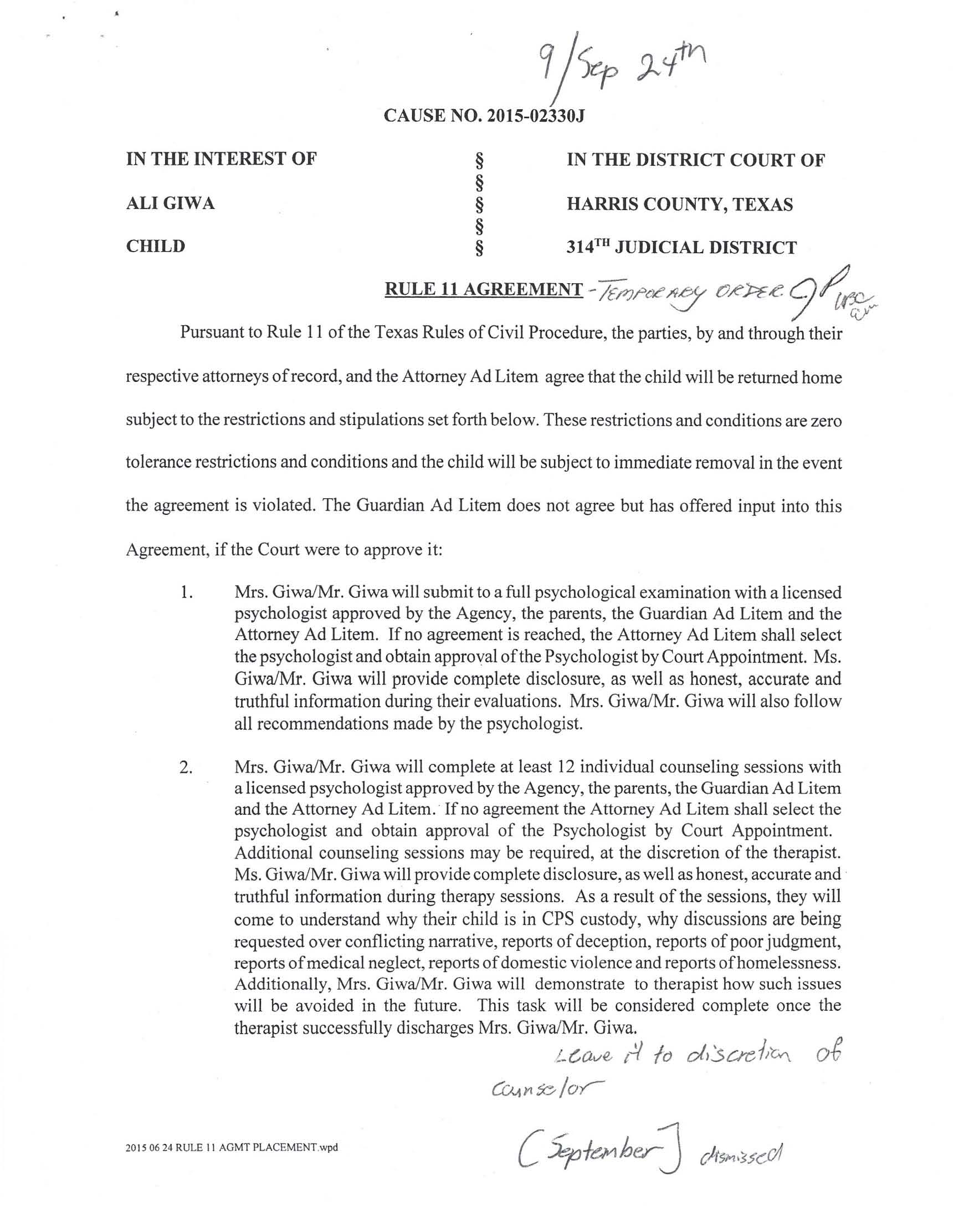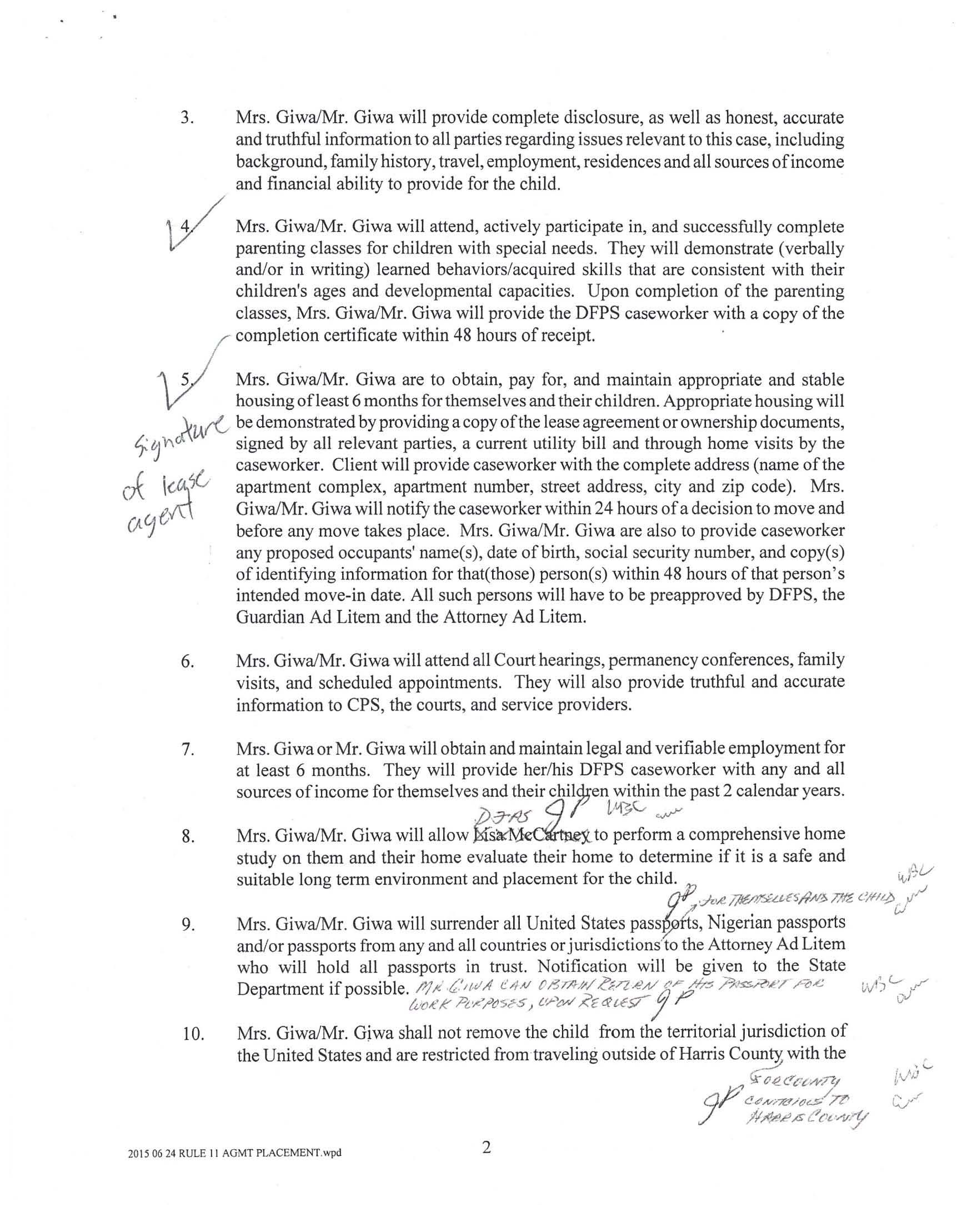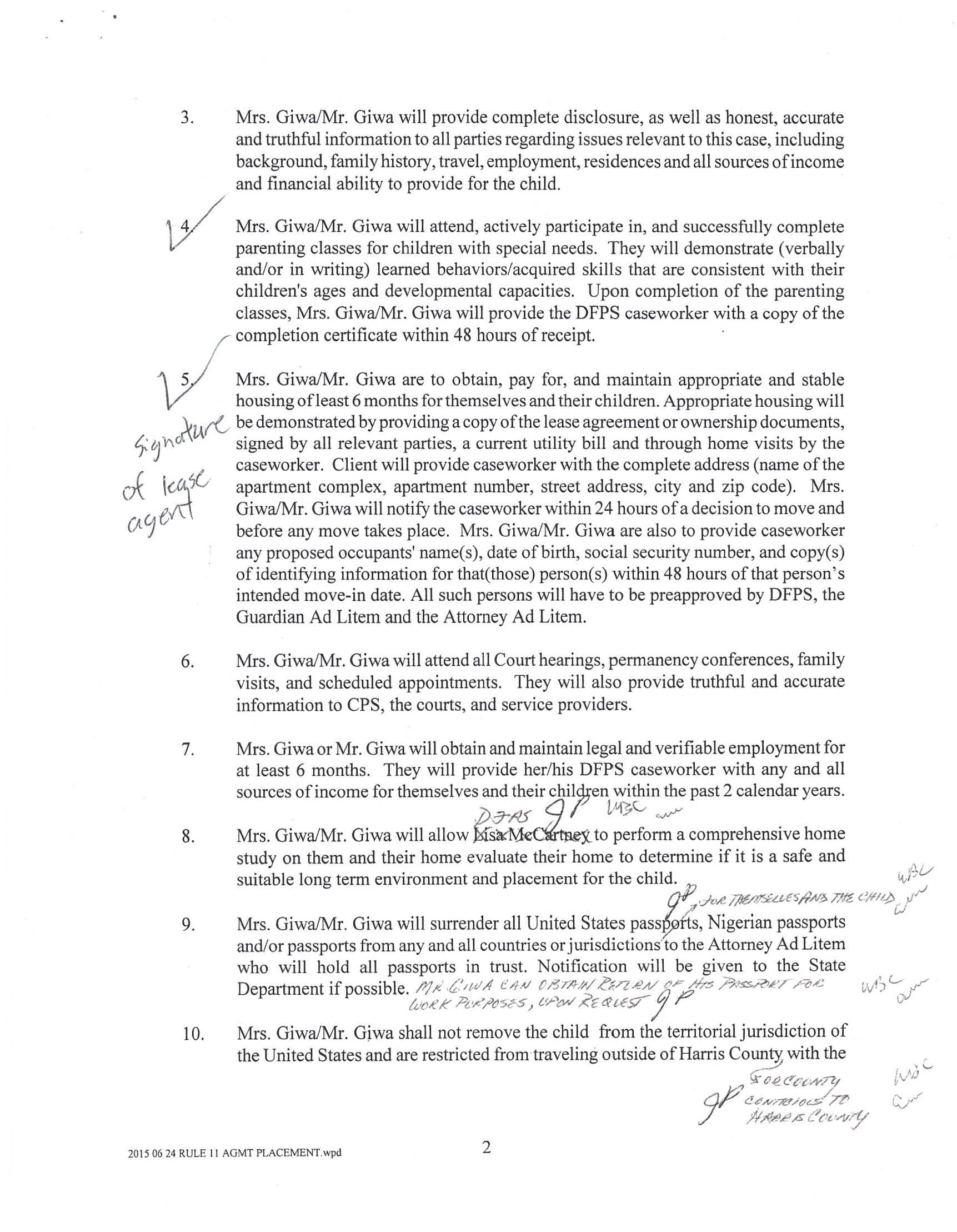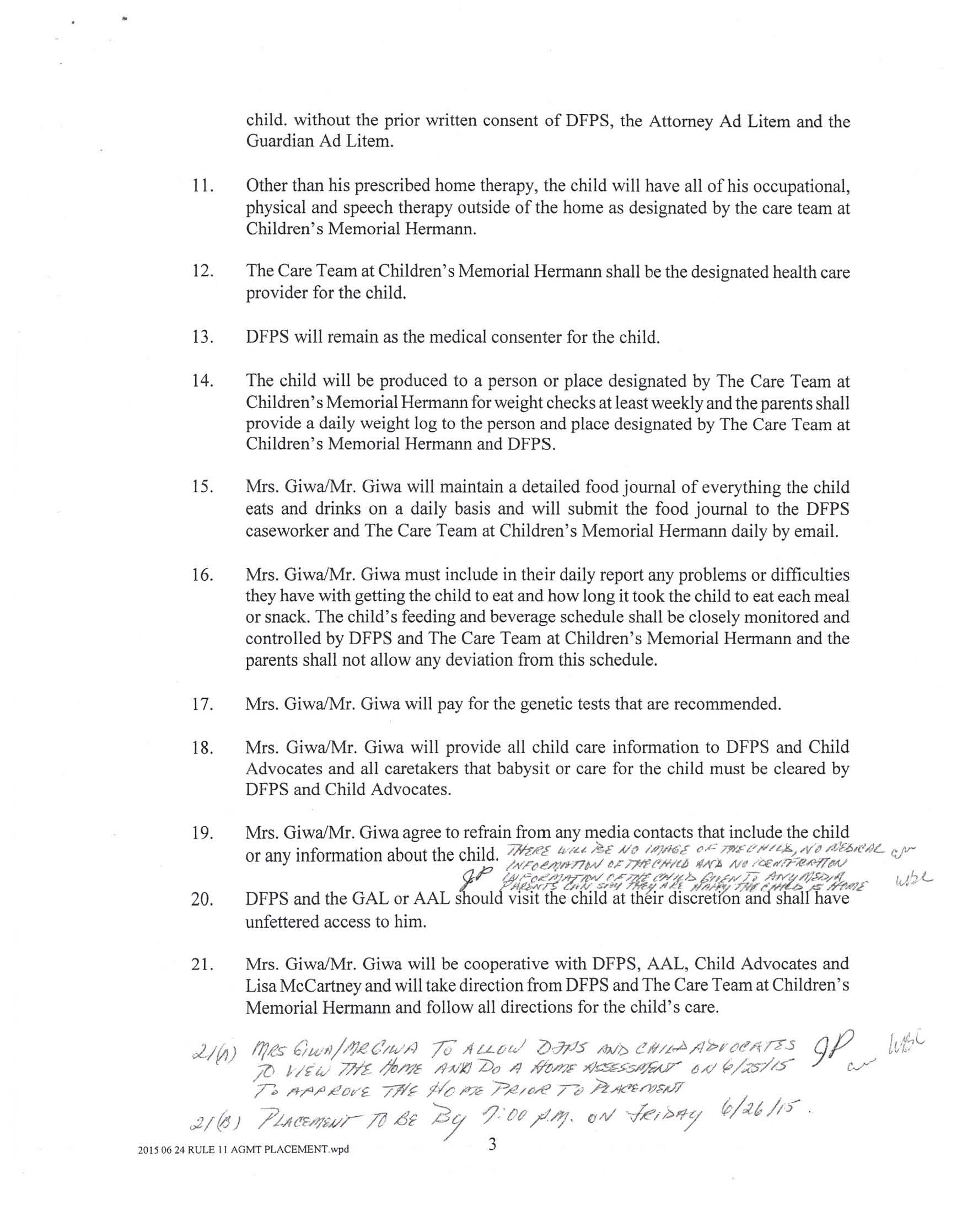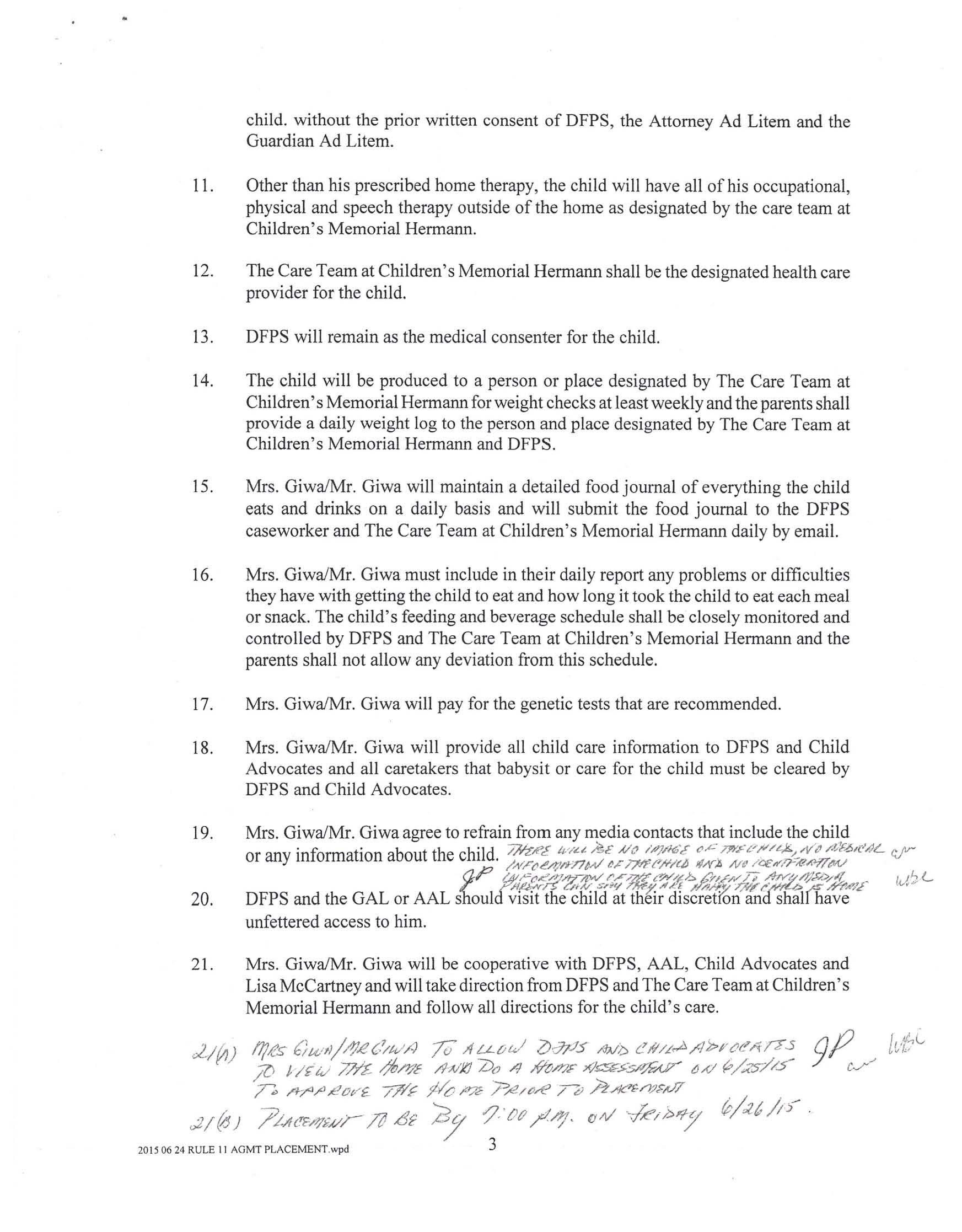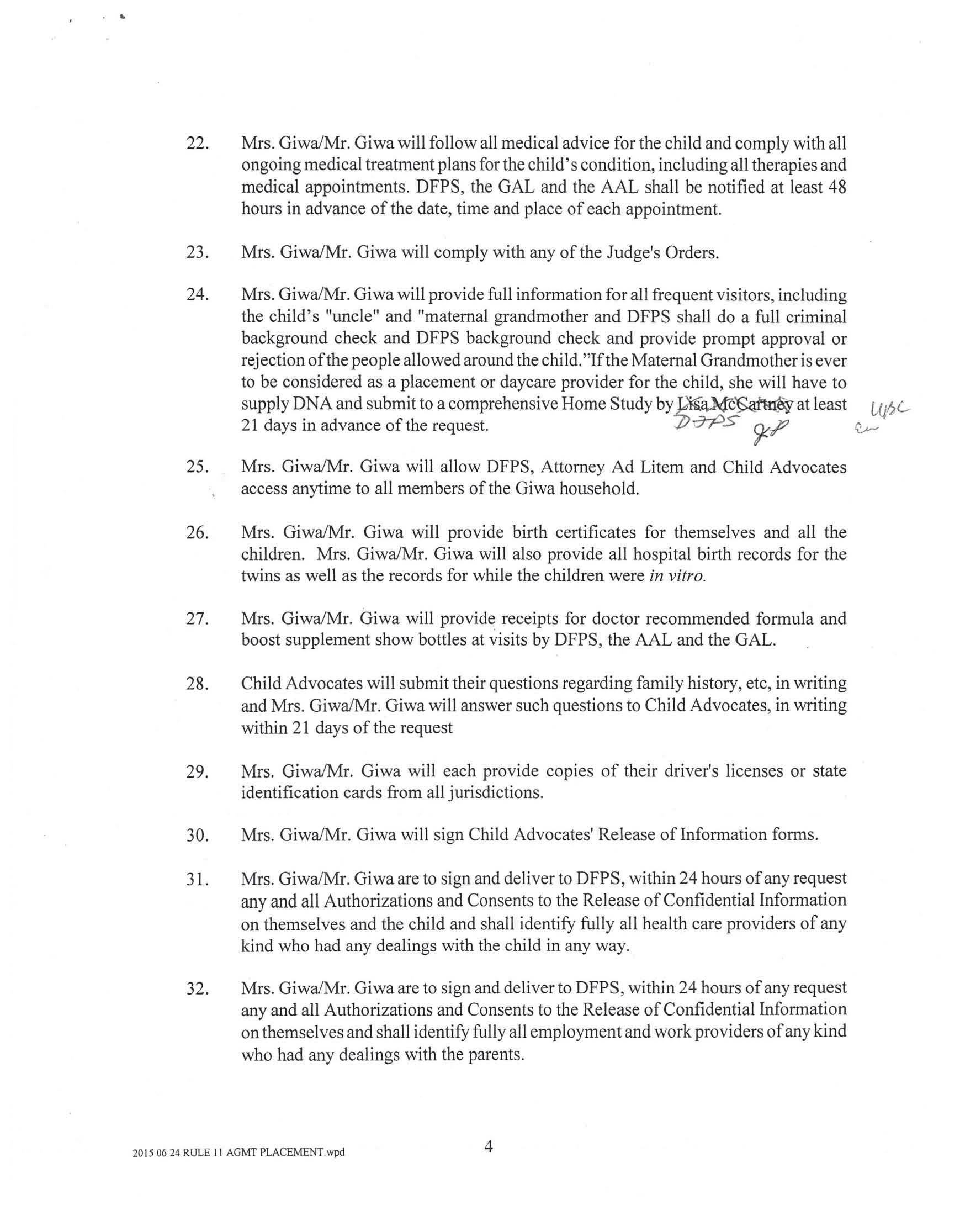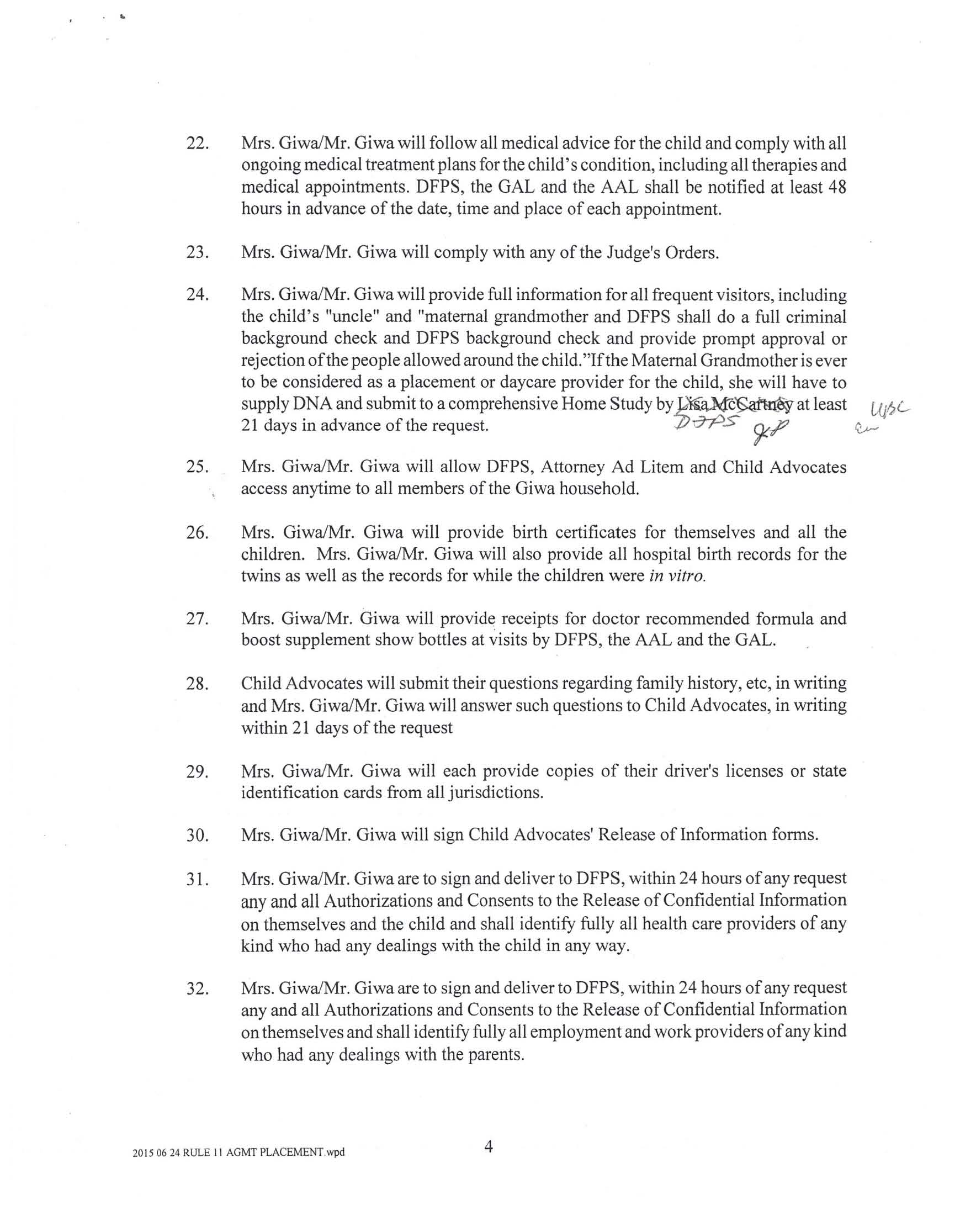 As we have previously reported here at MedicalKidnap.com, parents who have their children taken away by the State, even when no criminal charges are filed against them, have fewer Constitutional rights than convicted felons such as murders, rapists, terrorists, etc. See:
Houston Attorney Outraged
I spoke by phone with Houston attorney Julie Ketterman about the Giwas. She confirmed that they had indeed retained her services, and then suddenly dropped her with no explanation as to why. She stated that Ali's mom did mention that a caseworker had said something "bad" about her, but that she "gets that all the time" from caseworkers in Harris County.
But she stated this was the first time she had ever heard of someone threatening a parent and stating that they could not see their child unless they fired her, although this is consistent with them not wanting her on cases.
It doesn't surprise me at all that they would say you can't see your kid now unless you fire Julie. But that sure isn't Constitutional! And neither is that gag order.
Will Texans Take a Stand Against CPS Ripping Apart Families?
Texas does not have a good reputation when it comes to the care of Texas children taken out of homes and put into the care of the State.
In 2014, the national child advocacy organization Children's Rights, a New York-based advocacy group, started a class action lawsuit against the State of Texas on behalf of 12,000 children in long-term state care. (See: 12,000 Children from Foster Care Sue State of Texas over Abuses.)
A few weeks ago (September 2015), three Texas CPS caseworkers received felony indictments and were charged with oppression, tampering with evidence, and falsifying and forging documents to conduct illegal searches and seizures. (See: 3 Oppressive Texas CPS Agents Receive Felony Indictment.)
Other stories of alleged CPS abuse against Texas families include:
Ask Governor Abbott Why Texas is not Protecting Children and Families
Texas Governor Greg Abbott, according to his website:
collected more than $31 billion in child support for Texas children, and in 2014, his office was recognized as the nation's best child support program by the National Child Support Enforcement Association.
Where are these funds being spent? Are Texas families really being supported by state and federal programs? If so, why are so many families in Texas like the Giwas contacting Health Impact News to have their stories told on MedicalKidnap.com? Or are these funds being used to pay salaries and expenses of a corrupt system that is actually destroying families to collect federal and state funds for every child that comes into the system?
If you want to ask these questions to Governor Abbott, you can contact him here. Ask him why the Giwas are being treated like criminals when they have done nothing wrong, and ask him to tell CPS to immediately drop their case against the Giwas.
Governor Abbott's Facebook Page is here.
Published on October 13, 2015