by Health Impact News and MedicalKidnap.com staff
It has been more than three months since the dramatic arrest and capture of Erica May and Cleave Rengo's 3 small children by CPS in California, where Erica shouted to reporters:
"Send a message to America for me. Children don't belong to the government. The government belongs to the people."
Erica and Cleave are from Washington State, and say they were on their way back to Washington to attend a required CPS meeting when California law enforcement intervened and took away their children. (See: Rengo Family Children Taken Back into State Custody in Washington, As Family Tries to Flee CPS.)
Erica Reaches Out to Media
After a period of media silence, Erica has reached out to several media outlets, including Health Impact News, Epic Times with Robert Scott Bell, and The Captain, a blog-talk radio show that is popular with those fighting injustice in the CPS system. She says that the tyranny against her family is continuing, and she is exposing what she is calling "enslavement" by the system. The homebirthing, breastfeeding mother of three wants the world to know what has happened to her family. She told Robert Scott Bell:
"I know that this has been affecting a lot of people over the nation. I don't want to be silenced by what's going on, because people need to know, and they need to know how to prevent situations such as mine, so that the government doesn't have a chance to get involved and intervene in the way that they have in my home."
The latest developments are that Erica May and Cleave have separated, and the children are allegedly being medically abused while in state foster care.
The babies have also been separated from each other. Erica reports that she has learned that not even the twins are together in the same foster home, a development that is devastating to her.
See the original story on Medical Kidnap here.
CPS Demands That the Rengos Separate
Like the separation from their children, the couple's separation is not by choice. CPS is "trying to make [Cleave] out to be a monster, but he's not," Erica told Health Impact News. She reports that CPS has told her that she must leave him and get her own place, in order for them to consider giving the babies back to her. She is also required to see a therapist, of the state's choosing, and attend domestic violence/sexual assault classes. Erica reports that she is complying with their demands. She feels that she has no choice, because nothing is more important to her as a mother than getting her babies back.
Erica has maintained since her very first conversation with us that Cleave is not abusive. She has explained that some around them have interpreted their religious viewpoint that the husband is the head of the wife as being evidence of abuse. During their involvement with CPS, she says that lawyers and social workers alike have tried to pit husband against wife. She made it clear as she spoke with the Captain on his blogtalk radio show that "we love each other."
"If a couple can't have a decent argument from time to time without the police showing up and making a report and making that a foundation for taking our children away, then where is our freedom of speech?"
The couple says that they took their vows before God, not before a judge or agent of the law, and they consider themselves married. But because of the court's involvement, this union is being torn apart. She feels that they are being manipulated into compliance, with the consequences of not submitting being the loss of her children forever. "Maybe" she can get them back if she can jump through all the hoops.
"I'm certainly not happier being separated from him."
Babies Have Numerous Medical Issues in State Care
The children are also not better off under state care, Erica asserts. One of the primary complaints when the state stepped in was Levi's eczema, which she was treating, effectively, with holistic methods such as calendula cream and coconut oil. She had just begun seeing positive results using Kangen water when the children were seized.
However, since they have been out of her care, the children have been sick, including pneumonia, thrush, severe yeast infections, ear infections, and more. She says that each of them has been on antibiotics and other medications. Daniel has a very severe case of thrush, including visible blisters in his mouth. He has been prescribed a non-organic Similac formula that he does not appear to be adjusting to well.
This doesn't sit well with his mother, who prefers all-natural and organic remedies and foods. This is not surprising, considering that she planned an unassisted homebirth and breastfed all of the babies. Natural is a way of life for her that is allegedly being stolen away from her children.
The children allegedly have dirt and chafing in the folds of their necks; their nails are long and untrimmed; and Erica finds uncleaned poop remaining in the creases when she changes their diapers during visits. Levi has reportedly even had panic attacks. Erica May is very concerned about their health. She only gets to visit them about 6 hours a week total, when CPS doesn't cancel the visits for one reason or another.
Cleave sees his children even less. His visits have been limited to once a month.
Erica says that she misses singing to her babies, caressing them, and "meeting every little need they have." She really wants all of this nightmare to come to an end. She and Cleave have not committed any crime, nor have they ever abused or neglected their children, she asserts. They have no criminal charges against them.
One of the allegations against them is that the babies were not gaining enough weight. In fact, once their case went to court, Erica says that the weight issue emerged as the primary reason for the state of Washington seizing the babies. Since they were taken, however, Erica has learned that the growth charts that were used to condemn them are charts that compare the twins' weight to singleton charts. This makes for an unfair, and inaccurate, assessment.
They Never Should Have Let Them in the Door
Erica says that she wishes that she and Cleave had understood their Constitutional rights. She told Robert Scott Bell that they did not realize that they did not have to let the paramedics in when they came to the door, and that they did not have to let the social worker in without a warrant.
A neighbor had called the paramedics after what Erica describes as the perfect, "glorious," and "empowering" unassisted homebirth of the twins. They were born healthy, with no complications, and started breastfeeding right away. A nosy neighbor allegedly took it upon herself to call the paramedics, "just to make sure everything is ok." It was, but Erica and Cleave were under no obligation to let them in. They didn't know that. One of the paramedics recommended that they go to the hospital to get checked out. When they refused, stating that they didn't want to expose their newborns to the germy environment of the hospital, the paramedic allegedly told them that he was going to call CPS.
When the CPS social worker came, she did not have a warrant. Erica reports that she did not realize that the 4th Amendment protected her right to refuse her entry. Like many parents, she felt that she had nothing to hide, so she invited the worker into her home, treating her with kindness and respect. That kindness was reciprocated with the ultimate seizure of her 3 babies.
4th Amendment to the United States Constitution – "The right of the people to be secure in their persons, houses, papers, and effects, against unreasonable searches and seizures, shall not be violated, and no warrants shall issue, but upon probable cause, supported by oath or affirmation, and particularly describing the place to be searched, and the persons or things to be seized."
Erica: This Is Not What Ancestors Fought and Died for
Since that day, Erica's world has been turned upside down and her family has been ripped apart. She has been devastated to learn that American citizens have more rights to protect personal property, like homes, cars, or electronics, than we do our own children. She tearfully asked the Captain,
"How are people still functioning? I look outside my window on a regular basis, and I'm like, wow, the world's still going on. My world doesn't feel like it's going on. My family's torn apart, and my children are being subjected to medical abuse and probably experimental drugs for all I know. This is NOT the country that my ancestors fought and died for. This is nothing other than mental and spiritual and emotional enslavement."
Medical Kidnapping: A Threat to Every Family in America T-Shirt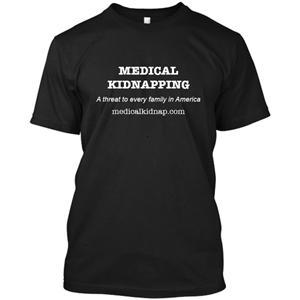 100% Pre-shrunk Cotton!
Medical Kidnapping is REAL!
See: Medical Kidnapping: A Threat to Every Family in America Today
Help spread the awareness of Medical Kidnapping by wearing the Medical Kidnapping t-shirt!
Support the cause of MedicalKidnap.com, which is part of the Health Impact News network.
Support the cause against Medical Kidnapping by purchasing our book!
If you know people who are skeptical and cannot believe that medical kidnapping happens in the U.S. today, this is the book for them! Backed with solid references and real life examples, they will not be able to deny the plain evidence before them, and will become better educated on this topic that is destroying the American family.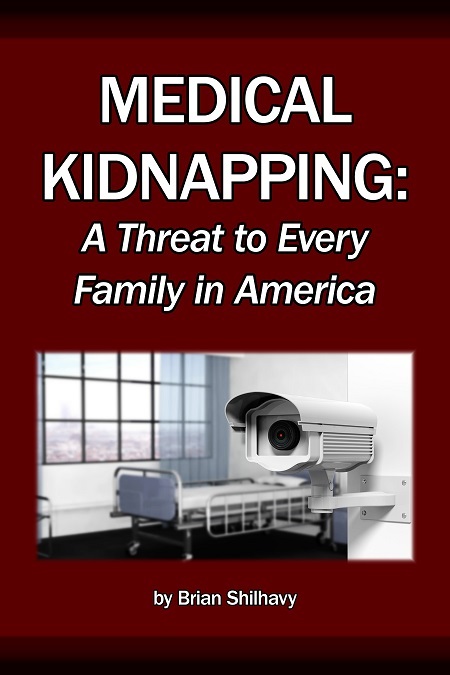 1 Book - 228 pages
Retail: $24.99
FREE Shipping Available!
Now: $11.99
Order here!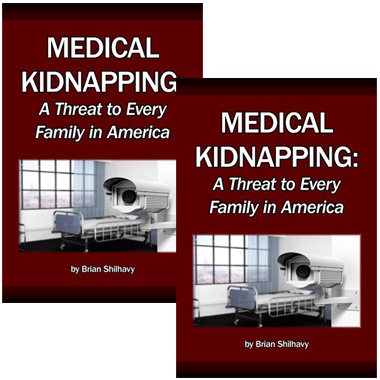 2 Books
Retail: $49.98 (for 2 books)
FREE Shipping Available!
Now: $19.99 (for 2 books)
Order here!
Published on April 20, 2015