UPDATE 9/9/2015
A Philippine News organization has picked up the Verzosa Family story. This has now become an International Human rights issue:
UPDATE 8/31/2015
The Verzosa Family still does not have their children back, even though reportedly the children are begging to go home. Russian TV has picked up their story and broadcast it on RT.com.
UPDATE 7/14/2015
From the 7 Angels story Facebook Page:
I wanna thank the Lord Jesus for the blessing we just received, we have just got our home study yesterday, and it was a success, we are on the way for reunification of the 7 Angeles, this beautiful children of ours are about to come home. Thank you everyone for your faithful to pray and the love and support through the year will never be forgotten. We as the Verzosa Family send you our love and gratitude of appreciation. Many blessing to each and everyone, love you all…..

Imagining this beautiful children will soon be coming home, as we visited them today, hopefully that there won't be much left of the supervise visit, hopefully the next time will be a non supervise visit, and on the way home,
Praise your name Jesus hallelujah.
Comment from someone posting to their Facebook Page:
They do the return in stages, little steps. You know, so they don't get traumatized by their own parents, to whom they are bonded since birth. But when they take them, they barge in homes, threaten children and parents, scare the daylights out of everyone and snatch children, sometimes right out of their parents' arms-like THAT is NOT traumatic. Crazy, screwed up system.
UPDATE 7/6/2015
UPDATE 4/3/2015
New video:
UPDATE 3/17/2015
From The Verzosa Family Story Facebook Page:
So today was so suppose to be a visit with selena and freddie jr., just to find out that my son (freddie jr ) has been move into another home. And of course nobody inform me. So we just visited our daughter selena and make the best of it. I had ask her where is jr? She said that they moved him into a different home two weeks ago, and no one informed me, and we don't even know where he is at.

So where is my rights? As least inform me, they are still my child.

So now they're starten to separate the two, my daughter was in tears when I ask about her brother, this is going to end soon.

Where ever you are son I will not give up on you nor the other's. I love you son, you all will be coming back soon. Missing you.
by Terri LaPoint
Health Impact News
A Florida couple is devastated. Child Protective Services just took their breastfeeding newborn from her mother's arms at the hospital. She was is not even two days old, but parents Tracey and Freddie Verzosa of Kissimmee, Florida will now only be able to visit their baby for feedings, under supervision. The accusations against them, according to the parents' story, boil down to the facts that Tracey is a slow learner, they are poor, and the baby was born too quickly for them to make it to the hospital.
On his personal Facebook page, Freddie posted this:
"Today is announced to be a very sad day for my family. Our newest family [member] 'Taylor Lynn Verzosa' has just been removed from our care. Just like the rest of the children's. They are saying that its because it's an open case. I am asking for you to support my wife as she is devastated in this event."
The Verzosas have 6 other children, and they have been fighting since last summer to get them back from DCF (Florida's Department of Children and Families.) They say that their other children were taken unjustly, and the children, who are divided between 3 different foster homes, cry and plead to come home whenever they see them.
Mom's Learning Disability A Problem For DCF
Though Tracey has a "mild intellectual disability," she dearly loves each of her children, who range in age from newborn to 9 years old. She and Freddie have struggled financially, but their children have always had the basics of food, clothing, and shelter, along with generous doses of love and nurturing. Her disability never stopped her from being able to cook and care for her children. While her husband worked or looked for work, she took care of the home, teaching the little ones about colors and shapes, potty-training them, and proudly displaying their numerous certificates of achievement when they did well in school.
There were allegedly concerns that there was a lack of supervision of the children, because of Tracey's disability, a charge which the couple denies. The state wanted Freddie, a Filipino immigrant who is in the states legally, to be home to watch the kids, but he says that Tracey was doing fine watching them, and he needed to work to provide for the family. He says that the state seems to be worried that she cannot handle six kids, but she has been doing so just fine.
"My wife never let her disability stop her from loving and caring, and raising these children, so why would DCF do it?"
Late on Appointments for Required Vaccines
DCF became unhappy with the family when the children were late a couple of times on their scheduled vaccinations. Because of their financial status, sometimes it was difficult to get to routine medical appointments. Freddie reports that they once walked for 2 hours in the hot Florida sun to get to an appointment for shots. He cites lack of transportation as the reason they fell behind, but says they were not very far behind on the schedule.
Government Commands Daycare
At one point DCF told the family that they needed to put the children into daycare, a request that the couple were not happy with. Freddie says that he agreed to allow them to go to daycare as long as they would do background checks on the people who would be watching the children. Ironically, no one on staff at the daycare that DCF eventually put the children in was watching when their 2 year old climbed on a table and fell off, landing on his face. He is scheduled for a CAT scan soon, based on that fall.
Missed A Doctor's Appointment For Non-Serious Condition
One of the Verzosa children reportedly had a heart murmur. The parents were supposed to take the child for a re-check to follow up, but they were not able to make the appointment. Though the doctor told them that it really was not a big deal, someone at DCF apparently thought that it was. Even though the physician wrote a letter saying that the child was fine, DCF showed up on the Verzosa's doorstep nine days after the missed appointment.
Terrorized Children Taken from Their Parents at Gunpoint
On The Verzosa Family Story Facebook page, Freddie describes what happened on the day that DCF came and took their children. On July 9, 2014, he and their 9 year-old daughter were returning home from the store, when they saw a sheriff's car and another vehicle parked by their home. They got out, and authorities told them that they were going to take the children away "because I didn't want to cooperate with there [sic] programs." Freddie said that was not the truth, that they had told them they were bringing in services, but that never happened.
When Mr. Verzosa became upset, they handcuffed him while he was on his knees begging for mercy. His daughter ran inside in tears, "devastated," and locked herself in the bathroom. An officer followed her and threatened to break down the door. Officers with guns came into the house with DCF social workers to take the children. One "caseworker then snatch[ed] the baby away from my wife," while the baby was trying to hang on for dear life. When their daughter was convinced to open the door, she begged her mother,
"Please mommy don't let them take me away."
The Verzosas were helpless and weeping, as all of their children were taken away. Freddie says they turned their house "upside down looking for guns, drugs, and dead body." They found nothing.
"I was then lost, trying to understand what did we do to deserve this."
Children Beg to Leave Foster Care and Go Home
Since that time they have learned that one of their children in foster care has been found digging around in the garbage for food, and their 9 year old daughter has been wearing makeup and lipstick. The kids who were mostly healthy before have been sick many times, and one of their children has not received the gifts that his parents sent for them – the toys are put up in a closet. The gifts are allegedly thrown away one by one as punishment. The Verzosas buy clothes for their children, but they reportedly aren't wearing those. "The kids used to be healthy." The children report being yelled at, and they cry to come home, even writing letters pleading to come home.
They report that they have tried to cooperate with the various hoops that DCF wants them to jump through, but that it took DCF eight months to schedule a parenting class that they wanted them to take. There have never been any charges filed against the couple, yet their children remain in custody. And now their newborn has been taken as well.
"Crime" of Accidental Homebirth
A DCF allegedly accused Tracey of avoiding the hospital so that they wouldn't find out that they had the baby. This is because the baby was born at home on March 11. (In Florida, homebirth is not illegal). However, this was not at all a planned homebirth – the baby simply came too quickly for them to get to the hospital! They were getting ready to go when Tracey suddenly felt something different. When her husband checked, he saw the baby's head. He was able to experience the joy of catching his own baby, a healthy 7 lb 6 oz baby girl. The couple then went to the hospital with their precious little one.
To assure the investigator that this was simply a quick birth, he reminded her that they have been back and forth to the hospital, 4 times in the past month. She thought her water broke last week and went in, but the hospital sent her home. They were not trying to avoid the hospital, but they were hoping that DCF would leave this baby alone.
Incredible Attitude from Hurting Parents
Incredibly, despite their immense pain, Freddie tells Health Impact News that he chooses to love even those case workers who take their children. They are strong in their Christian faith, and they pray for God to show these people the pain that they are causing to families. Mr. Verzosa says that he would "hate for anyone to go through what we are going through – even our worst enemies." He told us that he wants to work the rest of his life to help other hurting families. He says there are many others who are facing this kind of injustice, and he speaks out, not only for his own family, but for so many others, who are scared to speak up out of fear of DCF.
Tracey simply says, through her tears:
"It hurts. I want my kids back."
Video – Collection of Photos of the Family When They Were Together
The following video showing family photos was created by the parents.
Disabled Parents Should Not Have their Children Taken Away due to Parent's Disability
In a similar story reported earlier this year in Massachusetts, child welfare officials took custody of a newborn child 2 days after birth, simply because the mother was disabled. Massachusetts child welfare officials stated that the young mother couldn't properly care for a newborn and insisted that they acted in the child's best interests. But the federal government disagreed, saying that the state violated her civil rights by discriminating against her because of her disability.
The National Council on Disability, an independent federal agency advising the White House and Congress, says the case points up a growing problem: states needlessly taking custody of the children of disabled parents.
"Parents with disabilities are suffering significant discrimination," said Robyn Powell, an attorney for the council. "What happened to this mother is very common … States are removing these children for the sole reason of their parents having a disability." (Story here.)
How to Help
Their is a Facebook page set up to support the Verzosas – The Verzosa Family Story.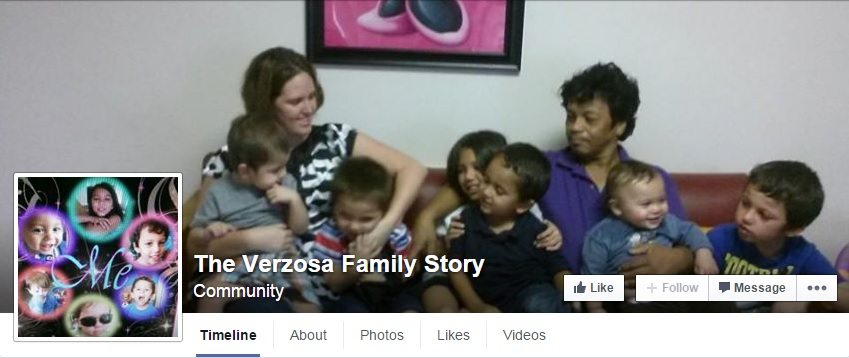 They need a good attorney, but cannot afford one. Freddie says that their court-appointed attorney has not been helpful and has cursed at him. He has been searching for an attorney that will fight for the rights of Americans with Disabilities, but hasn't found one in his area. His wife Tracey is an American citizen.
Supporters are asked to contact legislators on behalf of the family.
Florida Governor Rick Scott may be reached at 850 717 9337, or contacted here. His Facebook Page is here.
Florida First Lady Ann Scott has a Facebook Page here.
The Representative for the Verzosas district is Rep. John Cortes. He may be reached at 407 856 5009  or 850 717 5043, or contacted here. His Facebook Page is here.
Senator Darren Soto may be reached at 407 846 5187 or 850 487 5043, or contacted here. His Facebook Page is here.
Guardian Ad Litem Responds to Our Story
Health Impact News Editor Comments:
Desiree Robles, the Guardian Ad Litem for two of the children in this story, emailed in her comments to MedicalKidnap.com shortly after we published this story:
I am the Guardian Ad Litem for two of the children and wanted to express that I am also a current professional in the disability field. I just wanted to share that as I respect and value the advocacy that is being done on behalf of this family I would also like to share that there is a substantial amount of information the led to the children's removal that is mentioned briefly in your article but underemphasized. As I am not in liberty to discuss the details of the case please know that as a advocate for individuals with disabilities I am observing the treatment of the children and the information presented to DCF that led to their removal. It is my belief that love alone is not sufficient to raise a family and one effective way to gain unification is for the mother is to receive concrete, supports that assist her in home or other to help her raise the children.

Every individual with a disability that i have had the privilege to serve has a talent and is most successful with Supports. Those supports that influence her ability to provide safety, education, a stable household and income , access to medical needs and responsibility to follow through on those needs was not present which led to the removal. My suggestions are to provide recommendations on how this family can move forward by gaining those supports for the future without providing a picture that appears to show an injustice was done to the parents.
Thank you again as I highly respect the media.
Desiree Robles is listed as the Employment Programs Manager at the Diocese of Orlando, Bishop Grady Villas. Her phone number and email are available to the public here.
Video – Collection of Photos of the Family When They Were Together
Published on March 12, 2015