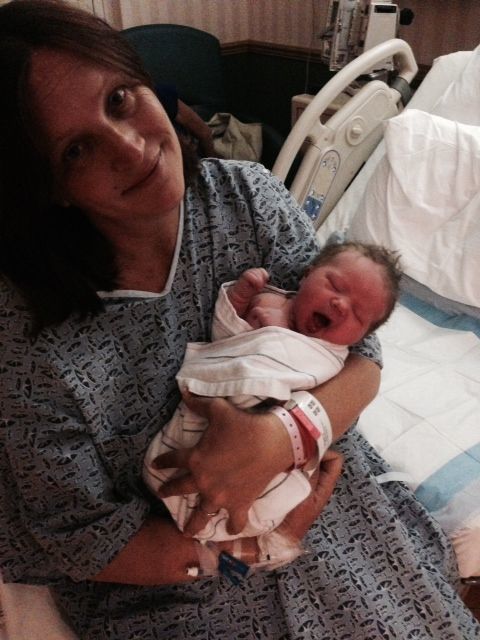 By Ada Calhoun
cosmopolitan.com
Excerpts:
Tiffany Langwell was thrilled to find out she was pregnant again at the age of 38. She had two children from her first marriage — a 15-year-old girl and a 9-year-old boy. After separating from their father, she had reconnected with a high school boyfriend, David Hodek, and they had gotten engaged. In August of this year, their baby girl was born healthy, at 8 pounds, with bright blue eyes and a full head of downy hair. Langwell and Hodek had what they describe as a blissful first night home.
The next day, a representative of the child welfare agency in Riverside County, California, took the infant into protective custody.
Langwell had been having contractions for two days when she told her fiancé at 11:30 p.m. that it was time to head to Desert Regional Medical Center, which she'd chosen because it allowed rooming-in and she didn't want the baby to leave her side. Once there, she asked for an epidural, but by the time everything was in place for her to receive one, it was too late. She delivered the baby naturally at 2:34 a.m., and around noon was put in a room with two other new mothers and their babies, including one who Langwell says kept talking loudly on her cellphone.
Later that afternoon, Langwell decided to check out and go home. Langwell said the baby was breastfeeding well and was healthy, and she preferred to take her home early "AMA" (against medical advice) so they could all get some sleep. When she left, a member of the hospital's staff called and reported her to the county's child welfare agency.
According to the child welfare agency's report, a hospital staff member described Langwell as "hostile" and suggested that her behavior was "consistent with someone with substance abuse issues." (According to a representative from the county's child welfare department, the majority of the cases they see are neglect cases, and most of those are related to substance abuse.) The staff member said the couple and Hodek's mother seemed shaky and had rapid jaw movement, and that Langwell put two pill bottles in her bag. Langwell says the only pills she had in her bag were her iron supplements. She says she was severely sleep-deprived from her two days in labor and upset that she never got her epidural, and that her fiancé and his mother can be abrasive and were also exhausted, but beyond that, she doesn't know what about the trio's behavior could have sent up a red flag. "I never cussed anyone out or anything," she says.
The report notes that Langwell refused a drug test. Langwell remembers being offered a drug test while in labor and says her response was, "How much does the test cost?" Langwell, a former bank teller, has been unemployed since January, and her fiancé, a former medic and water-park manager, is also unemployed. He says he was injured on the job some years ago and received a settlement.
A child welfare agent came to the house the next day to check on the baby. The home had a security fence, and Langwell and Hodek did not hear the knocking at the gate, which was some distance from the front of the house. The agent called the police. When Langwell eventually appeared at the security gate, she saw two police officers and the welfare agent, who told her that the hospital had alerted the agency when she checked out early. Langwell refused to let the police and welfare agent inside the house but brought the baby out so they could see that she was OK. The agent noted in her report that the baby had good coloring. Langwell submitted to an on-the-spot drug test, but according to the report, the test was inconclusive, because her saliva sample was too thick ­— "which may have had something to do with the fact that I had just given birth and it was 110 degrees," Langwell says bitterly.
The agent returned later that day with a warrant to take the baby — just to the hospital for a full exam, Langwell and Hodek initially thought. Langwell insisted on riding along in the car with the baby. Hodek and his mother followed behind. Hodek says hospital workers then attempted to catheterize the baby to procure a urine sample for a drug test. "I've worked as a medic and seen a lot of terrible things, but this I can hardly even talk about," Hodek says. "They tried eight times to catheterize my one-day-old baby." Hodek's mother covered her own head with a blanket to try to block out the baby's screaming. The hospital couldn't comment on particulars of Langwell's case, but according to the welfare report, "The hospital was unable to secure a urine sample from the infant."
Langwell and Hodek thought at that point that the baby was coming home with them, but the caseworker said the baby was being placed into protective foster care. Langwell, who now understood they thought she was on drugs, says she fell to her knees in the hospital. "Drug test me right now!" she said. "I can prove I'm not on drugs!
Langwell describes the seven days that followed as the worst of her life. "They took my baby from me. I sat there for a week and just cried," she says. "Some days I didn't get dressed. I didn't eat. I made myself eat one meal a day to keep up my strength and to keep my milk supply up."
Medical Kidnapping: A Threat to Every Family in America T-Shirt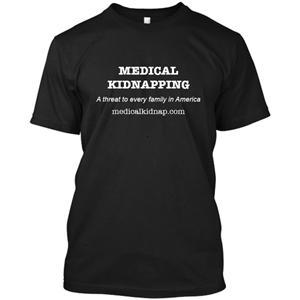 100% Pre-shrunk Cotton!
Medical Kidnapping is REAL!
See: Medical Kidnapping: A Threat to Every Family in America Today
Help spread the awareness of Medical Kidnapping by wearing the Medical Kidnapping t-shirt!
Support the cause of MedicalKidnap.com, which is part of the Health Impact News network.
Support the cause against Medical Kidnapping by purchasing our book!
If you know people who are skeptical and cannot believe that medical kidnapping happens in the U.S. today, this is the book for them! Backed with solid references and real life examples, they will not be able to deny the plain evidence before them, and will become better educated on this topic that is destroying the American family.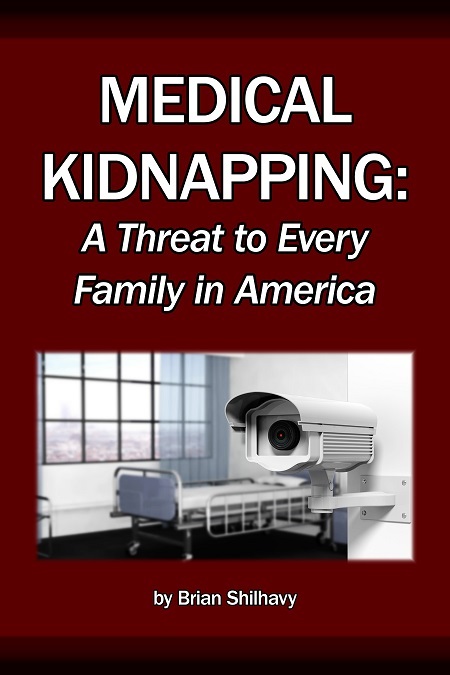 1 Book - 228 pages
Retail: $24.99
FREE Shipping Available!
Now: $11.99
Order here!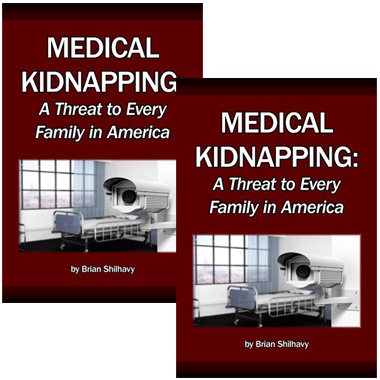 2 Books
Retail: $49.98 (for 2 books)
FREE Shipping Available!
Now: $19.99 (for 2 books)
Order here!
Published on December 9, 2014