Child Protection Services – The Arizona Philosophy
Commentary by Steve R. Isham
Special to Health Impact News
When Janet Napolitano became Governor of the State of Arizona, she created a new philosophy for Arizona's Child Protective Services agency. She stated, "Err on the side of protecting the children and we'll sort it out later".
This philosophy sounds wonderful for children, but after closer scrutiny it is a terribly flawed technique that devastates Arizona's families and our children.
This philosophy mirrors the, "acceptable losses" philosophy and the "collateral damage" philosophy of child protection services. In other words, in Arizona it is acceptable to take a child from their family with less than the legal standards and protocols and allow the courts to settle any discrepancies later on.
This philosophy allows the state to take a child, understanding there is a stronger probability that nothing has happened, over an incomplete suspicion that something "could" have happened.  In Arizona it is acceptable  to traumatize a four year old child by taking him from his mother, physically probing his body, asking him if mommy did something bad to him, and placing him with strangers, in a strange home, in a totally different culture, possibly forever.
Arizona Child Protective Services protocols speak to reasonable suspicion and focus on four critical elements; who did something, when was it done, where was it done, and what was done.
Doctor's and Hospital's Authority Never Questioned or Investigated
These elements are ignored, especially if the report is made by a physician or hospital. There is an automatic assumption that because it is a physician or hospital making the incomplete report there is no reason to investigate further.
Now the child is "IN" the system and there is an almost unstoppable, unalterable path for severance and adoption. This path can take more than six years in some cases and more often the child ages out at 18 and disappears.
Governor Jan Brewer continued the "acceptable losses" philosophy of child protective services throughout her administration which will be ending this coming year.
It is a hopeful wish that the new Governor Doug Ducey can finally, after the last 12 years, get back to the appropriate philosophy and standards of caring for at risk children.
"Cowardice asks the question: is it safe? Expediency asks the question: is it politic? Vanity asks the question: is it popular? But conscience asks the question: is it right? And there comes a time when one must take a position that is neither safe, nor politic, nor popular- but one must take it simply because it is right."  Martin Luther King Jr. 1929-1968
Will Governor Doug Ducey do the right thing for Arizona's children?
About the Author
Steven R. Isham, has educated, advocated, and fought for children and families since 1975, going on 40 years. His experience spans education, special education, school administration, behavioral health, juvenile justice, developmental disabilities, curriculum development, coaching, author of a book on Child and Family Advocacy and service to others throughout his career.
Medical Kidnapping: A Threat to Every Family in America T-Shirt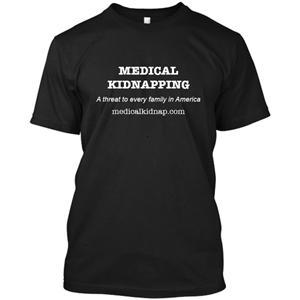 100% Pre-shrunk Cotton!
Medical Kidnapping is REAL!
See: Medical Kidnapping: A Threat to Every Family in America Today
Help spread the awareness of Medical Kidnapping by wearing the Medical Kidnapping t-shirt!
Support the cause of MedicalKidnap.com, which is part of the Health Impact News network.
Support the cause against Medical Kidnapping by purchasing our book!
If you know people who are skeptical and cannot believe that medical kidnapping happens in the U.S. today, this is the book for them! Backed with solid references and real life examples, they will not be able to deny the plain evidence before them, and will become better educated on this topic that is destroying the American family.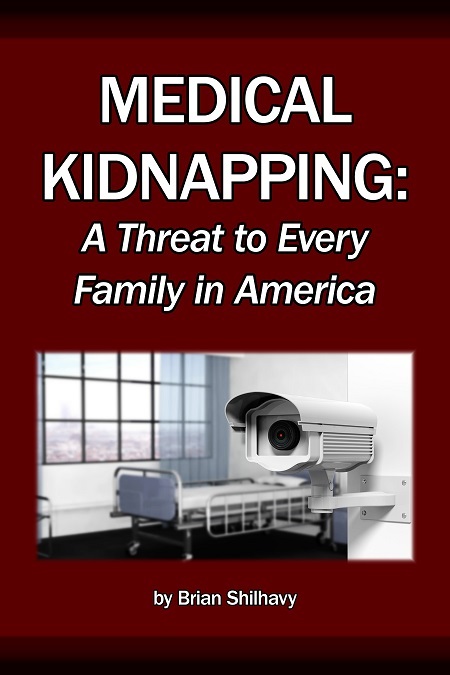 1 Book - 228 pages
Retail: $24.99
FREE Shipping Available!
Now: $11.99
Order here!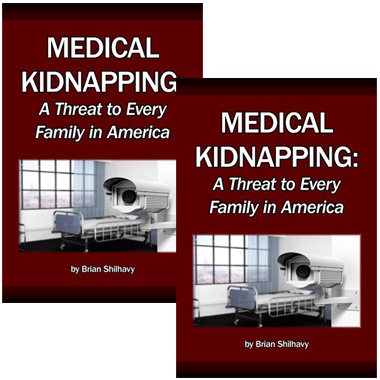 2 Books
Retail: $49.98 (for 2 books)
FREE Shipping Available!
Now: $19.99 (for 2 books)
Order here!
Published on November 22, 2014