by Brian Shilhavy
Editor, Health Impact News
The cancer treatment business in the United States is one of the most lucrative businesses in the world, generating well over 100 billion dollars of revenue.
The Food and Drug Administration (FDA) is the only organization authorized to approve medical treatments for cancer, and if your child has cancer and you do not like the choices available, such as toxic chemotherapy drugs, you face losing custody of your child to Child Protection Services for disagreeing with a doctor and the FDA approved cancer treatments.
See some of our previous stories where parents had to fight the state to choose their own cancer treatment or lose custody of their children:
How to Treat Cancer Effectively and Avoid Medical Kidnapping
The cancer treatment business is seen as a huge growth market, and it depends on no cures for the market to continue to grow. At the beginning of the last century, one person in twenty would get cancer. In the 1940s it was one out of every sixteen people. In the 1970s it was one person out of ten. Today one person out of three gets cancer in the course of their life.
The simple fact is that the cancer industry employs too many people and produces too much income to allow a cure to be found. All of the current research on cancer drugs is based on the premise that the cancer market will grow, not shrink.
The best way one can avoid having their child medically kidnapped is to avoid doctors and hospitals that do not respect parental rights, and seek out the true cancer cures that currently exist, many of them outside of the U.S.
To learn more about effective cancer cures, and how to avoid the medical system, sign up for the FREE online summit that starts Tuesday, April 12th:
Ty Bollinger has become the leader of alternative cancer information in the United States. Last year (2015), Ty traveled around the world interviewing 131 doctors, researchers, and several cancer survivors to create an alternative cancer documentary series. This film series has already been viewed by hundreds of thousands of people and saved many lives.
Starting April 12, 2016, the entire documentary series will be shown online and can be viewed for FREE to anyone who is registered. Here is a trailer for the Cancer Documentary Series: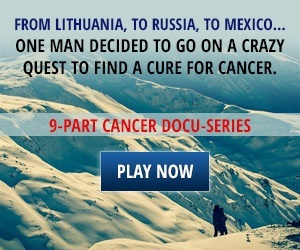 Vaccines for Cancer: The Medical System's Next Huge Market
The medical system's next huge market for cancer growth are vaccines. The first cancer vaccine approved for children was the Human Papilloma Virus (HPV) vaccine, Gardasil.
As Health Impact News has reported on its Vaccine Impact news site, many thousands of girls in the U.S. and around the world have reported that their lives have been destroyed by this cancer vaccine.
Don't Be A Cancer Statistic – Be Informed!
You do have alternatives, although the medical system and the mainstream media tries hard to suppress this information. Sign up for the FREE Online Truth About Cancer Summit that starts Tuesday April 12th. Here is the line up for speakers you can listen to online for just the first episode:
Dr. Aleksandra Niedzwiecki, Ph.D
Dr. Antonio Jimenez, M.D.
Dr. Ben Johnson, M.D.
Dr. Bita Badakhshan, M.D.
Dr. Boris Grinblat, M.D.
Dr. Darrell Wolfe, Ac. Ph.D
Dr. Edward F. Group III, D.C., N.D.
Dr. Elias Gutierrez, M.D.
Dr. Elita Shapovalova, M.D.
Dr. Felicity Corbin Wheeler
Dr. Francisco Contreras, M.D.
Dr. Galina Migalko, M.D.
Dr. Garry F. Gordon, M.D., D.O.
Dr. Gaston Cornu-Labat, M.D.
Dr. Henk Fransen, Ph.D
Dr. Hila Cass, M.D.
Dr. Howard Fisher, D.C.
Dr. Igor Smirnov, Ph.D
Dr. Ingrida Chema, M.D., Ph.D
Dr. Irina Kossovskaia, M.D., Ph.D, N.M.D.
Dr. Irvin K. Sahni, M.D.
Dr. Ivars Kalvins, Ph.D
Dr. James Forsythe
Dr. Joel Wallach, D.V.M., N.D.
Dr. Jonathan V. Wright, M.D.
Dr. Joseph Mercola, D.O.
Dr. Kaspars Losans, M.D.
Dr. Keith Scott Mumby, M.D., PhD
Dr. Leigh Erin Connealy, M.D.
Dr. Linda Isaacs, M.D.
Dr. Manuela Malaguti-Boyle, Ph.D, N.D.
Dr. Matthias Rath, M.D.
Dr. Morten Hekneby, M.D.
Dr. Nalini Chilkov, L.Ac., O.M.D.
Dr. Nicholas Gonzalez, M.D.
Dr. Patrick Quillin, Ph.D, R.D., C
Dr. Patrick Vickers, D.C.
Dr. Peteris Alberts, M.D., Ph.D
Dr. Rashid Buttar, D.O.
Dr. Raymond Hilu, M.D.
Dr. Rob Verkerk, Ph.D.
Dr. Robert Gorter, M.D., Ph.D
Dr. Robert Scott Bell, D.A. Hom.
Dr. Roby Mitchell, M.D.
Dr. Russell Blaylock, M.D.
Dr. Stanislaw Burzynski, M.D., Ph.D
Dr. Steven Klayman, D.C.
Dr. Subrata Chakravarty, Ph.D.
Dr. Sunil Pai
Dr. Suzanne Kim, M.D.
Dr. Tullio Simoncini, M.D., Ph.D
Dr. Veronique Desaulniers. D.C.
Dr. Xavier Curiel, M.D.
AJ Lanigan
Bob Wright
Burton Goldberg
Carol & Trevor Smith
Cassandra
Chris Wark
Dave Olsen
Desiree Rover
Jay Mathews
Jeffrey M. Smith
Joel Salatin
Jon Rappoport
Jordan Rubin
Laura Bond
Liz Jonas
Marcus Freudenmann
Mike Adams
Ocean Robbins
Pam Kelsey
Sayer Ji
Suzanne Somers
Tara Mann
Todd Jones
Trina (Dr Buttar)
Webster Kehr
Charlene Bollinger
and more!!!
This Information Could Save Your Life!

The information you learn from this FREE Online Summit could save your life, or the life of your children.
Recently, a "Grieving mom" made an anonymous comment on one of our Medical Kidnapping stories. Health Impact News is currently working with this grieving mother to see if we can bring her story to the public. She lost her daughter to cancer, and also lost custody of her daughter so that she could not even spend her dying days together, as treatment was allegedly withheld.
When my teen daughter was abducted we were at Mayo and just received her 4th round of chemo. We lived in another state so I was also paying for lodging and transportation so she could receive treatment. A Resident in the psychiatry program there came to her room on the children's cancer unit without my, my daughter or the medical teams knowledge and insisted I sign consent to immediately start my daughter on psych drugs for depression. She said if I will sign and allow she start my daughter on the two drugs that we can leave for home.

We were already packed and waiting for the doc to come on rounds to sign her out and go home. My daughter did not have any form of clinical depression, had never been diagnosed with any type of depression and was fighting for her life against a rare form of childhood cancer. She was to have her life saving stem cell transplant in just 21 more days and was very upbeat (even though feeling ill from the chemo) and looking forward to getting back home with her friends and her own bed to sleep in.

Because I refused to sign consent and insisted my daughter's medical team be consulted immediately, this Resident called security to make sure I did not take my daughter anywhere while she proceeded to contact DCF in our home state and made allegations that I was preventing my daughter from critical medical and psychiatric care. This, even though I had her at Mayo receiving the "best care in the world."

My daughter was forced to the locked psychiatric unit off hospital grounds and we were forbidden all communication, as were her medical doctors kept from all knowledge what was going on. They also took her cell phone and Kindle Fire and her clothes and all belongings from her. They strip searched her and did an abuse physical (not sure what the legal term for that is). She was crying and terrified and already in physical pain and feeling sick from the chemo she had just had. They abused her and tortured her both mentally and physically in doing all this to her.

Long story short, she died 3 months later, in another hospital in yet another state, never to return to Mayo for stem cell transplant or back to her home where mom, friends, dog, teachers, priest and her life, her entire support system was. Her top doctor at Mayo told me her medical records stop at the date she was taken and no explanation. He also told me that none of the doctors on her medical team were aware of what happened or allowed to communicate with me and is willing to testify on my and daughter's behalf. He is a top researcher in childhood cancer in the nation.

The "legal system" took too long for my daughter to survive their time frame. I was placed on a child abuse registry, lost my job, and was forbidden to even phone communication with daughter. It was only my taking the risk of arrest and jail and sneaking into the hospital she was at in her last days that we were able to see each other and hugs one last time.

She went into coma the next day and was prevented from all life support by the doc at that hospital, telling me I had no say that it is up to the doc and hospital to decide if life support will be used. That is yet another issue that parents need to be aware of. Her death certificate says she died of meningitis and cancer listed as secondary. So what else was done to her to cause meningitis? I found out later that many experimental drugs had been used and surgeries done (they did not need my consent or to make me aware of what they were doing – quite the contrary, they were to avoid me and not tell me what they were doing and to report me if I showed up there).

The last experiment, the one that caused meningitis according to medical records, was a drug (poison) administered through her spinal fluid. I cannot imagine the pain and suffering they put her through by force and her mamma was not there for her, also by force.

Because her death, according to attorneys I have talked to, cannot be proven beyond a doubt was caused by "medical malpractice" no attorney will take the case on that ground. It has been difficult to find any attorney willing to even take the case as a civil lawsuit or other charges against the then Resident and her employer/handler Mayo (which will be Mayo attorneys) – and of course need to pay a substantial $50K minimum retainer fee to even start it, which I do not have.

I found later that the Resident was working on a research paper focusing on eating disorders in teen girls when she pulled this on me and my daughter. Cancer patients would of course make a perfect guinea pig for fudged reports like this and the use of psych drugs as the "cure" or "answer" (bringing them very lucrative research funds from the pharmaceutical companies)
This Resident graduated and is in a teaching capacity at university in Utah and also has private practice as child psychiatrist.

The DCF told me he was going to make it a "founded" case and if I disagreed I "could always appeal it." I contacted my states attorney general and did appeal and won immediately. I have been trying to rebuild my life which has been extremely difficult to even continue going on each day.
Medical Kidnapping: A Threat to Every Family in America T-Shirt
100% Pre-shrunk Cotton!
Medical Kidnapping is REAL!
See: Medical Kidnapping: A Threat to Every Family in America Today
Help spread the awareness of Medical Kidnapping by wearing the Medical Kidnapping t-shirt!
Support the cause of MedicalKidnap.com, which is part of the Health Impact News network.
Support the cause against Medical Kidnapping by purchasing our book!
If you know people who are skeptical and cannot believe that medical kidnapping happens in the U.S. today, this is the book for them! Backed with solid references and real life examples, they will not be able to deny the plain evidence before them, and will become better educated on this topic that is destroying the American family.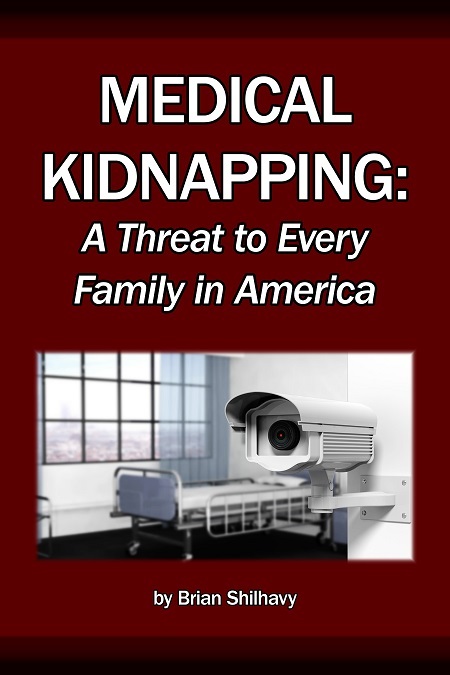 1 Book - 228 pages
Retail: $24.99
FREE Shipping Available!
Now: $9.99
Order here!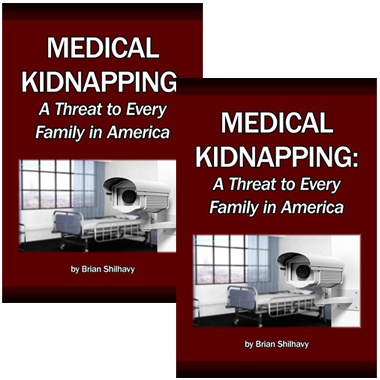 2 Books
Retail: $49.98 (for 2 books)
FREE Shipping Available!
Now: $13.99 (for 2 books)
Order here!
Published on April 10, 2016