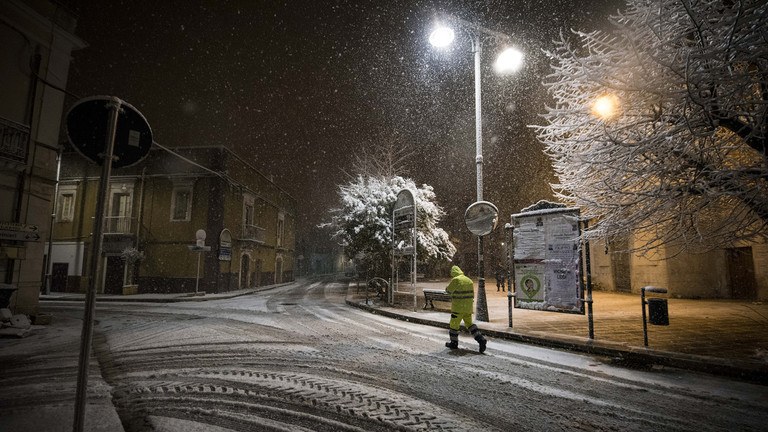 by Brian Shilhavy
Editor, Health Impact News
Winter is about to descend on Europe, and due to energy shortages and resulting food shortages as well, millions of people's lives are at stake.
I have often been accused in the past of using "hyperbole" or "exaggeration" in my headlines to promote fear.
But I disagree. I have no editors, bosses, supporters, funders, or anyone else who holds leverage over me as a publisher, and I seek to publish the truth that is often not published elsewhere.
I have had other publishers in the Alternative Media email me from time to time and write things like: "Hey, that was a great article you wrote, but can you change the headline so we can publish it on our site also?"
No. I will not be censored, at least not willingly. I have had judges, district attorneys and other attorneys, including some of the top law firms in the United States, threaten me if I did not take down certain articles, and I have never once complied, ever.
And I am still publishing today. That's the way it works when Satan's minions have no leverage over you, as not even the threat of death would sway me, as I welcome the day I leave this body and sin-cursed world and join my Savior in the Kingdom of God.
If someone were to offer me a choice today, to either continue working and doing the things I am doing in running my two businesses, or to die and exit this life, I would gladly choose to leave this world right now, today, and avoid what is coming down the road.
But that is not my choice to make. It is God's.
So is Europe about to descend into chaos where potentially millions will die this winter?
For the rest of this article I am going to publish recent news excerpts from other publishers, who may not be bold enough to write a headline like I did for this article, but you decide for yourself if this is hyperbole or not.
London's mayor sounds alarm over winter crisis
by RT.com
Excerpts:
Millions of people in the UK could find themselves unable to put food on the table and heat their homes this coming winter if the government doesn't intervene, London Mayor Sadiq Khan said on Saturday.
"We've seen nothing like this before," Khan wrote on Twitter, referring to soaring energy prices and record inflation of more than 10%.
"We're facing a winter where for millions it won't be about choosing between heating or eating but tragically being able to afford neither," he warned.
"This can't happen," the mayor insisted, adding that the British government "needs to step in so that people can meet their basic needs."
He accompanied the post with a data from the Auxilione energy consultancy, predicting that energy bills in the UK could increase by 80% in October, exceeding £3,600 ($4,292) per year on average. For comparison, the cap set by energy industry regulator, Ofgem, in October 2021 stood at £1,400 per year.
We've seen nothing like this before.

We're facing a winter where for millions it won't be about choosing between heating or eating but tragically being able to afford neither.

This can't happen. Govt needs to step in so that people can meet their basic needs. @BloombergUK pic.twitter.com/bZra2HMFuS

— Mayor of London, Sadiq Khan (@MayorofLondon) August 20, 2022
Read the full article here.
Winter Is Coming For The UK
Excerpts:
Authored by Bill Blain via MorningPorridge.com,
"Tell them the North remembers. Tell them Winter is Coming."
The outlook for the UK looks increasingly grim. There are few reasons to hope a new government can reverse the mounting consumer fears, stagflation and the growing sense of decline.
Yesterday was cold, wet and grey. The sudden end of the glorious summer highlights how dark and bleak the mood in the UK has become. UK Consumer confidence has collapsed to levels not seen since the 1970s.
London has ground to a halt with tube and rail strikes. Its not just the cost of living crisis – which, to be blunt, has only just begun and will get much, much worse as winter deepens– but folk are losing confidence in the broken mechanics of the economy, the absence of leadership and a growing sense things won't get any better.
The country feels like its sinking into a treacle of energy-sucking, suffocating despond. Everything in Britain feels broken: the NHS is too crowded to treat patients, excess death rates show untreated cancers, heart-disease and stokes from lockdown now far outnumber Covid deaths, the police are so overloaded they have stopped even bothering to investigate crime, while airports are blocked, trains don't work, and it really doesn't matter because you can't get a passport or driving licence renewed.
As the rains come down, we're under threat of dire authoritarian punishment if we dare use a garden hose – although to be fair, who is going to arrest you?
Thank heaven we're about to get a new prime minister – SARCASM ALERT.
Do you really expect a bright Sun of Economic Hope to suddenly come up on Sept 5th? If so, go see a shrink – if you can get an appointment.
Read the full article here.
Russian gas transit to EU via Nord Stream to be halted – Gazprom
by RT.com
Excerpts:
Russian energy giant Gazprom announced on Friday that transit of natural gas to the European Union via the Nord Stream 1 pipeline will be halted from August 31 to September 2 for maintenance.
"On August 31, the only working Trent 60 gas compressor unit will be shut down for three days for maintenance," the company stated, noting that all repairs will be carried out jointly with specialists from the German manufacturer, Siemens.
Gazprom added that "Upon completion of work and the absence of technical malfunctions of the unit, gas transportation will be restored to the level of 33 million cubic meters per day," representing roughly 20% of the pipeline's full capacity.
The unit is the last one of the pipeline's six turbines that was operational, with the rest in need of an overhaul. One of the turbines is currently stranded in Germany due to sanctions, after returning from repair works in Canada.
Russian gas supplies to the EU via Nord Stream 1 dropped to 20% of the maximum level last month. According to Gazprom, five turbines need to be operating to pump gas at full capacity.
European gas prices spiked after Friday's announcement, jumping 7% to above $2,600 per thousand cubic meters.
Venezuela Stops Oil Shipments To Europe As Alternatives To Russian Energy Dry Up
Excerpts:
The writing is on the wall for Europe in terms of this coming winter – It's going to get ugly.  With natural gas imports from Russia cut by 80% through Nord Stream 1 along with the majority of oil shipments, the EU is going to be scrambling for whatever fuel sources they can find to supply electricity and heating through the coming winter.  Two sources that were originally suggested as alternatives were Iran and Venezuela.
Increased Iranian oil and gas exports to the west are highly dependent on the tentative nuclear deal, but as Goldman Sachs recently suggested, such a deal is unlikely anytime soon as deadlines on proposals have not been met and the Israeli government calls for negotiators to 'walk away.'
Venezuela had restarted shipments to Europe after 2 years of US sanctions under a deal that allows them to trade oil for debt relief.  However, the country's government has now suspended those shipments, saying it is no longer interested in oil-for-debt deals and instead wants refined fuels from Italian and Spanish producers in exchange for crude.
This might seem like a backwards exchange but Venezuela's own refineries are struggling to remain in operation because of lack of investment and lack of repairs.  Refined fuels would help them to get back on their feet in terms of energy and industry.
Some of Venezuela's own heavy oil operations require imported diluents in order to continue.  The EU says it currently has no plans to lift restrictions on the oil-for-debt arrangement, which means Europe has now lost yet another energy source.
Read the full article here.
Gas shortages, freezing temperatures, firewood hoarding: Just how bad could things get this winter?
by RT.com
Published on August 20, 2022