UPDATE March, 2012: State of Michigan Appeals Case Against Parents to Force Chemo on Cancer-free Child
UPDATE 12/21/2011 CASE DISMISSED! From WoodTV.com:
Judge Solka wrote in his ruling, "The court concludes as a matter of law that Jacob's parents have not been negligent in making decisions about his (Jacob's) course of treatment…
"The court is not making a finding that Jacob does not have cancer. A second opinion of a pediatric oncologist on additional treatment would be reasonable and should be considered by the parents…
"These decisions are better made in a clinical setting without resort to the courts. This is a physician-patient issue. The court should become involved only if an impasse is reached. The court does not find such an impasse here that the state should intervene and the family subjected to the rigors and uncertain outcome of a jury trial."
—————————
Original Story:
Jacob Stieler was diagnosed with cancer back in March of 2011. After chemo and radiation treatment, multiple scans indicate he's cancer free. However, his doctors have ordered further treatment–something Jacob and his parents oppose. Now the State of Michigan is taking the Jacob's parents to court, charging them with neglect.
From the Stieler's blog at hopeforjacob.org:
July 18th
Wednesday, I got a phone call from the social worker at the hospital where Jacob has been.   She informed me since we are refusing radiation for Jacob, they would be filing a petition for court.  I was in shock!  Well, not totally.  In shock for the fact that my son in CANCER-FREE!!!  Anyway, Friday morning comes and I am woke up by the sound of Child Protective Services knocking on our door.  I was disgusted to find out that the hospital lied and said that he would have a 0% chance of survival if he didn't follow through with it (that number was NEVER given to me).  Second, they with-held the fact that his PET Scan came back clear and he is, in fact, cancer-free.   I am disgusted by the fact that they were deceitful.  What happened to parent's rights?  We are not being foolish and not taking further action with Jacob.  We are taking him to a place to build up his immune system, get some healthy weight back on his bones and he will have multiple therapies to heal his worn body.    The fact that they want to give him almost 2 months of radiation plus 6 months more of chemo – both of which cause cancer – when no cancer is present, is completely shocking!  Please be praying for all of us!  Jacob is scared and worried!   He already told me that if they make him do chemo and radiation, that he will kill himself!  Satan sure is working overtime, but God is in control!!!
October 14th
First things first, Jacob is doing wonderful!  He is happy and healthy, going to school full time and loving life!!!  He turned 10 years old a couple weeks ago and was able to go bow-hunting October 1st.  He shot a 6-pt. buck and was ecstatic!!  I've been hunting for years and never got one.  He certainly deserves it though.
In the meantime, we've been checked-up on by CPS for the past 3 months.  "Just doin' their job" while the case is still open.   It wasn't going anywhere….CPS couldn't find a reason for medical neglect like the hospital was claiming and either could the prosecuting attorney.  That sure didn't stop the hospital from whining and got another big children's hospital involved to complain, which is also downstate (I'm not supposed to mention names, but I'm sure you can all figure it out).   Doctors from both hospitals acted very irrational and immature because apparently everyone up here "is incompetent – they don't know how to handle a case such as this".  Well, DHS ended up filing a petition.  We have been to court a few times.   Crazy things keep happening to keep it from going further.  We're already on our second judge.
Yesterday we went to court again.  Had a useless meeting first and then the lawyers met with the new judge.  There is now an actual trial set for the first week of December.  There will be a jury.  This trial is for two things.  First, they are still pushing to have Jacob have 6 more months of chemotherapy and 2 months of radiation.  Two of the chemotherapy drugs that he was on and would be on are mustard gas – yes, chemical warfare.  Another one is nicknamed "red death" and can potentially cause major heart damage.  Another has chloroform in it and the other two are just as capable of causing cancer.  Yes…it's all POISON!  And I'm sure most of you know how horrible radiation is.   Oh, and did I forget to mention again that Jacob is CANCER-FREE!!!!  Yes, he had another PET Scan a few weeks ago and still NO CANCER!   They truly believe that poisoning my child is the best thing for his health.  It doesn't matter that we have doctors currently keeping any eye on him.  It doesn't matter that he's had a lifestyle change and we're doing multiple things to keep him healthy.  It doesn't matter that we're going to keep getting PET Scans done every 3 months.  It doesn't matter that we would certainly get him into treatment the moment one of those scans came up showing cancer.  They're not happy with that answer.  Is it because they're not getting their $60,000 a month?  And that's not counting radiation.
Okay…now let's talk about the other side to this story.  Another reason for this whole trial is the fact that they're trying to set an example with us – to not question the doctors or the state, for that matter.  We're all just basically "foster-parents" to our children.  The state actually owns them and they have a right to decide what's best for our kids.  We, as parents, do not!  I hope you are all as outraged at this as we are!!!  What happened to our rights??  This is certainly not a free country that we're all fooled into believing.  Doesn't the 14th amendment mean anything??
If this makes you furious, please let us know!  Let Governor Snyder know.  Let our Senator and State Reps know.  Let DHS know.   We need to stand up for our rights as parents that we know what's best for our children and that we should ultimately have the right to decide what's best.  Not some strangers who don't know a thing about our children or us for that matter.
As bizarre as this whole situation is, and believe me – you don't even know half of it, we're trusting God!  We know this is all happening for a reason.  Not quite sure what it is yet, but God has a plan.  He cares about Jacob.  He loves him more than we do.  God has been taking care of us this whole time since day one back in March.  He keeps on blessing us in so many ways and we are so thankful!  He is truly an awesome God!!!  Please continue to pray for us, for this whole situation.  That the truth would be revealed.  That God's will would be done!  Also, please continue to pray for Jacob, that he would continue to stay cancer-free and that he would get stronger each and every day.
October 23
When does the State of Michigan have the right to interfere with decisions made by parents concerning the care of their children?  This is the question that will be answered in a jury trial on December 6-7 at the County Court.  Our son, 10-year-old Jacob Stieler has had two clear PET scans in the past 4 months meaning there is no evidence of cancer in Jacob's body, yet still the Department of Human Services is being pressured by a large children's hospital in lower Michigan to force him to undergo 6 more months and several weeks of radiation treatments just because this is the "standard of care" protocol, based on studies that have been done on other children, not Jacob.  After going through 2 ½ months of watching Jacob suffer physically and emotionally from his chemo treatments, we were so very grateful to get the results of his PET scan in July which showed no evidence of the cancer which could not be surgically removed in March.  Despite all of our efforts to support his body through treatment, he still lost 14 pounds, and looked like a concentration camp victim after those 2 ½ months.  Now, after receiving some non-traditional therapies to help him regain his lost weight and build up his immune system, Jacob looks like a normal healthy young boy, and is ever so glad to be finished with chemo.  Should Jacob's cancer return, we, as his parents, will want to be able to choose where to go for treatment, and what kind of treatment we believe will be best for our child.  Except in cases where parents are proven to be unfit, abusive, or neglectful, the State has never been given the right to make these choices, and never should be.  If we do not retain this right as Jacob's parents, and the ones who have been given the responsibility by God to care for him, what will keep the State from interfering on any number of choices that we parents make concerning the care of our children, medical or otherwise?
According to Jacob's doctors, 30% of the children who follow their treatment plan are not alive in five years.  Is this because of the damage caused by these very toxic drugs, which can even cause healthy, normal cells to become cancerous?  We have not been given answers to these questions.  There don't seem to be any answers.  Unbiased studies have not been done.  We hope that in December the jury will remember that it is our right as parents to make any difficult medical decisions for Jacob, this beautiful son that we love far more than the State of Michigan ever could.
Note: the trial was postponed until January
Get current updates at Hope for Jacob blog and also on their Facebook page. They need your help, and there are things you can do to help.
Medical Kidnapping: A Threat to Every Family in America T-Shirt
100% Pre-shrunk Cotton!
Medical Kidnapping is REAL!
See: Medical Kidnapping: A Threat to Every Family in America Today
Help spread the awareness of Medical Kidnapping by wearing the Medical Kidnapping t-shirt!
Support the cause of MedicalKidnap.com, which is part of the Health Impact News network.
Support the cause against Medical Kidnapping by purchasing our book!
If you know people who are skeptical and cannot believe that medical kidnapping happens in the U.S. today, this is the book for them! Backed with solid references and real life examples, they will not be able to deny the plain evidence before them, and will become better educated on this topic that is destroying the American family.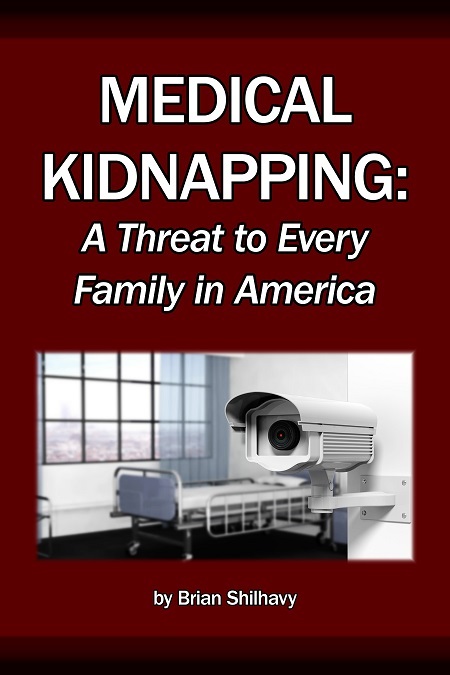 1 Book - 228 pages
Retail: $24.99
FREE Shipping Available!
Now: $9.99
Order here!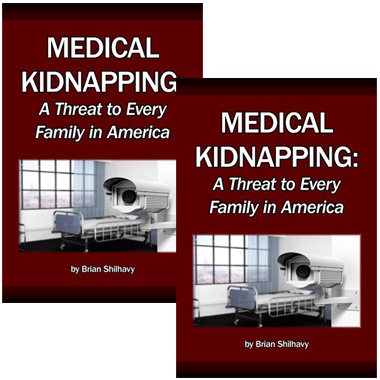 2 Books
Retail: $49.98 (for 2 books)
FREE Shipping Available!
Now: $13.99 (for 2 books)
Order here!
Published on December 8, 2011