by Health Impact News/MedicalKidnap.com Staff
At a recent hearing on January 27 regarding Elizabeth Byler's two oldest children, Judge Nancy Vernon shocked everyone when she announced that she was recusing herself from all dealings with Elizabeth and her children. The formerly Amish mother from Pennsylvania says her children were medically kidnapped when she was hospitalized following a serious accident. When Health Impact News asked if Judge Vernon's recusing herself and bringing on another judge would prolong the case, a member of Elizabeth's family said that it is unknown at this time.
See the original story here:
Reportedly, Judge Vernon accused Elizabeth of posting information about her case on Facebook, breaking a gag order.  Elizabeth told the judge that she did not write on the Facebook support pages, including Justice4thebylers [2].
Reportedly, Judge Vernon interrupted Elizabeth, yelling at her, saying that it did not matter who wrote it—that it was she who was telling people what to write. When Elizabeth calmly said that she did not post anything there, Judge Vernon told her to shut up.
See story regarding the gag order:
With regards to Judge Vernon's recusing herself at the recent hearing, the family member said that the judge informed the court that she may not be able find another judge to take the case because of a law that is supposedly borderline broken.  However, she stated that she knew that she was doing the right thing by recusing herself because she felt threatened.
According to the family member, the threat that the judge is referring to is when a Facebook administrator posted on a support page, telling Judge Vernon to "do the right thing and return the children," or else she would regret it.  The post concluded with, "You're being watched."
The family member pointed out that the administrator's intent was not malicious and definitely not a death threat. This was simply an attempt to let the judge know that she would be held accountable for her actions, and her job was in jeopardy if she did not do the right thing.  Reportedly, Judge Vernon is accusing Elizabeth of ordering that threat.  Elizabeth wants it known that she has never threatened a judge.
According to the family member, the Facebook support pages have several administrators.  Elizabeth only relayed to them that the case had been continued.  It is believed that the judge was looking for a chance to recuse herself "because she knew she was going to lose, and she had skeletons in her closet that she didn't want exposed."
Within three days after the post was published on Facebook, Elizabeth's parental rights were terminated in the youngest child's case.  She fears that he has already been adopted by the foster parents.
Elizabeth Is Heartbroken by Words of Critics
Critics on social media have called Elizabeth names like "liar" and "monster."  Elizabeth said, "I can't handle that."  Since taking on this fight, her health has been affected—specifically, her heart.
Two weeks ago Elizabeth was airlifted to the emergency room when she stopped breathing.  Doctors have since diagnosed her with broken heart syndrome [4]. She is scheduled to see a heart specialist in March.
Elizabeth said:
My heart can't handle seeing or being blamed for all of this—and them saying that I'm lying.  This is the story of a mom silenced, using her last breath, before her kids come home, to tell them she fought till the day she died.
Elizabeth is concerned about her health but not discouraged.  She said she knows that God is with her, and she vows never to give up fighting for her children.
At a recent doctor visit, the doctor reportedly told Elizabeth:
I'm gonna tell you what's happening right now.  Your heart is talking for you.  For seven years, you didn't feel what was going on because of the pain medication and the pain you were in, all of the stuff that was going on.  You didn't feel it, but you your heart did.  All of the pain that you went through with what this woman did, what happened to you in the Amish.  All your life your heart's been taking, taking, taking, taking, taking pain from everybody.  And, now, it's saying, 'OK, I can't handle anymore.'
Regarding the panic attacks, Elizabeth said:
They are making me stop breathing, and my heart rate goes up so high that it almost blows up.
Elizabeth Responds to Critics
Elizabeth Byler's family member spoke with Health Impact News about the people involved in this story:
They don't like being exposed.  And, now they're saying that she's lying and she's the monster—telling others that they should look into the case.
However, the family member continued:
Everybody has looked into the case.  They did an investigation into it—into the allegations.  That's all that they are, just allegations that nobody can prove.  I know they're not going to be able to find anything, because it never happened.
Elizabeth has deleted her personal Facebook page, and she is not an administrator on support pages.  She points out that a representative initiated the Medical Kidnap story after visiting her home after she lost her leg, and he heard her talking about her children.  He then asked for documentation to verify her story, which she provided.
Doctor Warns that Situation is Affecting Her Heart and Could Prove Fatal
One of Elizabeth's doctors is a major supporter who follows the story, and he has expressed concern for her wellbeing.  Elizabeth said that he told her that she has been experiencing "massive, massive panic attacks from everything she's been through in her life."  He went on to say that they "could lead to a heart attack later on."  He told her, "This story is going to kill you if you keep going.  You're gonna f*****g die if you keep going. I don't know how you f*****g did it."
Elizabeth said that people tell her all of the time how amazed they are at her strength to fight for her children.  She said:
People are saying to me that they don't know how I did it.  I didn't wait [to fight for them].  I didn't have patience.   God waited—to open my eyes to what's going on—and to make me feel this.  He waited until I got off the medication.  Until I got my leg off.  Until I didn't have pain anymore.  After I got off that medication.  I feel now.  I feel everything.  So, now my heart's ready to say, I've had enough.
Elizabeth's Message to Her Children
This is my last letter to my kids just in case my heart says, 'OK, I've had enough.  I'm gonna blow up, and I'm done.'  If something happens to me, they can read what their mother did, to the last moment that she was on this earth, she fought to the end.

I'm doing this for justice.  For bringing my kids home.  And, so we can all heal together.  In case something happens to me, before I get to tell them the truth in person, this is me telling them, I have fought till my last breath.  I am telling them how much I miss them and love them, all three of them.  God is with me, and I'll never give up fighting for them in court to bring justice.
There will be a custody mediation hearing on Wednesday, February 22, 2017, at 9:00 am at the Crime Victims' Center of Fayette County in Uniontown, Pennsylvania.  Supporters are encouraged to come and rally at 8:00 am.
How You Can Help
Supporters have set up a Facebook group that other supporters are welcome to join called Justice 4 the Bylers [5].
[2]
A petition to help Elizabeth get her children back, Non-Amish Woman Steals Children from Amish-Born Woman, is here [6].
The Governor of Pennsylvania is Tom Wolf at 717-787-2500.  He can be contacted here [7].  His Facebook page is here [8].
Here are the legislators for the Bylers' district:
Senator Michele Brooks is at 717-787-1322.  She may be contacted here [9].
Representative Tedd Nesbit is at 717-783-6438. He may be contacted here [10].
Fayette County Children and Youth Services Director Gina D-Auria is at 724-430-1283. She may be contacted here [11].
Medical Kidnapping: A Threat to Every Family in America T-Shirt
[12]
100% Pre-shrunk Cotton!
Order Here [12]
Medical Kidnapping is REAL!
See: Medical Kidnapping: A Threat to Every Family in America Today [13]
Help spread the awareness of Medical Kidnapping by wearing the Medical Kidnapping t-shirt!
Support the cause of MedicalKidnap.com [14], which is part of the Health Impact News network [15].
Support the cause against Medical Kidnapping by purchasing our book!
If you know people who are skeptical and cannot believe that medical kidnapping happens in the U.S. today, this is the book for them! Backed with solid references and real life examples, they will not be able to deny the plain evidence before them, and will become better educated on this topic that is destroying the American family.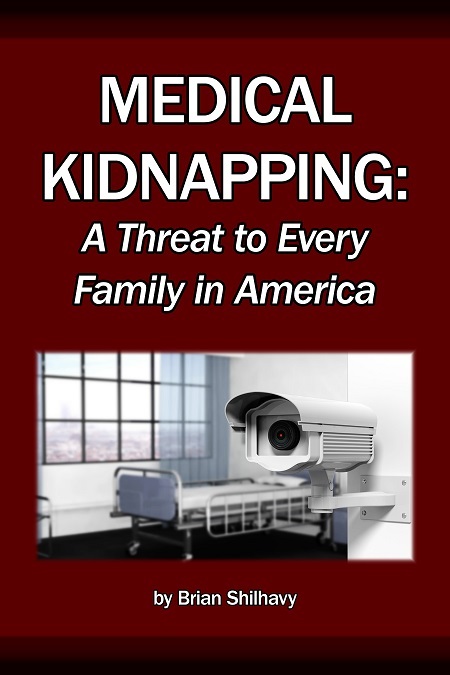 [16]
1 Book - 228 pages
Retail: $24.99
FREE Shipping Available!
Now: $9.99
Order here! [16]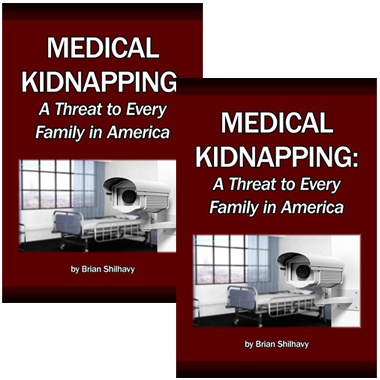 [16]
2 Books
Retail: $49.98 (for 2 books)
FREE Shipping Available!
Now: $13.99 (for 2 books)
Order here! [16]
Also available as eBook:
[17]
eBook - Download Immediately!
$9.99